Last Updated on June 15, 2023 by Grow with Bovees
Mowing your lawns won't be top of the list for your weekends, but come the time, it's a job that you'll want to do quickly and efficiently.
When it's all done, you should be able to put away the mower and have a tidy lawn to enjoy with friends and family.
What mower is going to do that for you? This is where our Honda HRX217K5VKA review comes in.
This Honda HRX217K5VKA Lawn Mower has our vote because of its:
Powerful motor to drive the blades and self-propulsion.
Highly-efficient cutting system for mulching and collecting grass clippings.
Sturdy construction for long service life.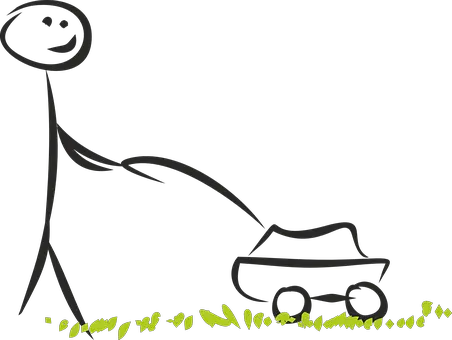 Why Is The Honda HRX217 A Good Lawnmower?
Featuring a powerful engine and a unique cutting and discharge method, this is a mower that can handle all types of grass, no matter how long or wet. And, when you're done, there won't be any unsightly clumps of clippings left behind.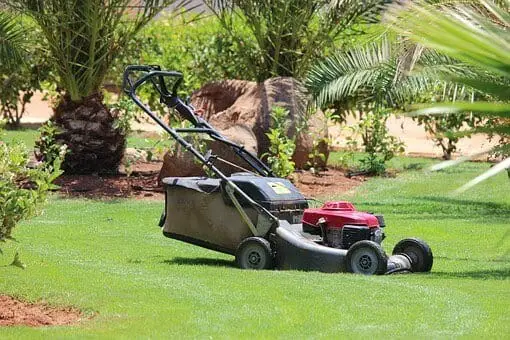 Anybody can operate this machine, no matter what level of fitness or ability — just don't open the throttle to full speed! Maneuvering the self-propelled mower around your lawn is easy with the large wheels and speed controls integrated into the handle.
The coverage and capacity are the right balance between size and ease of use, with important settings for cutting height and clippings discharge featured. 
The engineering of the Honda HRX217K5VKA lives up to the manufacturer's reputation. With a robust build, reliable engine, and unique design features, this is an enjoyable machine to put to work in your yard that will give you many years of enjoyment.
What Is There to Like About the Honda HRX?
When you bring your Honda home, you'll immediately notice that it feels very solid, weighing in at almost 96 pounds before fueling it up. The colors are classic Honda-style gray, black, and topped with red. The deck size is 21 inches, giving it good coverage on every pass. 
If you use the generously-sized grass bag, it'll extend out underneath the handlebars. That is a better position than the side-discharge found on some other models. Also, the clippings bag remains clear of your feet as you walk behind.
The speed controls are conveniently placed within the handlebar and allow both manual and fixed-speed control adjustments. Because the motor will disengage when the Select Drive control is released, the speed setting won't be reset, but kick in again as soon as the drive control is re-engaged.
What Type of Lawn Is This Most Suitable For?
All of them?
Seriously, this mower is so well-designed that we're hard-pushed to think of a scenario where we would send you back to the shop for a different kind of push mower.
If you own a large or neglected lawn, you'll find that you can power through the tallest grass without having to slow down. Pick the right speed, adjust the clip director to mow through any thick grass, and leave behind only as much of the clippings as you desire.
And if your yard is smaller, then the features and adjustability of this machine will make it easy and enjoyable to use. It will always start easily collect all clippings for easy disposal, and keep the grass at a level that suits conditions.
Who Should Buy It?
Again, this self-propelled mower suits all situations and will work for anyone. It's powerful, easy to operate, and performs optimally in all conditions, no matter how long the grass is or how steep the hills are.
The powerful twin-blade system driven by the 187 cc motor gives it the capacity to enter rough patches of lawn that would choke other mowers. You'll really appreciate that when you can't mow as often as you'd like to, and especially when you'll still end up with a clean cut.
When it comes to dealing with the leaves in fall, the fine shredding and bagging system comes into its own.
Just run over the leaves covering your lawn, collect the shredded leaves in the clippings bag and dispose of the fine material in your compost, or wherever you prefer. This could save you having to buy a leaf blower for this job.
What Features Distinguish It?
The Honda HRX217K5VKA comes with a long feature list:
Automatic choke: Makes it easy to start since no manual choke is required.
Speed control: Adjustable from 0 to 4 mph to match the terrain and the operator's length of stride.
Clutch: Easy to engage and disengage using the Select Drive grip. 
Maneuverability: Better than expected, thanks to the large 9-inch ball-bearing wheels and power delivered through rear-wheel drive.
Handle: Three-position adjustable handle aids maneuverability. 
21-inch NeXite base: Nearly indestructible; it won't rust and is nearly impossible to dent.
Proprietary twin-bladed MicroCut system: Produces very fine grass cuttings.
Large capacity clippings bag: Can hold 2.5 bushels.
Twin-blades: Extra-fine clippings means that 30 percent more cuttings can be collected before the bag needs to be emptied. 
Individual height-adjustment: For each wheel at seven different positions to adapt to different terrain conditions.
4 in 1 Versamow system: To switch between shredding, mulching, discharging, and bagging of clippings.
Compact storage: A quick-release catch on each side to fold the handle down level, so that you can easily store the compact unit in your garden shed or garage.
Flywheel brake system: Will bring the mower to a rapid stop if the operator lets go of the handle.
Two warranties: A limited lifetime warranty for the deck, and a five-year warranty for the whole machine.
What Type of Engine Does it Have?
The mower comes with a very powerful 187CC Honda engine, which is the latest generation model and incorporates modern technology, such as clean emissions, with classic features and reliability.
This is a strong motor that can supply both the cutting and propulsion systems with plenty of power. Even as it propels itself through thick grass, the blades get the spin and torque necessary to obtain a clean cut and fine mulch.
The high-performance four-stroke Honda GCV200 engine comes with a long list of impressive design specifications. CARB and EPA-certified, it combines fuel efficiency, quiet running, and Honda-engineering quality for a reliable design that will never let you down. 
Is It Easy to Assemble?
Easy as can be: attach the handlebar, adjust the height and add the oil, which is included. All that remains is to assemble and clip on the grass bag. You'll find that the instructions are easy to follow and have you pull the starter cord within minutes. Just remember to add fuel!
What Type of Gas Does It Use?
You don't need to worry about fuel oil mixing ratios as with a 2-cycle engine, as this is a four-stroke, but be sure to check on the oil level from time to time. However, you must use regular or premium gas with an ethanol content of no more than 10%.
Is It of Good Quality Construction?
The quality of construction makes this lawnmower stand out from the pack:
NeXite: The mowing deck of the HRX217K5VKA is made from NeXite composite material. This is a very strong polymer that won't dent, rust or corrode. Honda is so confident of the mowing deck's strength that it comes with a lifetime warranty.
Bearings: The large 9-inch ball bearings in all four wheels give a smoother drive and increased durability.
Engine: The reliable Honda GCV200 is the best showcase of Honda quality. Also used in many other Honda products, it's known to be easy-starting, fuel-efficient, and powerful.
Is It Easy to Start?
This is probably the easiest-to-start mower you can buy, provided it's well-maintained. Simply set the height you want to cut your lawn at, and then pull the start cord.
The GCV motor has an auto-choke transmission that will let you start the mower most of the time with a single pull of the cord. Once you get the motor going, set the preferred forward speed and start mowing and mulching. 
As long as you use fresh gas and don't forget regular maintenance, you can expect it to start reliably. Just make sure the fuel tap is turned on, but you need not worry about priming or setting a choke. 
Does It Have Cruise Control?
A constant cruising speed can be adjusted with the Variable Drive thumb lever positioned very accessible in the middle of the handlebar. You can vary the preset speed with the clutch lever that is intuitively integrated with the handlebar as you maneuver around obstacles.
Adjusting the speed when you hit a tough patch or want to speed through thinner spots is a one-hand affair with the infinitely variable Select Drive. 
The HRX217K5VKA is no light-weight at 96 pounds but really is a well-built powerhouse. The four-stroke GCV 200 with its five-setting automatic transmission will propel the rear-drive up and down any hillsides on your property, even if the grass is thick and long. 
Is It Easy to Operate?
It is very easy to start, is self-propelled and steers easily with 9-inch wheels and variable speed control. Clippings can be directed into the bag, returned to the ground as finely-clipped mulch, or divided between both as required.
The innovative adjustable mulch-ratio feature will also appeal to those who are catching up on their mowing. Rather than choosing between either mulch or bagging, you can divide the clippings proportionally.
You can leave enough grass cuttings as mulch for your lawn's health to avoid build up of thatch, and collect the rest in the attached bag to dispose of later. 
Does It Cut Grass Well?
Arguably, this is the bottom line for a lawnmower, but also by this measure, the Honda HRX217k5vka passes with flying colors.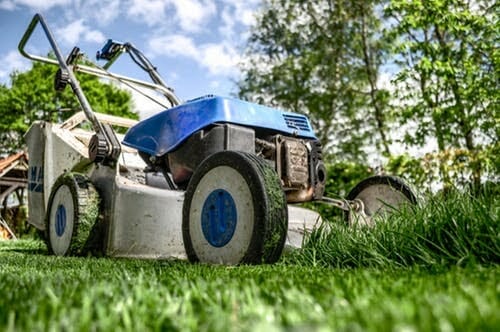 Between the two blades, there are four cutting surfaces, and, combined with the high-torqued GCV motor, a single pass will leave a clean and smooth trim. This matters not only for good looks but also to promote a healthy and even re-growth.
To achieve the optimal cutting height on uneven terrain, the deck can be adjusted at each wheel with individual levers. While we would have preferred a simpler system to adjust the whole deck — or at least one axle at a time — you can choose from seven different height options of up to 4 inches.
This Honda Mulching Lawn Mower Has Great Power and Versatility
We liked the power and versatility offered by this Honda mower to leave any lawn you tackle in much better condition, no matter how long since you last mowed it. 
Because it can cope with all types of grass — Bermuda grass, zoysia grass, whether tangled, long or wet — it's a great all-rounder, provided you keep the blades sharp. And the fine twin-blade cutting system and ability to adjust the volume of mulch left behind mean the days of lawns covered in lumps of wet grass are gone. 
Can It Make Mulch?
This is a mulching machine par-excellence due to the twin blade system. No matter what the length of the grass, the clippings are finely shredded and then returned to the lawn or deposited in the bag to use elsewhere. Unlike other mowers, the proportions can be adjusted, and so avoid leaving behind unsightly lumps of grass.
If you use your battery, electric or gas weed eater before mowing, then you can also collect most of the weed eater clippings with the mower to turn into mulch.
The relatively large bag is used very efficiently because the clippings are so fine, meaning less frequent stops to empty the bag and better clippings to fill up your compost bin or as mulch for your vegetable beds.
Yes, but Does This Honda Mulching Mower Make Good Mulch?
The magic of the two-blade cutting method lies in a design that lets the clippings circulate inside the deck, allowing the blades to cut them further into smaller pieces. These fine clippings will decompose easily when discharged as mulch onto the lawn but also greatly reduces the tendency for grass to clump and will leave you with a better-looking lawn.
Honda has come up with a unique Versamow system to manage the clippings. A single knob moves the clip director, which is attached under the deck. 
When fully open, the clippings are directed to the attached bag for later disposal. The sizable bag has a good capacity and doesn't fill up too quickly. It can be easily removed and emptied at your convenience. 
Instead, you can also adjust the knob to leave as much material behind as you like. The clippings that aren't directed into the bag end up being still more finely mulched and are then returned to the ground. 
How Do I Remove the Clippings Bag?
To empty the clippings from the bag, you have to remove it from the mower first, which is a two-handed operation:
Lift the discharge guard.
Pick up the grass bag by the handle.
Unclip it.
Either lift it out through the handlebar or remove it back from underneath.
Is It Easy to Operate?
We couldn't responsibly claim that a child can operate this mower, but it would be a way of saying that the HRX doesn't pose a challenge to anyone with reasonable mobility. The machine pushes itself forward and responds easily to the adjustable handlebar. The ingenious speed control makes cruising and maneuvering "child's play."
Humor aside, this isn't a toy but will be appreciated even by professionals as a reliable machine able to cope with any lawn. The coverage and capacity are the right balance between size and ease of use. Important settings for cutting height and clippings discharge are adjustable. 
Is It Well-Built?
The engineering of this Honda lives up to the manufacturer's reputation. With a robust build, reliable engine, and unique design features, this is an enjoyable machine to put to work in your yard.
But, just to avoid any misunderstandings, like with any piece of machinery, remember to use and maintain it according to the manufacturer's recommendations. As long as you keep that in mind, you'll have years of enjoyment out of this well-crafted machine.
What Is The Honda Lawn Mower Warranty Period?
Honda provides a 5-year residential warranty for this mower with a lifetime warranty for the deck.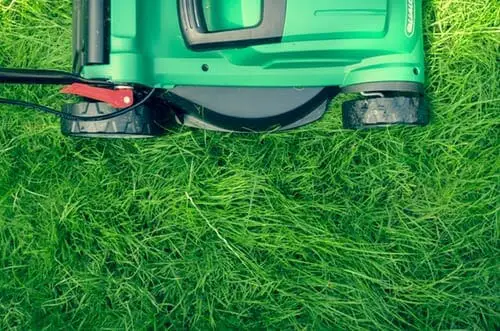 What's the Safest Way to Operate It?
There are no external moving parts to worry about, but be careful around the hot exhaust, even if it's screened. The most important risk is, of course, posed by the blades, which must be kept well clear of limbs and electrical risks.
At any time, the flywheel brake lever will stop the motor when you let go of the handle. So if you trip up and accidentally let go, the lawnmower won't carry on under its own steam.
How Do I Maintain It?
To keep your mower in top condition requires only a few regular jobs:
Wipe: The deck is non-stick, and so normally has little grass residue remaining inside and out. A quick wipe will prevent dry clippings from falling on your garage floor later.
Sharpen: At the beginning of the season, it's a good idea to sharpen the blades. This is straightforward to do yourself, or you can have it professionally done. If you take the blades off using a wrench and then sharpen all blades with a file, you can save a few dollars.
Oil: Changing oil is another job best done once a season. Use 10W30 motor oil. The manufacturer also recommends lubricating all bearings with a good 3-in-1 oil at the same time. This will fit on one of the smaller models of lawn mower lifts.
Spark plug: The spark plug for a high-performance engine like this is best changed at the same time to be sure that a good spark will be produced.
Air filter: Depending on how dusty operating conditions are, check the air filter more frequently, if necessary. It's easily removed, inspected, and cleaned by tapping on hard ground. Honda recommends a replacement if that doesn't clean it completely.
Please read the included owner's manual for detailed guidance about the required maintenance.
With just this essential lawn mower maintenance, the Honda HRX217K5VKA will always perform well and, even after a long winter break, your machine will start with a single pull or two due to the auto choke facility. 
How Do I Store or Transport It?
The handle folds easily to leave it ready for storage or to be moved. You should also shut the fuel safety valve during storage.
What's the Difference to the HRX217 VLA?
For an extra 6 pounds and handing over some more money, the VLA model adds an electric starter. But with the recoil starter system of the VKA, that anyone can operate, no matter what their physical ability is, we don't believe this is an essential upgrade.
What Are the Basic Specifications?
The important data for the gas-powered Honda HRX217K5VKA are:
*Engine size: 200 cc
*Cutting width: 21 inches
*Mowing height range: 7 increments, from 0.75 to 4 inches
*Weight: 91 pounds fully fueled
*Speed: 0 to 4 mph
*Wheels: 9-inch plastic
*Bag capacity: 2.5 bushels
Pros
Top-quality build.
Quick and easy start.
Easy to maneuver.
Large wheels.
Can be fitted with dethatching blades if required.
Easy-to-control speeds.
Great cutting and mulching performance.
Many adjustable features.
Powerful engine mows through everything.
Economical on gas.
Strong mowing deck.
Options to bag, mulch, leaf shred or discharge clipping.
High-capacity bagging system.
Very reliable.
Five-year residential warranty as well as the lifetime deck warranty.
Cons
Removing the clippings bag should be easier.
The air filter can come off easily.
Have to use treated or fresh ethanol-free gas.
Individual wheel adjustment is tedious.
Requires regular maintenance.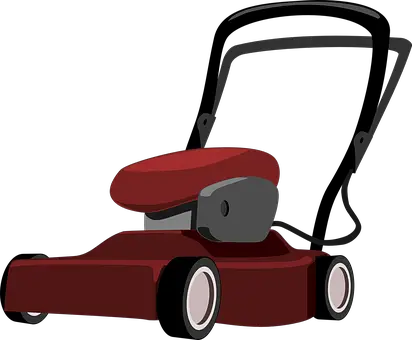 Conclusion
This Honda mower passed our close examination with full marks. As reviewers, it's a relief to write about a product that we can recommend unreservedly, knowing that a buyer won't have any regrets. 
Overall, the Honda HRX217K5VKA offers you a superior and efficient cut on any type of lawn and, while not cheap, represents a worthwhile investment.