Last Updated on May 12, 2021 by Grow with Bovees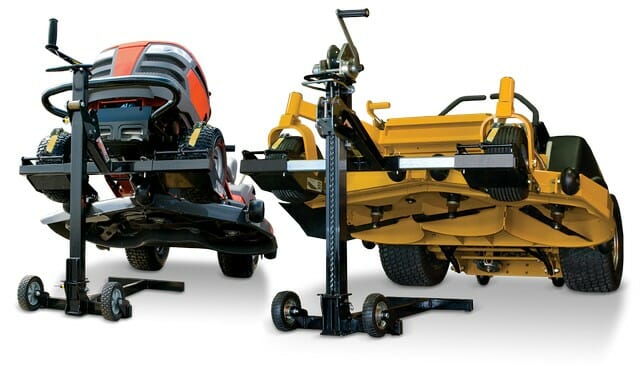 When the chores in the yard are done, it's time to start the chores in the garage. It's important to clean and maintain your lawn mower so it stays in tip-top shape, but how do you plan on getting underneath? Flipping a couple of hundred pounds is impossible, and raising the front end on normal car ramps isn't high enough for convenient repairs.
Stick with us to find the best lawn mower lifts that will help you change blades, clean grass build-up, and perform maintenance without a hitch.
Here's our top picks of the best lawn mower lifts;
Preview
Best Zero Turn Lift
Best Residential General Use
Best Budget Lift
If you're looking for the lift that can handle the most weight, we recommend the MoJack MJPRO. It can tackle up to 750 pounds (0.34 ton)! If you have a standard lawn mower, you may not need this much capacity, but it's always better to be safe than sorry when you're working on a large machine.
The budget can make or break a purchase — the best on our list is the Pro-Lift T-5335A if you have restricted spending money. In addition to its price point, it sits perfectly in the middle of lift capacity, at 350 pounds (0.16 t), and weight, at only 55 pounds (24.95 kg), so can help you keep your mower in great condition.
Here are the best lawn mower lifts that we recommend:
MoJack MJPRO 750-Pound Lift—Best Zero Turn Lawn Mower Lift
MoJack XT 550-Pound Residential Riding Lawn Mower Lift—Best Aesthetics
MoJack HDL 500 Multi-Level Lawn Mower Lift—Best General Use
Pro-Lift T-5305 Lawn Mower Lift—Best Construction
Pro-LifT T-5355A 550-Pound Capacity Lawn Mower Lift—Most Trusted
Pro-LifT T-5335A 350-Pound Capacity Lawn Mower Lift—Most Economical
The Best Lawn Mower Lifts Reviews
MoJack Mjpro 750-Pound Lift—Best Zero Turn Lawn Mower Jack Lift
Our best overall choice can handle a beast! While the average is 500 pounds (0.23 ton) of lift, this model can grapple with 750 pounds (0.34 ton)! It can raise riding mowers with wider wheels, too — up to 62 inches (1.57 m). This model is a workhorse, so if you have a serious, professional zero turn mower, then this could be the best lift for you.
However, its ability to lift also means it's heavier. To compensate for its 750-pound capacity, the weight of the unit is over 100 pounds. This can make it difficult during the initial setup, but the rugged, all-terrain wheels allow for easy movability.
As with other models, you can opt to turn its crank by hand or by power drill. Since you can lift even more weight with this model, it's even more important to use a high-quality drill to complete this task.
For storage, it doesn't just lay flat — it comes apart simply into separate pieces that you can then hang on a wall. Customers report that the threaded bolts that allow this disassembly can become loose, so checking the unit before raising a mower is extremely important. Reassembling can take time, which can slow down your maintenance work, as opposed to a model that might just lay flat during storage, like the MoJack XT.
You can also purchase an attachable workbench to hold your tools, which is a great option to keep your tools off the floor and within arm's reach. We know how important it is to not keep getting up and down hunting for a specific wrench when knee-deep into a project.
The company claims this lift will fit any riding or zero-turn mower.
Whether this is true or not, it does fit up to 62 inches (1.57 m) — far wider than many other lifts, this is thanks to the adjustable wheel baskets.
Since this model can lift much heavier units, it's best used by those who operate professional machines for work in extra-large or difficult terrain.
Pros
Folds down to 6 inches in separate pieces.
Fits any lawn tractor or riding mower.
Easy assembly.
Heavy and solid construction.
Lifts higher than a standard jack.
Cons
Small wheels compared to the size of the unit.
Bumpers can prevent the unit from fully extending.
Bolts can get stuck and will need to be loosened to collapse the unit.
This MoJack model has features that you'll love. For example, its unique wheel basket is more reminiscent of a shovel — it has a flat bottom instead of an open area for the wheel to sit in. Since this supports more of the tire, it's better for your axle and driveshaft. Short walls complete the basket, keeping the tire from sliding around and moving.
Though it is small, it's mighty — a wide base allows this model to lift over 500 pounds! It's also very stable, despite first appearances.
Since it's operated by hand, there's no hydraulic fluid that could leak and ruin the finish of your garage floors. Remember your grandfather ranting about his poor floors often when a piece of machinery didn't stand up to scratch? Not the case with this one.
If your hands are tired, you can operate it by attaching a high-powered drill to the crank. An everyday layman's drill may not be powerful enough, so test it out before trying to raise a mower.
The black finish is a winner for us, but we love all things sleek that could make a boring old workspace look like the Batcave. It also breaks down more than other models — the legs and wheel attachments are removable, and the main area folds up. These separate pieces can hang on a wall or be kept in a storage container.
Pros
Raise and lower by hand or by connecting a drill.
Workbench attachment available.
Extremely stable.
No hydraulics to leak or replace.
Cons
Not good for uneven areas — use on concrete floors only.
Threaded rods can come out if not installed correctly.
The MoJack HDL features robust wheels that allow you to move this lift around the shop or garage with ease but also means it's the only unit on this list that can handle uneven terrain. While you never want to use a lift or jack while it's unbalanced, you sometimes need to be able to fix the mower in the field. This model is perfect for those day-to-day-repairs.
The MoJack is perfectly middle of the line in all of its features. It isn't too heavy or light at 70 pounds (31.75 kg), which means you can move it easily around the garage. It can also cope with 500 pounds (0.23 t) of lawnmower sitting on top of it! All of this power can collapse down flat when not in use.
At the higher end of lift height, the HDL can reach a maximum of 26 inches (0.66 m), which is plenty to get underneath and do your maintenance. The only downside is that the lifting mechanisms only lock in 3 heights — 18, 21, and 26 inches, instead of any height you wish.
Pros
Easy to assemble.
Three adjustable height-locking positions.
Foldable for easy storage.
Large wheels for simple maneuverability.
Cons
Only three height choices.
Non-adjustable wheel baskets.
With solid construction, this Pro-Lift model is by far the sturdiest on the list. While it may be more affordable, don't let the lower price point fool you — it can manage up to 500 pounds (0.23 t) of lawn tractor!
The wheel baskets are hardy and come with a rubber coating to prevent sliding and scratching to your wheel wells. Since the baskets are rather generous, it can accommodate wider set models — up to 42.5 inches (1.08 m) between the outside of the tires. Also, the safety bar prevents tires from slipping and gives extra support to the wheel.
Since this is a hydraulic model, it glides up and down with ease. It uses a metal foot pedal instead of a rubber one, so be careful not to slip while applying pressure on it. A few pumps, and you'll be in business.
This lift also has a handle for convenient maneuvering into place. The locking mechanisms are strong and keep the lift in place while you work underneath it. The one downside is the smaller wheels, which can make it harder to pilot into place under your mower.
Pros
Solid steel construction.
Rubber-padded platforms prevent scratching.
Hydraulic system for easy lifting.
Cons
Can be difficult to maneuver into place on uneven ground.
Small wheels can make it difficult to maneuver.
This model is quite similar to the 350-pound capacity sister model, but with key differences. Made by Pro-Lift, this leading distributor of hydraulic lifts is a trusted company and has been making gardening equipment for over 40 years. It can be difficult to know who you can put your faith in when you're lying below a 1-ton machine, but not in this instance.
The main feature difference is weight capacity. Able to handle 550 pounds (0.25 t), it's an anomaly as it's lighter than other models—it only weighs 70 pounds (31.75 kg). This lets you move the lift more easily while being able to work on heavier models of lawnmowers. Even so, still trust that it's stable enough for support.
The wheel baskets for this model are adjustable and can slide to accommodate different machines. If you're looking to service multiple mowers with varying wheel widths, then this could be the right lift for you.
The lifting height is the only thing that suffers, as it only reaches 23 inches (0.58 m). This is still quite sufficient to do most chores on the mower, so you won't be inconvenienced. If we can still fit our old body weight underneath, you should be fine!
The safety lock ensures that the equipment won't slip or collapse while you're working underneath. It's always recommended to check and retighten the safety locks before using, of course. All the parts come unassembled, so you'll need to put this puzzle together yourself. It's fairly simple to manage if you have a few simple tools, like an adjustable wrench.
Folding flat, however, isn't its strong suit. While it does collapse, the bottle jack tends to stick out of the assembly when collapsed, which can prevent you from storing it conveniently.
Pros
Safety lock for peace of mind.
Rubberized foot pedal to prevent slippage.
Foot pump is easy to use.
Simple assembly.
Cons
Doesn't fold entirely flat for storage.
Larger wheels don't fit into the baskets.
If you're looking for a simple model to tackle a smaller lawn mower, the Pro-LifT T-5335A is perfect. It can handle up to 350 pounds (159 kg), which is lower than comparable models but still great for everyday equipment. If you're servicing a much larger machine, we recommend finding a more robust unit, like the Pro-Lift T-5355A model.
This model uses a rubberized foot pump to raise and lower the front end, which allows you to choose the height at your convenience. Also, the locking levers are easy to use and can hold the mower in place securely.
At only 55 pounds (24.95 kg), this is one of the lightest and easiest to maneuver around your shop. Some users report that the hydraulic fluid can become disturbed during shipping, so make sure to test it before lifting the lawn mower.
While this is the most affordable on our list, it still labors like a more expensive model. Since it lifts a lower weight capacity, this is perfect for home machines like the Honda HRX, that still toil to get your lawn looking great.
Pros
Easy to lower and raise.
Lightweight to maneuver into place.
Secure locking levers.
Folds easily, though the bottle jack causes incomplete folding.
Cons
Need extra tools to assemble and customize.
Bulkier than others.
Lawn Mower Jack vs Lawn Mower Lift Jack
Should we call it a lawn mower jack or a lawn mower lift?
Well, I suppose you could call it either, some are very similar to a jack, while others are definitely a lift. So, on that basis, we'll call them by either name and not get too worked up about the exact terminology, just be happy that they will make our lives much easier!
Buyer's Guide for Lawn Mower Lifts
Most lawn mower lifts are easy to use and feature solid construction. If you're investing in a lawnmower lift for your home or business, it's important to purchase a unit that can handle your mower perfectly, so take into account the following factors:
Capacity.
Lifting mechanism.
Weight.
Wheel baskets.
Lifting height.
Storage.
Capacity
The biggest question—literally—is what kind of lawn mower do you have? A small, push mower or rear-engine model won't weigh as much as lawn tractors or a zero-turn model. You'll want to know the weight of your machine and compare the company's recommended weight capacity.
Of course, the lifting mechanism of a lawn mower lift is designed to raise only the front two wheels of your machine. The weight of the mower being lifted will comprise only some of the weight, probably half. The lowest capacity on our list, the MoJack ZR Lawn Tractor Lift, can still lift 250 pounds (0.11 ton), which is fairly impressive.
Err on the side of caution, though, and get the best lawn mower lift for your unit's weight. To be safe, get a lift that can handle more weight than you think you need. You can never be too careful with your safety, especially when you're lying underneath a large piece of equipment.
If your lawn mower is one of the biggest out there, consider the lift with the best capacity, which, for us, is the Mojack MJPRO.
Lifting Mechanisms
There are three lifting mechanisms to look out for:
Hand crank.
High-powered drill.
Foot pedal.
Hand Crank
The simplest is a hand crank that's rotated to raise and lower the lift. If you've got sore hands after working all day, though, this can seem like a chore. The MoJack XT is easy to crank since you won't need a ton of personal strength—that's the point of distributed load hand cranks, after all.
High-Powered Drill
A simpler option is to attach your favorite high-powered drill and let the machines do the work. It's easy to use the best lawn mower lift on our list, the Mojack Mjpro 750-Pound model, with a drill.
Take your time and go slow to start since you don't want to do quick bursts and bust the lift. You may not be able to use a smaller drill, so testing the abilities is important. If you find that the drill can't raise or lower the lift correctly, don't force it. Either use the hand crank or find a drill that has more power behind it. Any excuse to go shopping for hardware is a good reason for us!
Foot Pedal
The final option is a foot pedal, like on the Pro-Lift T-5305. These jacks are raised and lowered by pumping a level with your feet—reminiscent of a barbershop chair.
This one is slightly different in that it can lift a 500-pound piece of heavy-duty machinery. Also, while some pedals are rubberized to stop you from slipping, some aren't. Use caution when pumping, and, as always, take your time. Raising the lift faster is no convenience if you accidentally release the lock and the mower comes crashing down.
Weight
Most lifts go up in weight compared to how much capacity they can handle. In general, for approximately 10 pounds of weight a lift can handle, add another 100 pounds of stress. Since the Mojack Mjpro 750-Pound is the heaviest on the list, it can also lift the most weight—750-pounds! While some models' designs allow a lighter model to lift more weight, such as the X-lift style on the MoJack ZR, most heavier models can lift more.
If you're lifting a smaller model, you can purchase a lighter model of jack. Also, the smaller the unit, the easier it is to store.
A larger model will help you do those all-important repairs to a bigger zero-turn radius model with confidence. A heavier model may be harder to move around, but it'll ensure your safety and be best for your machine.
Wheel Baskets
Wheel baskets are where the mower's wheels fit into. We personally like the baskets on the MoJack HDL 500 since they prevent the wheels from moving due to their long, solid design.
There are a few different styles, depending on your lift:
Metal frames: Allow wheels to sit deep inside and be easily strapped into place.
Flat with sides: Keep the wheels from moving by blocking their ability to shift.
Rubberized: Some models come with a rubberized finish so that your tires don't run the risk of slipping and sliding while you're banging around under the chassis.
Wheel Basket Straps
Before lifting the front end, it's important to fully secure the mower's tires in place, so look out for safety straps. Made of canvas or chain links, they secure the tires to the lift. While some models don't include them, the majority of good ones do — like the MoJack HDL.
Lifting Height
How much of your undercarriage do you want to see? For more intense repairs, it can be more convenient to raise the lawn mower higher so you can see more clearly. Changing blades or serious repairs are more convenient when you can fully see underneath your equipment.
Most lifts allow you to raise your mower to between 20 and 28 inches off the ground. Bigger and heavier units will provide a greater lifting height since they have more stability on the ground. The MoJack MJPRO 750-Pound Lift has the highest capacity for weight and is the heaviest machine with the highest lifting height of 28 inches!
Conversely, if you're planning on cleaning your blades of grass build-up and not much else, purchasing a smaller model with less lift can be better for your wallet, like the Pro-Lift T-5335A.
Storage
Organizing the garage is one of our favorite pastimes—we know, it's sad!
In-Garage Storage
Some mower lifts, like the Pro-Lift T-5355A 550 and 350, can be stored as-is since their footprints aren't large, and it's simple to park them in a corner of your garage. While these models do collapse, some models have the inconvenience of not laying flat due to a foot-powered bottle jack or mid-assembly crank.
Folding Units
Models like the MoJack ZR Lawn Tractor Lift can fold due to its X design. Others either fold by loosening pins or bolts, so we recommend storing them folded on a shelf or under a table. The thinnest can be only a few inches wide, which makes them very handy to store.
Wall Storage
Lighter models can fold completely and hang on a wall. It wouldn't be advisable to hang a heavier model without proper wall anchors, though—models like the Pro-Lift T-5305 are almost 90 pounds!
Some can completely break down into separate pieces, like the MoJack XT or the MoJack MJPRO. They need to be reassembled before use, and always make sure to put your lift back together as per the manufacturer's instructions for safety.
Safety While Operating Lawn Mower Lifts
A lawn mower lift will keep your riding lawn mower stable, which is more important than you might think. Anybody who has ever used a lawnmower lift jack knows the potential dangers of the device.
There are many ways to get hurt using this device, despite all the safety warnings you will see on the device itself. The most common injuries include: crushed toes, pinched fingers, injuring the lower back, cuts and scrapes, and eye injuries. The best way to prevent these injuries is to use the lift jack properly, by following all the safety precautions.
Conclusion
Since you're a hard worker, it makes sense that your equipment works hard, too. We all deserve a hassle-free experience when working on the lawn.
All the best lawn mower lifts on this list feature solid construction of heavy metal. They also include safety features like wheel anchors and safety stops in the lifts. The weight capacity is your most important factor, though, since you want to be able to lift your mower with confidence. After all, when it comes to maintaining your expensive lawn care equipment, there's no excuse to sacrifice quality.
With the units on our list, you can complete your lawn care equipment maintenance, knowing you've chosen one of the best. Our top three are: