Last Updated on April 16, 2022 by Grow with Bovees
With the wide variety of weed eaters available, it can be challenging deciding what type to choose. Today, we're going to look at cordless vs electric vs gas weed eaters.
We're going to discuss the different features of cordless vs electric vs gas weed eaters and when you should choose to use each type. We'll also help you decide which choice would be the best for your needs.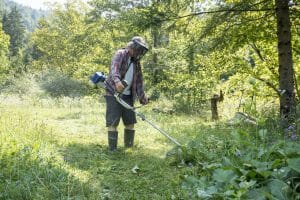 All weed eaters have similarities, including having a primary purpose of trimming weeds and areas where you can't reach with your lawnmower, around the edge of the rock garden for instance. But there are differences between cordless, electric, and gas weed eaters that you will need to know.
Here are our top picks from the three categories;
Preview
Best Cordless
Best Electric
Best Gas Powered
Best Cordless
Preview
Best Electric
Preview
Best Gas Powered
Preview
Cordless Weed Eaters
Find Some Of The Best Cordless Weed Eaters Below
Cordless weed trimmers are a form of an electrical weed eater, but instead of needing to be plugged up, they run off lithium-ion batteries.
You start these trimmers with the push of a button instead of having to pull a rope. But it has the same accelerator that controls the cutting head.
Cordless weed eaters usually have a run time of thirty to sixty minutes, and you can use them anywhere without the pain of extension cords or adding fuel.
Craftsman V20
Craftsman V20 is an electric weed eater that runs on a 20-volt battery. There are multiple benefits of this trimmer, including two-speed settings so you can have longer runtime or more power.
Plus, this weed eater can work for trimming and edging so you can do all the yard work you need with one machine. The handle is ergonomic and adjustable, so you can set it to accommodate your height. 
You can cut up to a 13" section using a 0.080" twisted line that you feed at the push of a button instead of tapping on the ground. It may take time to get used to providing the line while running your trimmer.
Dewalt DCST925M1
The Dewalt DCST925M1 is a 20-volt cordless weed eater that works with any 20v Dewalt battery. There are high and low speeds so that you can alternate between more power or longer runtime.
It takes a 0.080" line to cover a 13" area so you can cover more ground, and the lightweight size and ergonomic handle make it comfortable to hold.
No products found.
Control the power using the easy-pull trigger. When squeezed, the wheel spins. And a gear drive transmission provides amplified torque for clearing severe overgrowth.
Corded Electric Weed Eaters
Find Some Best Corded Electric Weed Eaters Below
Electric weed eaters are better for people who don't want to pull a string to make it crank. All you have to do to start it is push the button.
Electric weed eaters are better for the environment, but some limitations, such as needing a power source to run. There is a male electrical connection towards the top that plugs into an extension cord.
If you're trimming in a rural area without power, you could run into trouble unless you carry a generator. Gas or battery-powered weed eaters would work better for large jobs.
Electric powered string trimmers work the same as a gas or cordless trimmer in that there is an accelerator that makes the cutting head spin. But this type of weed eater does have less power, 1200 watts max.
Black+Decker String Trimmer
Black+Decker is a popular tool manufacturer, and its electric string trimmer is top of the line. This weed eater has a 6.5 amp motor with a 14" shaft.
A cord retention system means you don't have to worry about coming unplugged while you're walking. But the plug is recessed into the machine so it won't work with some three-prong extension cords.
And the automatic feed spool means you don't have to tap your weedeater to load more string. It loads as you trim, and you refill the spool using 0.065" round line when the line runs out.
Gas Weedeaters
Gas-powered weed eaters have a motor that runs on gasoline. Gas weed eaters can have a two-stroke or four-stroke engine.
It is crucial to know which motor you have, as two-stroke engines need gas to oil mixture to run, whereas four strokes only need gas. The two-stroke is the most common home tool, whereas four-stroke is better for industrial use.
Improperly mixing the oil to fuel ratio or not including oil can make a two-stroke engine seize up and stop working. Your mixture needs to contain one bottle of two-stroke engine oil (2.6 ounces) with one gallon of gas. If you're using two gallons of gas, you'll need two oil bottles and so on.
Husqvarna 128LD
One of the best gas-powered weed eaters is the Husqvarna 128LD 17" String Trimmer. This 28cc two-stroke engine has a 17" trimmer head.
And it's equipped with a handy Tap 'N Go feature that releases new lines by tapping the head on the ground. Adding more line is a breeze with the detachable T25 head that is easy to spool.
This trimmer comes with three separate attachments. Also, being enabled with smart start technology makes it easier to pull start, so you don't end up with a sore shoulder.
Craftsman CMXGTAMD30SA
If you're looking for the best four-stroke gas powered string trimmer, you can't go wrong with the Craftsman CMXGTAMD30SA 30cc 4-cycle trimmer.
This weed eater has a 17" cutting width that helps you trim larger areas less time, and cut down more rigid materials.
Easy start technology and 2-step starting (prime and pull) make it easier to crank without a lot of effort or wasted time.
This weed eater has a fixed-line head that takes a 0.95" tri-color round line which helps cut under bushes or hard to reach areas. 
Are Battery-Powered Weed Eaters Worth It?
Absolutely! They are getting to a stage now where they are making headway into the battery vs gas trimmer argument, some of them are comparable to gas powered machines.
Take the Makita XRU18 weed eater for example. This cordless trimmer runs on 2 of the Makita 18v batteries, turning it into a 36V tool!
Makita claim that it is the equivalent to a 30cc gas powered machine, which gives it plenty of power. If you already have the Makita 18v system, you can use the same batteries and charger for this tool. It works very well with the regular 0.95 trimmer line, but is rated to handle up to 0.105-inch line.
For professionals who need long run times, Makita have got you covered with their backpack battery pack. This holds 4 × 18v batteries and plugs into your tool, it works with both 18volt and 36 volt variations.
Battery Powered Weed Eater vs Gas
The big difference with a cordless machine vs gas is the NOISE! You can almost (but not quite), relax while using a battery powered weed eater, while using a gas powered model can be somewhat traumatic until you become accustomed to the noise and the fumes. Battery powered string trimmers are lighter than their gas powered counterparts.
Your neighbors will definitely thank you for choosing a battery powered vs a gas trimmer!
What is a Weed Eater?
Weed eaters, also called weed whackers, are a form of string trimmer, which means it uses a durable, flexible plastic string trimmer line to chop down weeds and grass instead of actually removing the weeds.
The design of a string trimmer is the same, regardless of which type of weed eater you choose. There is a cutting head on the bottom, a long shaft, and a handle at the top to move the machine. Some trimmers also have a shoulder strap, but not all lightweight weed eaters will have one.
Weed eaters work by a wire or plastic line wound around a rotating wheel. As the wheel spins, centrifugal force causes the line to stiffen enough to perform the cutting. While all weed eaters have the same setup, you can choose different sized lines, depending on your needs.
String trimmers also have a clutch or accelerator that controls the engine. This lever is near the handle for easy access. Once you start the machine, you use the lever to speed the motor up or make it idle, where the engine stays cranked, but the head is not spinning, so it won't cut.
After finishing the weed execution, you can easily clear all the mess using the best backpack blower available, these tools make life so much easier than having to use a rake or broom!
And, don't forget to properly store your weed eater after use!
Conclusion of Cordless vs Electric vs Gas Weed Eaters
We've explained the three different types of weed eaters and provided details about each of them. Which choice you make will depend on your needs. One more way of dealing with weeds in a lawn, is to pull them up with a weed popper manually. This is also a very quiet method, which would keep your neighbors happy, but may not be so kind to your back!
A corded electric weed eater wouldn't work well in rural or industrial conditions. In comparison, a cordless weed eater would work in rural areas but not for all-day use. Gas-powered weed trimmers work best for commercial use, so gas would win the gas trimmer vs electric argument there.