Last Updated on March 24, 2021 by Grow with Bovees
Have you finally seen the light?…
….and, like me, decided to hang up your hat on your current heavy, gas guzzling, cumbersome weed eater and switch to one of the highly efficient cordless string trimmers available now.
Excellent decision – good for you!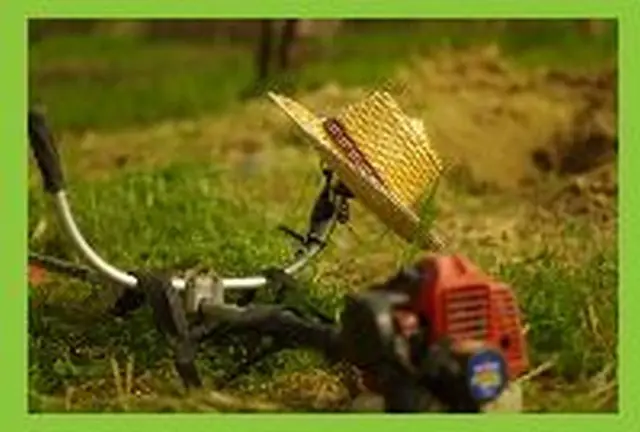 Nowadays, advances in battery technology, which have been pushed by the increasing popularity of electric cars, have resulted in lower priced and better cordless devices of all types. Even Nickel Cadmium batteries are passé.
A cordless power tool, such as the Milwaukee 2725 21HD is easy and quick to use and requires little maintenance – more detail on that in our reviews below.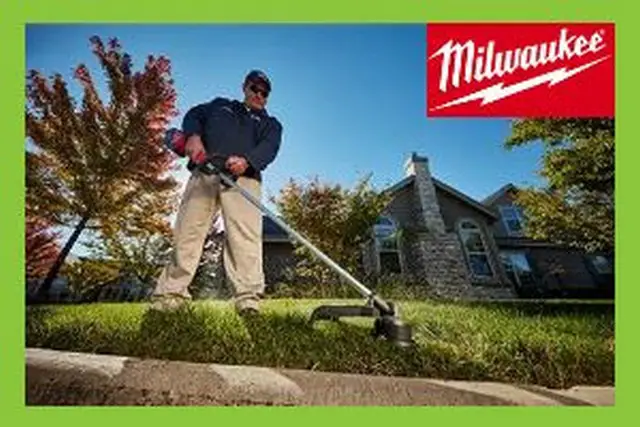 Battery Powered Weed Eaters, in particular, have come a long way since their inception, and are fast becoming the best way to manage a lot more of your garden than just the bits of lawn your mower can't reach.
Plus! They produce zero-emissions.
So not only will you be contributing to a greener environment, but you'll also have less excuse not to keep up with your garden maintenance. (There's a catch to everything! Right?)
As Battery Powered Weed Eaters have become cheaper and easier to use, so the market has increased and, in turn, the options available have too.
Does the thought of trawling your way through numerous reviews and pages of advice put you off researching properly?
Well, help is at hand for our fellow 'weed wacker demons'…because the Bovees Research Team have done all the dross work for you!
In a hurry?
Then here's our Bovees Best Top Three at a Glance;
Preview
Best Professional
Best Budget
Best Domestic
Best Professional
Preview
Best Budget
Preview
Best Domestic
Preview
Bovees Best Seven Buys In More Detail………
The Best Battery Powered Weed Eater For Your Yard
In fact all seven of the options in our weed eater reviews below are fantastic pieces of kit.
Choose any one of them, and we are sure you will be pleased with your purchase.
Plus, for those with a bit more time on their hands to surf the internet themselves, we've also put together our Bovees' Buyers Guide to The Best Battery Powered String Trimmer to help you make an informed decision.
We are confident that by the end of this article, you will have all the knowledge you need to choose the best cordless weed eater for you personally.
So let's get going…..
1. Milwaukee 2725-21HD 18V M18 String Trimmer
–Bovees Best Professional Cordless Weed Eater
From the veritable tool juggernaut, Milwaukee, comes this beast of a weed eater!!
Milwaukee are renowned for manufacturing top quality power tools and the 2725-21HD is no exception.
Fitted with a Milwaukee® POWERSTATE™ motor means that it comes with all the advantages of a brushless motor to save you time and money with no compromise on power — full throttle is achieved within 1 second of pulling the trigger!
Having a brushless motor also means that it is one of the quietest weed eaters on the market.
Having the motor mounted at the rear with a solid drive shaft design and gear box means the unit provides;
Then there's the state-of-the-art battery system, the Milwaukee® REDLITHIUM™, which claims (and we have found no evidence to dispute this!) to have the longest run-time, the highest power output and longest battery life of any of the battery packs on the market.
This advanced battery system combined with REDLINK PLUS™ Electronic Intelligence, provides unparalleled communication between the battery and the tool itself, which allows for the maximum possible levels of productivity, protection and performance.
Those with other Milwaukee cordless tools, will also benefit from the fact that the battery is interchangeable between others with the M18 system.
With two speed settings on the variable trigger system, spinning at 4600 and 5800 rpm respectively, you also have control over the power.
This allows a great level of control over what you are doing and enables you to switch to high power for patches of tough weeds, but resort to lower power (to save battery life) when trimming lightweight material e.g. grass.
The over mold grip handle on this unit is one of its best selling points.
It is probably the comfiest handle of all the string trimmers on our list. The extra support handle on the shaft offers better control and is also comfortable and soft while helping to absorb a lot of the vibration too.
The 16-inch cutting swathe is another notable feature, in fact, your weed eating productivity is increased by 30% over the other budget models featured here, thereby cutting down on your work time.
The thickness of line used matches the power of the motor, so you will have less breakage and thereby save time and money replacing spools while still being able to tackle the toughest weeds.
Having said that, the full sized, head stores more line than other models, plus, changing your line with this tool is actually a nice easy, straightforward process.
Simply remove the spool and wind the line around.
The head also has a reinforced metal bump knob to ensure a maximum working life.
All in all if your budget allows then the Milwaukee 2725-21HD 18V M18 String Trimmer will not disappoint as the perfect complement to your lawnmower, and much more!
Pros:
Milwaukee's renowned high level of quality & service
Rear Brushless Motor — multiple benefits
Excellent battery system — save money on replacement batteries
Variable speed motor — for power when you need it or extra battery life when you don't
Very quiet
Excellent on-demand line feeding system.
Over mold comfy handle grip — good for periods of extended use or those with arthritis
16" cutting swathe
Suitable for both .08 AND .095 line thickness — thicker line = less breakage = time saving & money saving
Battery & battery charger included
5-year warranty — peace of mind
Cons:
Expensive — But you get what you pay for!!
Does not convert to a lawn edger.
2. Greenworks 2101602 40V String Trimmer
–Bovees Best Budget Cordless Weed Eater
Greenworks are another big player in the gardening tool industry. Their range of tools are loved by a lot of the gardening community, and it's easy to see why.
This 12-inch cutting weed eater is no different, running off Greenworks' powerful 40v batteries, you should easily be able to get 40 minutes of usage out of the BST4000.
Another great thing about their batteries is their potential for quick charging, one of the 40V batteries used to power this trimmer can be charged from 0-100 in just 30 minutes.
Weighing in at only just over 9 lbs means this trimmer is nice and light and, in combination with the auxiliary handle, makes it easy to handle.
The adjustable flower guard means that you can be sure not to obliterate your carefully nurtured flower beds while wielding your weed whacker.
Having a variable speed option, like the Milwaukee, means that you can save battery charge when it isn't required, by using less power when tackling grass and lightweight weeds.
Every tool in Greenwork's cordless range uses the same system of batteries.
As they also sell the tools on their own, click here for the tool only option, this can make purchasing Greenworks tools a lot cheaper than some of the competition.

As always, nothing is perfect, and this unit does have some small flaws.
The power of this trimmer means that even with Greenworks awesome batteries, you will run the battery down quite quickly.
However, if you have other small jobs to do while you wait for the battery to recharge or if you have a second battery, then this is not an issue.
Some reviews also report issues with the batteries degrading.
Pros:
Light and comfortable to use
Edge Guide — protects your flowers from accidental damage
Variable Speed Control — saves battery life
Auxiliary handle — gives better control
Rapid charge batteries — allows you to do bigger areas with only a short break
Tool also available without battery & battery charger — saves money for those with other Greenworks tools
Two-year warranty on tool, three-year warranty on battery — peace of mind
Cons:
Claims of battery degeneration problems
Only 12 inch (30.48 cm) cutting width — takes longer to complete a job than with a 16-inch
Only .065 trimmer line diameter — restricts the thickness of vegetation you can use it on
3. DeWalt DCST925M1 String Trimmer
–Bovees Best Domestic Cordless Weed Eater
Another eater in the high power bracket, DeWalt, produces some of the best tools on the planet.
They are a staple for both DIY use and commercial/trade use alike. They were the first ones to bring brushless motors into the mix.
This high-powered weed eater is designed to take on its gas powered brothers, and we have to say, it seems like it has done pretty well doing so.
The innovation and tricks that the DeWalt uses, bridge the gap excellently between the DCST925M1 and a gas powered alternative.
DeWalt batteries are second to none, their batteries charge rapidly, hold a great charge, and don't degrade over time.
A fully charged DeWalt battery is going to give you the longest run time of any battery too.
At only 7.4 lbs, one of the main advantages to this unit is its low weight, coupled with a decent power output, which means you get a unit which is easy to maneuver while still being devastatingly effective.
It creates hardly any noise, and you do not need to leave it idling like a gas-powered model.
It is also very easy to start, not needing a cumbersome pull cable.
The ergonomics on this model are simply great too, the grip feels comfortable, and the weight is shifted just perfectly through the tool.
Another massive plus to this unit is the low power setting, unlike lots of its competitors, the low power setting on the DeWalt is still extremely effective. This means you can save battery life, without the tool losing its cutting ability.
Light weeds and grass will never require you to move out of the low setting.
On the low setting, you can often get up to 1 hour of use out of one fully charged battery, which places this unit at the top when it comes to battery life.
If you already have DeWalt batteries, you will be able to buy just the bare unit at a great price too.
When it comes to tougher, harder to deal with tasks, you can up the power just by squeezing harder. This kicks the motor into high power mode and will allow you to destroy anything in front of you.
Paired with the larger than average 13″ cutting area, jobs just get done faster with the DeWalt.
The downsides to this unit are tiny compared to the positives, but, according to reviews, it still seems to have a few.
The guard is not the most well designed and does not do the best job at preventing small stones from pinging off while cutting.
There are also some complaints that their batteries range in quality.
Some users swear by the DeWalt battery system. Some people advise you to buy a brand-new battery as some that are supplied in the kits may be of lower quality.
However, overall, this is a battery-powered weed eater that holds its own easily in a commercial setting and could even be considered overkill for DIY garden use.

Pros:
Almost half the weight of the Milwaukee
0.08 Line thickness — less time-consuming breakage than with the Greenworks.065
13″ cutting swathe — as opposed to the Greenworks 12″
Variable Speed trigger — allows you to switch between extra power and battery saving
Auxiliary handle — gives better control
Rapid charge batteries — allows you to do bigger areas with only a short break
Tool also available without battery & battery charger — saves money for those with other DeWalt tools
Three year warranty — peace of mind
Cons:
No flower guard
Only 13″ cutting path — takes longer to complete a job than with the Milwaukee 16″
4. WORX WG163 GT 3.0 20V PowerShare 12″ Battery Powered String Trimmer & Edger
A tool that performs way better than its price tag would suggest makes the Works WG163 GT a great buy.
As well as a great price tag, though, this is a machine packed with features and quality.
It is a dual trimmer/edger, which means you get two tools in one machine.
It has an extendable telescopic handle which is adjustable to suit your height specifications, a 12″ cutting width and an auto feed spool.
This battery weed eater utilizes Worx 20v batteries. These batteries perform surprisingly well across the board, they stand up in the face of the bigger brands like DeWalt and hold their head high.
Many people like to stick to one brand, as with DeWalt and Greenworks, Worx also reward you for doing so by allowing you to use their batteries across a range of their tools.
The build quality in this tool is also extremely good, the adjustable handle and plastic grip feel good in the hand, and it isn't overly heavy.
It comes in the standard black and orange color scheme and looks as good as it performs.
With its innovative push-button command feed system you save money by controlling how much line is fed out, plus, changing the spools is extremely easy.
The rubberized internal wheels support the edger, which gives you smoother cleaner lines.
The spacer guard is adjustable to give you that little bit more precision when working close to the plants & flowers in your garden.
The head also tilts to 90 degrees for those tough to reach places.
There are a few downsides to this unit, however.
The wire spools on it are relatively small, and this means that you will be wearing down your lines pretty quickly.
This means over the long term, you may spend a little more time maintaining this unit.
This is offset by the cheap cost of the unit to begin with, however.
Just something to consider.
Pros:
All round very good value for money
Rubberized wheels — accuracy and ease of use
2 in 1 trimmer / edger — saves buying a separate tool for edging
Adjustable telescopic handle — helps you avoid back and shoulder pain
Works with any Worx20v batteries you already own
Adjustable flower guard — protects the precious blooms in your garden
Head adjusts to 90 degrees
Cons:
The line spools run out quickly due to their small size
5. Black+Decker LSTE523 Li 12″ Cordless String Trimmer and Edger
Black and Decker has a reputation for quality when it comes to the tools they produce.
The LSTE532 is no different. Perhaps the most aesthetic tool on our list, the bold look of the LSTE523, gives it a professional feel.
Luckily that professional look isn't just for show, and this really is a professional offering.
Built with a high-quality battery system, this tool is made to run all day.
The 3Ah system gives you a really long run time.
The power delivery is good, and although you won't be able to fell trees with this bad boy, there isn't much else that will be a problem.
The thing that really makes this unit stand out from the rest is the ridiculous amounts of features it is packed with.
With their EasyFeed system, all you need to do is push a button near to the trigger to make more spool extend.
Compared to a lot of "auto feed" systems, the EasyFeed system, just works, and works well.
There is also a Powerboost and Powercut setting on the unit.
This allows you to turbocharge the cutting potential of your eater to tackle particularly stubborn areas.
If you are dealing with areas that you have left for too long, ones that are more jungle, than garden, the PowerBoost option will give you the muscle to deal with it.
As well as those amazing features, the LSTE523 comes with a lot of the great features that its competitors have.
You can adjust the shaft trimmers telescopic handle to match your height and reach, you can set the guard to protect the flower borders in your garden, it converts from trimmer to edger instantly and it has a 12″ cutting swath.
The unit does have a couple of downsides, however.
One being that the EasyFeeder feed spool, can cause you to get through spools quickly. Users are reporting that although the EasyFeeder is a great innovation, you just have to be careful, or you will be spending lots on new spools.
The second gripe is that when you are not using the PowerCommand buttons, the unit can feel a little under powered.
Whether that is because users are comparing the cutting ability to when the PowerCommand option is on or to other units, is unknown.
Pros:
Feature-rich unit
EasyFeed system works really well
PowerCommand buttons provide you with a quick boost of power for hard to deal with areas.
2 Speed controls allow you some flexibility
Works with all B+D 20v batteries
2 in 1 Edger/Trimmer
Cons:
EasyFeed system uses a lot of spools
Can feel under-powered when not in PowerCommand mode
Only 12 inch (30.48 cm) cutting width
6. Craftsman V20 Cordless String Trimmer / Edger (CMCST910M1)
Crafstman's contribution to the battery-powered weed eater market is the v20 string trimmer. This is a dual line model, which makes light work of grass and weeds.
The speed provided by the v20 battery pack is pretty impressive.
So too is the motor which powers the spinner at a blistering 9000 rotations every minute.
This is one of the highest speeds reached by any battery-powered weed eater we have reviewed so far.
The 13-inch cutting area isn't as impressive as the Milwaukee or even the DeWalt, but it is still large enough to make dealing with even medium to large areas a breeze.
The fact that the unit only weighs 5.5 pounds (2.49 kg) adds to that ease.
You aren't going to get as tired using the Craftsman as you would say with the Milwaukee.
The variable speed trigger is similar to the Dewalt, although it does not have the same responsive feedback, it still works really well. Paired with the high-speed motor, this is definitely not a tool to be underestimated.
The telescopic handle rotates 180 degrees and extends, and this allows you to set the tool however you want.
The two handles are well-designed and placed ergonomically.
All in all, the Craftsman is perhaps the most ergonomic tool on this list, so if you are looking for a tool that puts ease of use first, this may be your best bet.
The head of the unit has three different levels of tilt, making angled work a breeze.
The edge guard on this unit is also one of the better ones on the list, and you can cut in confidence, knowing very little is likely to ping off.
Craftsman has always made very durable tools, and they stand by this by offering a three-year warranty.
The downside to this unit is the bump feeder for the spools.
Craftsman has tried to create an alternative to the auto feeders seen on most models on the market.
Unfortunately, it seems that the bump feeder does not quite hit the mark.
It works, but reviews would indicate that it isn't an improvement over traditional auto feeders.
All in all, Craftsman has created a tool that excels in some areas but not in others.
If you want a high-powered unit that weighs surprisingly little, this could be the best tool for you.
Pros:
High speed
Brushless Motor
Lightweight
Great adjustability
13″ cutting width
3-Year warranty
Cons:
The efficacy of the bump feed spool is questionable
7. EGO Power+ 15″ 56-Volt Lithium-ion Cordless Brushless String Trimmer with 2.5Ah Battery & Charger
Like lots of their other tools, the EGO Power is pretty impressive.
Sporting the usual neon green-gray and plastic trim with a carbon fiber shaft, it just looks fantastic.
Aside from the awesome looks, the EGO Power is just as impressive when it comes to performance too, plus it comes at a great price, which is lowered to an even better price if you already own some EGO batteries.
It comes with a variable pressure trigger similar to the DeWalt, which gives the EGO Power similar control and feedback to a gas-powered model.
The motor stops when you let go of the trigger, too, which is a nice feature for those who are used to idling gas-powered shaft trimmer monsters.
The Powerload feeder, is one of the best on the market. Loading up your string into this feed spool system is amazingly simple.
All you do is feed one end into the trimmer head and hold it with some tension, then press the Powerload button, which will cause it to wind back into the head.
They knew what they were doing here, and they have managed to turn the worst part about using a trimmer, into something that is no longer a chore.
In terms of ergonomics, you can tell a lot of time has gone into the design and placement of the motor. The whole unit feels extremely well-balanced, and it isn't too heavy or light at either end.
The power is great, too, as with all brushless motors, providing power that is constant and efficient.
Unfortunately, this is another unit where the stock guard needs to be improved.
You may get some fly off when using the EGO, which is a shame for a unit that scores so highly everywhere else.
Pros:
Awesome feed spool system
15 inch (38.1 cm) cutting swath
Great ergonomics
Best aesthetic design on our list
Works with all EGO batteries
Cons:
Guard needs improving
Batteries are expensive
Bovees Buyers Guide — Battery Powered Weed Eaters
Hopefully, we have helped you make your decision with our above reviews.
If you are still undecided, these are the factors we look at when reviewing the tools.
You can use these to help you make an informed decision on the best value battery powered weed eater for you.
Weight
One of the main reasons people swap from gas to battery, and immensely important, is the product's weight.
One of the main selling points for battery-powered vs gas powered is that they are almost always lighter than their gas-powered brothers. All but one of the units on our list, for example, weigh under 10lbs!
Weight is important, whether it's a 10-minute job or a ten-day job, the less the unit weighs, the less tired you are going to get wielding the tool.
Not all battery-powered options are created equal, however, and many of the offerings on the market are heavier than the ones we have suggested, if it's a lightweight weed eater you are specifically looking for, check out our article at that link.
If this is the case, they will usually be using an older battery system. If this is the case, stay clear.
Old nickel batteries, weigh more, hold less charge and deteriorate much quicker than modern lithium-ion ones.
Power
One of the biggest reasons people are hesitant to adapt to battery-powered tools is the outdated misconception that battery-powered devices aren't as powerful. For a long time, this was the case, but nowadays, thanks to the advancement in lithium-ion batteries and brushless motors, that gap is closing rapidly.
If you are looking to buy a tool for anything less than the most strenuous of commercial use, we highly recommend going with battery power.
When it comes to battery power, a unit is normally measured in volts.
The most common are 20v and 40v.
40 volt models are the more powerful of the two, but they often come with a faster drain on battery.
If you are willing to buy a couple of spare batteries, you should probably go for a 40v model.
If you only need your weed eater occasionally or for a small job, stick to the 20v models. They are usually more than enough to get the job done.
Battery Life, Battery Size and Battery Capacity
Lithium-Ion batteries are the future, being smaller and lighter than Nickel Cadmium batteries.
We recommend everybody to only buy battery-operated devices that have swapped from Nickel Cadmium to the new system.
Bear in mind, however, that not all Li-ion batteries are created equal.
The brands on our list: DeWalt, Black, and Decker, Ego are all known for being industry leaders in the innovation of technology.
Their batteries are all great.
Lots of less reputable companies, however, use low-quality lithium-ion batteries, these degrade quickly and lose charge surprisingly quick.
When it comes to Li-ion battery life, you need to work out what is going to be best for you.
If you need a high-powered tool and a long-lasting battery, chances are you are going to have to buy multiple batteries.
DeWalt and Milwaukee have the best long-lasting battery design with a higher battery capacity, but they come at a higher price tag than their competitors.
Deciding the best cost x performance is going to be key in deciding what tool you choose.
If you do not need a long Li-ion battery life but need a powerful tool, then you can buy a kit that includes one battery and a tool with a 40v or higher rating.
If you don't need the most powerful tool or longest lasting battery, go for the more budget-friendly options on our list.
They still all perform amazingly in most tasks, the battery life may just be less impressive than the higher cost models.
Of course, another important factor will be whether you already own Li-ion batteries for any of the brands.
If you already have 3 EGO Power+ batteries, it makes sense to buy the EGO, etc.
Another thing to bear in mind is charge time. Some of the more innovative battery systems boast a 0-100% charge in under 30 minutes.
With the average rundown time being 45-60 minutes, this means you only need two batteries to keep constantly working without any down-time for battery charging.
Guard Quality
Most people do not particularly consider the quality of the guard design when it comes to choosing a weed eater.
However, when you have a tool spinning at over 5000 revolutions per minute, you do not want to be hit by a rogue pebble traveling at high speed!
As well as your own safety, if you are working with a weed wacker near your priceless mustang or a house with many windows, making sure your guard is effective is extremely important.
On the other hand, with a bigger, more protective guard, you also add weight to the unit.
This means that if you are focused on getting a weed eater that is as light as possible, you may have to trade off on the level of guard protection (maybe invest in some shin guards!).
If you don't mind a bit of extra weight, you should probably opt for a unit with a better guard.
Another thing to bear in mind is that usually, with units that are 2 in 1 trimmers and edgers, the guards will usually be less effective in edge mode.
Line Feed Loading Mechanism
If you have been using weed eaters for a long time, you will know that the worst thing about them is usually trying to feed more string into their mechanism.
With gas-powered weed eaters, the line feed issue has always been a horrible, awkward task.
Luckily most battery-powered devices come with better innovations across the board. This applies to the feed loading mechanism too.
Automatic feeds are the new thing, replacing the old manual style in most of the new models of weed eater.
This is a great feature which will allow you to spend a lot less time fiddling with the line and more time actually using the weed eater.
Some models extend line as it detects it is needed, which is awesome.
Others use a bump method where you bump the head onto a hard surface to force it to eject more line.
Some models still use the older system for setting line by hand, but you won't find any models like that on our list.
So Which Battery Powered Weed Eater Is Right for Me?
As you can see, this isn't a question that has a simple answer.
When it comes to choosing battery powered devices nowadays, you really have to figure out what you want from them.
Firstly we would advise you to figure out what you really need your tool to do.
Figure out;
How often you will need it
How long you will be using it for
Research the area you will be using it on.
Will it need to deal with stubborn weeds, or is it just for grass?
Think ahead — will your needs change in the medium to long term?
Once you have worked out these things, you will be able to work out how much power you need your unit to have and what sort of battery type / power pack life would suit you best.
At that point you should be able to remove a lot of the potential options from our list and in the end it will probably be down to a matter of price and what you feel you can compromise on.
If you can afford the Milwaukee 2725 -21HD then it's a no-brainer, but if you are restricted by budget then there are plenty of other excellent options to choose from.
Conclusion
With the innovation surrounding the lithium-ion battery and the brushless motor, battery-powered string trimmers are fighting to close the gap on performance between them and their gas-powered cousins.
Choosing a battery-powered tool is a great way to be a more environmentally friendly worker, too, thanks to their low emissions and low noise production.
We are convinced that the string trimmer best suited to your needs is now only a click away!
Thanks for reading!