Last Updated on April 18, 2022 by Grow with Bovees
You've tried everything from using a regular garden rake to a broom to get rid of the leaves on your lawn. But, they aren't as effective as you would want them to be. And, you've finally decided to purchase a backpack leaf blower. The only problem is that you can't decide whether to buy the Husqvarna 150BT blower.
Well, if this is your predicament, no worries, as this Husqvarna 150BT review guide will give you a clear assessment of everything you need to know about this leaf blower. You'll get to know about its features and how it measures up to other backpack blowers on the market.
But, if you can't wait till the end of the article. Here are several features you can expect from the Husqvarna 150BT.
X-Torq® Engine.
Air Purge System.
High blowing capacity.
Economic Harness.
Quality Speed.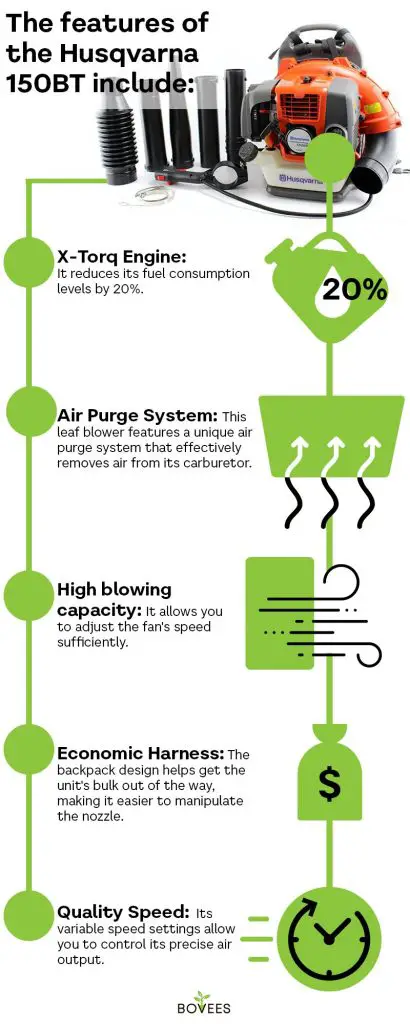 Features
Here are the features that make the Husqvarna 150BT a standout blower.
X-Torq® Engine
The Husqvarna 150BT leaf blower uses an X-Torq® engine; this engine is one of the latest Husqvarna engine designs known for reducing fuel consumption.
It reduces its fuel consumption levels by 20 percent, which is much less compared to conventional engines. With a 20 percent lower fuel consumption level, the leaf blower becomes cheaper to run. The oil/ratio recommended for this machine is a 50 to 1 fuel mix.
This engine technology also reduces noxious exhaust emissions by up to 60 percent, making the engine environmentally friendly.
The patented X-Torq® engine also gives the leaf blower maximum power even at lower revs, making it easier to handle the machine.
The X-Torq® engine technology also increases the leaf blowers torque over a wider rpm range; this provides maximum power to the machine. Other than being made using the latest technology, the Husqvarna 150BT engine uses gas to power the device. The engine also has a 2.15 horsepower output and a cylinder displacement of 50 centimeters cubed.
Fuel Tank
The Husqvarna 150BT has a fuel tank capacity of 35.2 fluid ounces (1.04 l). Although this might not be the best fuel tank capacity, it enables the device to maintain an impressive overall weight. It also makes the machine comfortable to use and more portable.
High Capacity Blowing
This device has a powerful and high blowing capacity. And it's one of the few gas-powered leaf blowers on the market that allows you to adjust the fan's speed sufficiently. This feature also makes it easy for the machine to deliver high speed and air flow. It also makes the device easier to handle depending on the type of project.
Air Purge System
Trapped air in the carburetor is one of the major drawbacks of 2 cycle leaf blowers today, as it makes it difficult to start the engine. Thanks to technology, all solutions are a click away, which is no different for Husqvarna 150BT. What makes this device different from other gas-powered leaf blowers is its ability to remove air from its carburetor.
This leaf blower features a unique air purge system that effectively removes air from its carburetor, making it easy to start the machine. Most customers claim that the leaf blower starts on the first pull and may sometimes require two pulls if it's too cold, far better than other blowers.
Adjustable Tube Length
A leaf blower's tube length plays a significant role in giving you an effective cleaning job. Having an adjustable tube length allows you to get those hard-to-reach leaves.
Handling
The Husqvarna 150BT weighs 22.5 pounds (10.21 kg) and includes a backpack harness that's ergonomically designed and padded to support the weight. The backpack design helps get the unit's bulk out of the way, making it easier to manipulate the nozzle.
It also helps the machine deliver more air flow necessary to clear debris and leaves from tough spots on your land. Backpack handling also helps reduce stress and fatigue on your arms and back, enabling you to carry on clearing leaves for longer.
The device also features a throttle located on its tube; this location enables you to keep your left-hand free when using the blower.
Speed
The Husqvarna 150BT features variable speed settings that allow you to control its precise air output. The higher the air output, the better the machine is at moving wet grass or heavier leaves. The blower also comes fitted with a cruise control that enables you to maintain the speed setting you select.
Noise
This backpack blower has a decibel rating of 94 dB, which is neither quiet nor loud compared to other gas-powered leaf blowers in the market.
Pros
X-Torq® engine.
Noise levels of 94 dB.
Backpack design.
Adjustable tube length.
Cons
Lacks a leaf vacuum.
Can be challenging to start.
How To Assemble the Husqvarna 150BT Blower
As with every other leaf blower on the market, several parts require assembly after unboxing it. Assembling involves the following process:
1. Assemble by connecting the blower and swivel joint with the flexible hose included in the box. It also comes with the equipment you need to connect these two parts.
2. Attach the throttle holder to the blower's swivel with the screw included in the box.
3. Fasten the throttle cable to the blower's hose. If you choose to start by attaching the machine's handlebar, you can fasten the cable next.
4. Once the throttle cable is fastened, proceed to fix the blower tubes by simply twisting them; this requires no equipment.
5. Lastly, adjust the blower's harness accessory, and try it on. If it's too loose, try to fasten the straps and ensure that you distribute the weight evenly. You can also adjust the strap waist belt until it fits comfortably. But ensure that the blower's weight is resting on your hip.
You can also use the buckle to fasten the blower securely, but if you choose not to, ensure that you keep it off entirely rather than leave it hanging loose.
Safety When Operating The Husqvarna 150BT
When you're using the Husqvarna 150BT backpack blower, it's essential to ensure that you're wearing eye and hearing protection.
It's also wise to use protective gloves or a mask when blowing dusty areas. Also, make sure you read the blower's instruction manual.
How To Store Husqvarna 150BT
Proper storage of leaf blowers is an essential part of ensuring a long life. Ensure that you store it in a dry space, if possible, indoors.
Ensure that the indoor area is well ventilated and cool. It's best to keep valuable power equipment locked up if possible. Hangers and brackets are available for this express purpose, although if you are a handyman in the metalwork department, you should be able to put something together quite easily.
If you're packing the machine away, make sure you perform the necessary maintenance, like adding fuel stabilizer, before storing it away.
If transporting from jobsite to jobsite on a trailer, specialized lockable backpack blower racks are available for this purpose.
Why Choose the Husqvarna 150BT
Here are several benefits of choosing the Husqvarna 150BT leaf blower.
Ideal for Challenging Jobs
Thanks to its features, this blower is ideal for tough cleaning jobs. It's designed to help reduce fatigue and stress on the body, making it easier for you to carry on your job for a more extended period. It also features an anti-vibration system that helps minimize the stress on your hands and arms, allowing you to reach challenging areas more effectively.
Affordability
Most gas-powered leaf blowers have a high cost, but the 150 BT Husqvarna leaf blowers are an exception. It comes at an affordable price, making it easier for anyone to purchase this machine. You can find further models of the best Husqvarna backpack blowers here.
FAQ's
When Should You Not Use the Leaf Blower?
The 150BT Husqvarna leaf blower should never be used in an unventilated area or indoors. While its engine may have significantly reduced emissions by 60 percent, the fumes still contain carbon monoxide. This emission is extremely dangerous, as it can cause suffocation and eventually death within minutes.
It's also best not to use the gas-powered blower on a windy day, as all the work you're doing may end up being for nothing.
What's the Significant Difference between Husqvarna 150BT and 350 BT?
The major difference between these two Husqvarna blower models is the tube diameter. The 350BT leaf blower has a bigger one, enabling it to pass higher air volume with less force. Both machines have identical engines and similar weight and size. If you need a lighter weight blower, have a look at our review of the Husqvarna 320iB here.
How Do I Maintain This Blower?
Like any other machine, the Husqvarna 150BT leaf blower requires regular maintenance. The best way to do so is by checking the fuel line, ignition wiring, and muffler to ensure that nothing needs repair. Also, ensure you lubricate any of the machine's moving parts and replace its spark plug when necessary. Ensure the oil and gas are topped off.
This will help keep the machine running in pristine condition. But before you start any maintenance checks, always ensure that you've disconnected the spark plug and switched off the device.
Now You Know
While the Husqvarna 150BT backpack blower does come with numerous pros to offer, as seen in the review. Pros include reliability, portability, and affordability; however, it does come with several drawbacks. One of its significant disadvantages is the lack of a leaf vacuum.
Another con, according to users, is that it can sometimes be challenging to start. But if this happens to you, start by checking if the switch is in the "on" position. Other users have had plenty of success leaving the machine idle, then priming it, choke, and then starting it once more.
Other than that, the backpack blower is reliable and solidly built to perform for years to come.
Check it out here. (Amazon link)