Last Updated on January 7, 2022 by Grow with Bovees
For over three centuries, Husqvarna has been providing handy persons worldwide with quality products from motorcycles, weapons, sewing machines to today's top of the art outdoor power machines. The Husqvarna 130BT is no exception. This backpack blower is not only lightweight, but it also delivers exceptional power, especially when used for long periods.
This Husqvarna 130BT review article will give you a quick look into everything that makes the Husqvarna 130BT tick. And from the information you receive, you can make a suitable decision.
But if you want to make your decision right away, here are several features that make the Husqvarna 130BT standout.
Ergonomic design
Outstanding power
X-Torq® engine
Variety speed setting
Noise level of 91 Decibels
Features of the Husqvarna 130BT Backpack Blower
Here's what makes the Husqvarna 130BT backpack blower tick.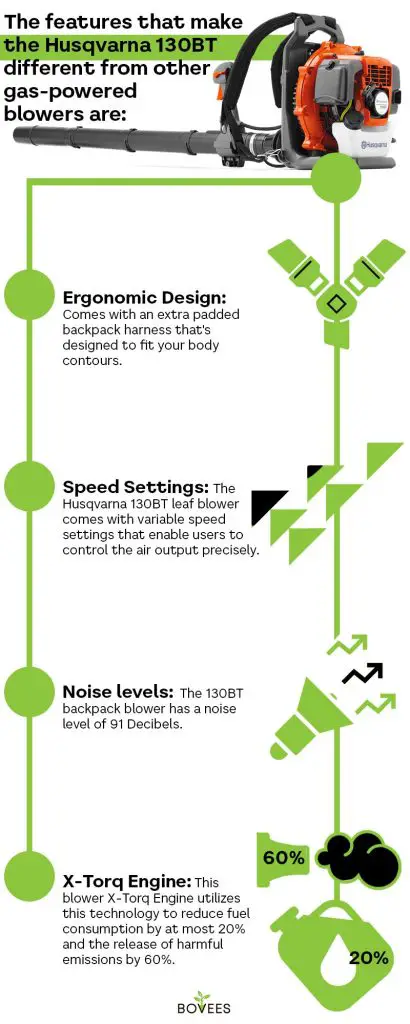 Ergonomic Design
According to various customer reviews, one of the aspects that stands out about the Husqvarna 130BT leaf blower is its ergonomic design. Most reports by users claim that this leaf blower is easy to use and light on the back; this makes it easier to handle for several hours on end without experiencing fatigue.
The Husqvarna 130BT blower also comes with an extra padded backpack harness that's designed to fit your body contours, depending on the adjustments you make. The harness also enables users to handle the blower hands-free. With your hands-free, you can easily manipulate the throttle.
Another notable design aspect of this blower that makes it different from other leaf handheld blowers is its ergonomically designed handle. The handle comes with rubber inserts that help make your grip comfortable and extra secure.
Power
The 130BT is a gas-powered blower capable of ejecting at most a volume of 360 cubic feet per minute. It has an airspeed of 145 mph; this is sufficient power for the backpack leaf blower to perform a decent job clearing light leaves around your residence.
X-Torq® Engine
Like other Husqvarna leaf blowers, the 130BT is fitted with an X-Torq® engine design. The engine has a cylinder displacement of 29.5 and a horsepower of 1.13. As it's a 2-stroke engine, it's essential to remember that the 130BT backpack blowers can't run on only gas.
Its fuel requires an appropriate mix ratio of oil and gasoline to function correctly. The fuel ratio for this particular model is 50:1, with 50 being the gasoline quantity.
Like any other X-Torq® engine, this blower utilizes this technology to reduce fuel consumption by at most 20 percent and the release of harmful emissions by 60 percent. The X-Torq® technology also increases the blower's torque over a more comprehensive rpm range.
Handling
With a weight of 14.55 pounds (6.6 kg), the 130BT is lightweight compared to other blowers in the market. However, it's still quite heavy and does require its backpack design. The backpack design is meant to get the bulk of the blower out of the way as you operate the blower.
Speed Settings
The Husqvarna 130BT leaf blower comes with variable speed settings that enable users to control the air output precisely. Based on a review or two, these settings can help improve the blower's functionality depending on the type of work you're doing. For instance, if you're clearing light leaves, you can use the lower limit settings.
But if you're clearing wet grass, you can increase the air output to get the work done faster and easier.
Noise Levels
The 130BT backpack blower has a noise level of 91 Decibels, which is neither quieter nor louder than other gas-powered backpack leaf blowers.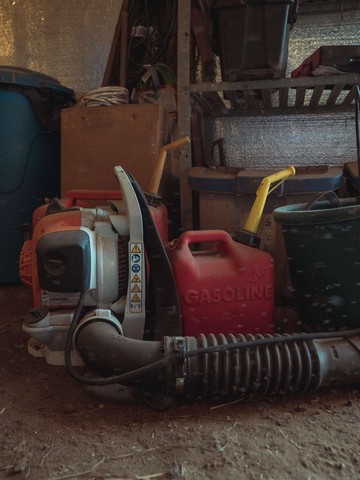 Storage of Your Leaf Blower
As with any expensive power tool, care should be taken when storing them. Not only are they liable to be stolen, but they can also suffer in harsh weather conditions. It is best to lock the tools to a suitable bracket or inside a locked cabinet, if it's out of sight, it's out of mind.
If you are a garden services contractor and use a trailer to carry your tools and equipment from job to job, it's important to secure them to the trailer with suitable blower racks or similar devices.
More About the Husqvarna 130BT Leaf Blower
This leaf blower is a neat mixture of a lightweight, compact size, affordability, and strong power, all of which are its most vital points. Other than these aspects, according to consumer reports, the blower has a lower noise level, which is unlike typical leaf blowers.
The blower also offers users outstanding durability, ease-of-use and requires low maintenance. Its price tag fits the quality you get from the product.
On the flip side, this leaf blower does come with several drawbacks; according to customer reviews, the primary one is its power limitations. Several users claim that the blower's power can't handle the volume of leaves past a particular limit.
Another con users mention is that it leaks fuel. According to customer reviews, fuel leaks shortly after use or right out of the box, but users also say that the device's warranty can fix this issue.
The last downside users mention is how difficult it is to start the blower despite the choke functionality that helps facilitate cold starting. Several customers report that getting the blower started and keeping it running requires at least 20 or more pulls; this can be pretty frustrating for anyone.
Pros
Lightweight and compact size
Outstanding durability
Backpack design
Low maintenance
Cons
Difficult to start.
Leaking fuel.
Power limitations
Frequently Asked Questions
How Does the 130 BT Differentiate From Other Husqvarna Models?
The first notable difference about the 130BT gas-powered blower is its lightweight nature. Compared to other Husqvarna brands, namely the 150BT and 350 BT models, the 130BT weighs much less.
It also has the least horsepower compared to these two models. It's an excellent blower for occasional leaf-blowing tasks, but you may have to purchase an expensive model for a pile of wet grass or leaves. Despite not having the same power level as the other models, it still does a good job.
What's the Warranty Period for the 130BT Blower?
The standard warranty period for the Husqvarna 130BT leaf blower is two years. However, the warranty doesn't cover all parts of the leaf blower. You can extend the period to give you a three-year warranty by purchasing at least six bottles of 2-cycle Husqvarna branded oil.
You can also extend the warranty to five years by purchasing at least 96 fl oz of premixed Husqvarna oil.
What if I'm Left-Handed?
The 130BT blower is best suited for right-handed users, as its speed throttle is on the right side. For left-handed people, the cruise control might feel awkward to use. To address this issue, Husqvarna makes most of its leaf blower with the cruise control mounted on the frame's left, enabling left-handed people to operate the device.
Can I Convert This Blower To Vacuum Mode?
No, the Husqvarna 130BT can't be converted into vacuum mode as it doesn't come with this feature.
What's Next
The Husqvarna 130BT backpack blower is an excellent device for homeowners with lots of yard requirements and maintenance. It's also affordable and completely lightweight compared to other backpack blowers in the Husqvarna range.
If you're looking for a more heavy-duty device that will do more, you should go for other expensive options, and, if you're looking for a powerful gas powered chainsaw to complement you blower, then feel free to see reviews on our site. Overall, for moderate property maintenance, this backpack blower is an excellent choice.