Last Updated on January 7, 2022 by Grow with Bovees
The Husqvarna 580BTS backpack blower is a gas-powered leaf blower designed to make big jobs seem that little bit smaller. Through a combination of sheer power and innovation, the pro-grade leaf blower has the brains and brawn to tackle most things that you put in its path—with consummate ease.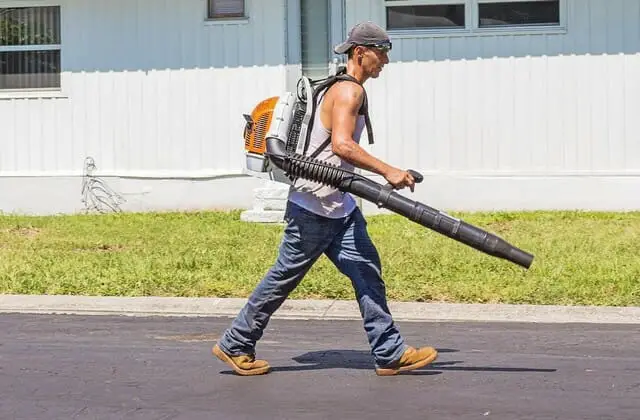 But there's more to finding the ideal leaf blower than specifications alone. Read this in-depth Husqvarna 580BTS review to determine if it's the best-suited leaf blower for you.
Here are just some of the top features we'll look at in this Husqvarna 580BTS backpack blower review:
Powerful 4.3 horsepower.
Load-reducing harness for comfort.
Integrated 'offset' handle for better handling.
Long run time.
Key Features
X-Torq® engine: The engine design increases torque over a broader range of rpm to maximize power.
Air injection: Unique two-stage intake air filtration system ensures longer operation times, even in the most extreme conditions.
Load-reducing harness: Comfortable, ventilated, load-reducing harness with hip belt and wide shoulder straps.
LowVib technology: Dampeners between the engine and chassis effectively reduce vibrations.
Ergonomic handles: Adjustable 'soft-grip' handles that can be angled for maximum comfort.
Large fuel tank: 87 .9 fl oz (0.27 liters)fuel tank for extended run times averaging 1 hour and 15 minutes.
Specifications
Power output: 4.3 hp.
Cylinder displacement: 75.6 cm³.
Maximum power speed: 7200 rpm.
Air flow in pipe: 941 CFM.
Air speed (with round nozzle): 206 mph (331.52 km/h).
Blowing force: 41 N.
Sound pressure level at operator's ear: 100 dB(A).
Sound pressure (49 ft): 77 dB(A).
Fuel capacity: 87.9 fl oz (2.6 l).
Fuel consumption: 464 g/kWh.
Tank runtime: 1 hr 14 min.
Husqvarna 580BTS Review: Time to Put Away Your Rake
Over recent years, leaf blowers have become big players in landscape maintenance and lawn care. On jobs where speed is of the essence, backpack leaf blowers are capable of quickly clearing large areas of grass, leaves, clippings, gravel, and other debris. They are an indispensable tool for both professionals and serious amateurs alike.
The Husqvarna name speaks volumes. Founded in Sweden in 1689, Husqvarna manufactures high-performance professional forest, park, and garden power products, ranging from chainsaws and cutters, right the way through to robotic lawnmowers.
But does the Husqvarna backpack leaf blower's build quality and functionality live up to this reputation for excellence? Let's start by taking a closer look at some of the on-board features.
Stronger and Greener
If brute power is something you prize, then the Husqvarna 580BTS is the blower for you. The backpack leaf blower is fitted with a powerful 4.3 horsepower, 75cc X-Torq® engine design, which boasts increased torque over a wider revolution per minute (rpm) range, and also increases fuel efficiency.
This thing will actually rev up to 7200 rpm, with an air-speed velocity of 941 cubic feet (26.65 m³) per minute (CFM) in the pipe.
Serious stuff indeed!
As well as being able to deliver the kind of wallop needed to clear leaf-strewn paths or driveways, the Husqvarna 580BTS blower also manages to reduce potentially harmful exhaust emissions along the way. According to the manufacturer, by as much as 75 percent—which is great for both you and the environment.
These reductions in air pollution are possible because the Husqvarna's X-Torq® engine is coupled with an extremely efficient fan system, delivering maximum air speed and air flow.
A technology that also improves the 580 BTS's ability to start from cold.
How Does All This Power Relate to Force?
Force is measured in newtons, after Sir Isaac Newton, the English mathematician, physicist, and all-around genius. Husqvarna claims that this leaf blower can push out gusts equal to 41 newtons. That's the equivalent of 208 miles per hour (334.74 km/h). Pretty impressive—gale-force, you might even say.
Of course, all the power in the world can't make up for an unwieldy machine that's uncomfortable to carry and difficult to control.
So let's move on to the key questions of comfort and ease of use.
Comfort and Design
The Husqvarna 580BTS is fitted with an exceptionally comfortable harness, which incorporates a hip belt, wide shoulder straps, and is even ventilated to take as much sweat out of the work as possible.
The harness is load-reducing, meaning the Husqvarna's 26.3 pounds (11.93 kg) total weight (certainly not the lightest in its class) is evenly distributed across the hips and back, rather than just bearing down on the shoulders. If you prefer a lighter blower, you could check out our Husqvarna 360BT backpack blower review here.
Minimizing fatigue is the goal here. If the idea of working better for longer appeals to you, then you should seriously consider the services of the Husqvarna backpack leaf blower.
The fact that such positive weight distribution is possible is a tribute to the harmony and balance of the 580BTS backpack blower's design.
Better Handling
With comfort should come control and maneuverability. In theory, a backpack leaf blower gives you a greater range of movements than either the handheld or walk-behind variety. But this greater flexibility can also increase the risk of twists and strains during full-blooded operation.
To combat this danger, the 580BTS from Husqvarna incorporates an 'offset' handle which is designed to absorb some force of the blower when it's in action and prevent the arm from being accidentally drawn down when in use.
To further enhance grip and stability, the Husqvarna 580BTS also sports adjustable handles that can be angled, along with rubber inserts.
Good Vibrations
Excessive vibrations over extended periods of time can be quite damaging to the human body. In a bid to tackle this issue, Husqvarna's LowVib technology places dampeners between the engine and chassis to dramatically reduce any vibrations. A very welcome innovation, particularly if you're on a big job for long hours.
Doing away with discomfort really seems to be a priority for the designers at Husqvarna.
Capacity
Another important consideration when buying a gas-powered leaf blower is its fuel capacity. The last thing you want on a job is to interrupt what you're doing just for the sake of a refill.
Don't worry; this backpack leaf blower is pretty well-endowed in this respect. With its more than generous 87.9 fluid ounce (2.6 l) gas tank, the Husqvarna blower promises average runtimes of 1 hour and 15 minutes. That's longer than most other leaf blowers in its class—even if it does come with a little extra bulk.
On a side note, the 20 percent greater fuel efficiency claim made by the manufacturer might well be true; there's no reason to doubt it. But the 580BTS is a particularly powerful leaf blower, and power generally comes at a price. So don't be surprised to see higher fuel consumption levels when you're working the leaf blower hard, particularly in the upper revolutions per minute range.
Fuel for Thought
On the subject of fuel, the two-stroke engine of the Husqvarna 580BTS Leaf Blower uses gas and two-stroke oil. The ratio has to be correct; otherwise, you risk overheating or even damaging the engine. Use a high-grade fuel of 90 octanes at a minimum, and unleaded gas is also recommended. This is especially the case when working continuously at high revolutions.
Husqvarna provides a mixing chart to help you get the combination just right.
A Swift Injection of Air
Excessive and costly maintenance can be an issue with anything mechanical. Downtime bites into the bottom line with leaf blowers. The guys at Husqvarna have clearly given this some thought.
The 580BTS's unique commercial grade 'centrifugal' 2-stage air filtration air cleaning system delivers the longest possible operating times and improved performance across the board simply by filtering out nasty, potentially clogging particles from the intake. Even in the dustiest and debris-strewn conditions.
Smooth and uninterrupted operation of this kind should also help extend the engine life of the 580BTS backpack blower—which can only be a good thing.
Now You're Cruising
And if all that wasn't quite enough, then take a look at the cruise control feature. The fan speed can be set on the Husqvarna so that you don't need to think about it again, allowing you to work without distractions. Ideal for those longer, less varied jobs.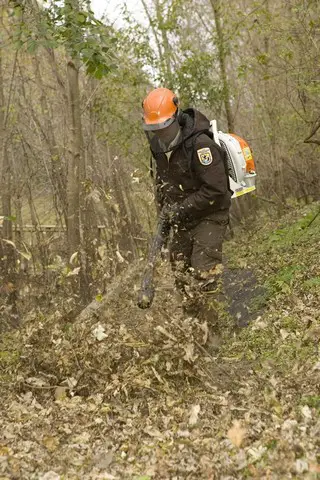 Professional or Amateur Leaf Blower?
So who is the ideal candidate for the Husqvarna 580BTS backpack blower? While the blower isn't limited to specific commercial or professional use, it's certainly true to say that it is particularly suited to more extensive tasks, such as those associated with landscaping or clearing large sites. The next size bigger would be a walk behind blower on wheels.
But there's also a degree of finesse built into the 580BTS leaf blower, with its circular nozzle tip, that suggests it would not be entirely out of place at home, working in the garden, or on a lawn.
Its fairly respectable noise output of 77 decibels at 49 feet (14.94 m) also suggests that the Husqvarna 580BTS blower is reasonably well housebroken.
Pros
Top-of-the-range power.
Load bearing design.
Vibration-reducing technology.
High-capacity fuel tank.
Cons
Heavier than some of the competition (even if it doesn't feel it).
Not the most fuel-efficient of backpack blowers at higher revolutions.
Conclusion of Our Husqvarna 580BTS Backpack Blower Review
From our blower review, you can see the gas-powered Husqvarna 580BTS is a truly impressive backpack leaf blower and an excellent choice for anyone who takes their work seriously. It's well built, versatile, and possesses range-topping power, with comfort and control levels to match.
So if the name of the game is less pain and more gain, then you might have just found your ideal playing partner—the Husqvarna 580BTS blower.