Last Updated on January 7, 2022 by Grow with Bovees
More leaves to deal with than you can shake a stick at?…Aaaaargh…
Or maybe just that you're not so keen on lugging a heavyweight blower around on your back these days…
Then you're right(!), the solution is definitely a decent 'walk behind leaf blower'!
Walk behind wheeled leaf blowers make fast and light work of clearing leaves, because by design, they can have a powerful engine, up to almost 400cc in some cases — that's the same as a powerful motorbike!!
However, there's quite a few push leaf blowers on the market to choose from….
That's where Bovees is here to help…..always keen to find the best solutions to 'not so nice' gardening chores, we sent The Bovees Research Team out to find the best Walk Behind Leaf Blowers on the market.
You'll find their in-depth reviews a little further down the page, but if you're…..
In a hurry?
Then here's The Bovees Best Top Three…at a glance……
Table could not be displayed.
Reviews of the 6 Best Walk Behind Leaf Blowers
Let's take a look at The Bovees Best Top Six products on the market.
1. Billy Goat F1302SPH Force Blower— Bovees Best Overall
In terms of power, the Billy Goat F1302SPH has the most powerful engine out of all commercial walk behind leaf blowers on our list. It has a bigger engine than most other blowers here, a 393cc Honda GX engine that is powerful enough for commercial use, by businesses such as lawncare companies, cemeteries, park departments, and schools.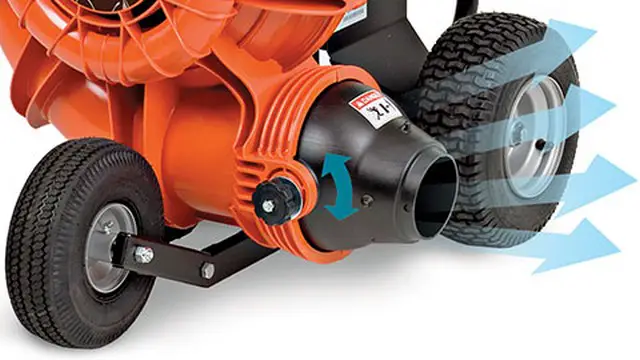 The Billy Goat machine also has a self-propelled drive system meaning; it advances on its own, and you don't have to use a lot of strength to push it forward. This is a good thing considering that it's also the heaviest leaf blower on our list, weighing 165 pounds. Being a 4 cycle engine, it runs on pure gas, no mixing with oil required.
Other specs of the Billy Goat include an ergonomic padded handle, air speeds reaching up to 200 mph, and large 13-inch rear wheels. According to customers, the best thing about the Billy Goat leaf blower, however, is how fast it blows away leaves and even larger debris.
The only design issue is maybe that the front wheel doesn't swivel, which makes handling it slightly tricky, but that seems to be more than compensated for by the self-propelling advantage.
Admittedly, this is the most expensive leaf blower on our list, but we're pretty confident that is warranted by the sheer power of the Honda engine.
A Beast of a Blower!! And no mistake……
Pros
Powerful Honda 393cc engine – Peace of mind….Honda aren't famous for superbike engines for nothing….
Quickly & effectively clears leaves from large areas – Saves you time!
Self-propelled – Minimal effort required
Ergonomic padded handle – Saves on 'bone shake'!
Cons
Front wheel doesn't swivel – the extra power makes up for it
On the pricey side – one can't expect to get all that extra power for no extra price!
2. Southland SWB163150E Leaf Blower—Bovees Best Budget
For those looking for a budget-friendly option, the SWB163150E leaf blower from Southland is a great choice. Equipped with a 163cc engine, an airflow speed of 150 mph, and an airflow capacity of 1200 CFM, it's not as powerful as some of the other blowers on our list. However, it still does the job and works well for blowing out a reasonable amount of leaves pretty quickly.
According to users, the gas engine starts and operates easily. You simply have to screw on the handle, pour in the included oil, and fill it with fresh gas to get it started. Also appreciated is that the handles are adjustable, so they suit people of different heights, and everyone can use it comfortably.
The blowing force can be redirected to the front of the machine, rather than to one side, by fitting the included front flow attachment, which is stored under the frame when not in use.
With a well-balanced steel fan and housing, this walk behind leaf blower is long-lasting. Also, the 12-inch rear wheels hold up really well and make the machine easy to maneuver due to their large diameter.
However, the air intake on the front reportedly gets clogged easily and requires frequent cleaning. Furthermore, the 5-inch front swivel wheel doesn't turn properly and tends to get stuck, which makes it difficult to handle the walk behind blower.
Pros
Affordable
Easy to start and operate
Assembled easily
Adjustable handle height
Manual recoil starter
Durable housing and rear wheels
Cons
Not the most powerful engine (163cc)
Complaints that the air intake tends to clog a bit quickly
Complaints that the front wheel doesn't always swivel easily
3. Troy Bilt TB672 Wheeled Leaf Blower—Bovees Best Lightweight
At 78 pounds, this is the most lightweight walk behind leaf blower on our list. What this means is that it's easier to push and requires less strength, which is great for elderly people or those that don't feel super strong. It's also ideal for use over large distances.
As for the engine, this leaf blower uses a 208cc 4-cycle overhead valve engine, which is relatively powerful. In terms of air, the airstream is 150 mph while the airflow volume capacity reaches 1000 CFM, making it pretty average in terms of power.
Other features of the Troy Bilt TB672 walk behind leaf blower include a 90-degree front discharge chute that blows leaves and small items out from the machine on the side, as well as a rubberized handle that protects your hands from vibrations. Users also like that it's easy to start and maneuver due to its ultra-light weight.
But note that the front wheel doesn't swivel on this machine, which makes it less capable of moving through tough terrain and harder to maneuver in general. Also, some users wish for more velocity in terms of power and state that the Tory Bilt doesn't blow away larger debris such as stones, for example.
 Pros
Ultra light.
90-degree front discharge chute at the front.
Rubber handles.
Easy to start and handle.
Cons
Non-swiveling front wheel.
Not enough power to blow away larger debris.
4. Landworks Super Duty Wheeled Walk Behind
This walk behind leaf blower from Landworks has a 212cc 4-cycle motor with a wind force speed up to 200 mph. It has a 2000 CFM airflow capacity, which is very high, and this means that you'll be able to get rid of leaves from large areas in no time. With corrosion-free steel housing painted in an attractive blue color, it's also a durable machine.
Other specs of this leaf blower include a 360-degree turning front wheel, making it easy to maneuver the device, as well as an adjustable 0–90 degrees discharge plate meaning that you can adjust the airflow direction.
According to customers, this walk behind leaf blower is easy to assemble, and it comes in sturdy packaging. Also praised by users is that this machine starts on the first crank almost every time. It's supposedly easy to maneuver after it's on, so in general, it's easy to use.
However, several buyers complain about the handling that doesn't have padding, and therefore, your hands vibrate a lot when you use the blower. Also, due to the heavy-duty powder-coated steel body of this machine, it's relatively heavy at about 129 pounds.
Pros
A lot of airflow and high air speed
360° front swivel wheel for easy steering
Adjustable discharge plate
Easy to put together
Starts on the first crank
Great maneuverability
Cons
No padding on the handles
Heavy 129 lbs
5. Merry Mac Walk-Behind Leaf and Debris Blower – Best Low Noise
Where the previous product on our list lacks, the Merry Mac Leaf and Debris Blower has padded handles, which decreases the vibration in your hands. With a 4-cycle 305cc engine, 200 mph air speed, and 2000 CFM, it's a powerful blower. Some users even state that it blows bark off trees, it certainly seems to give good clean results.
Other advantages with this walk behind leaf blower are that the airflow and speed are adjustable, so you can choose between a higher or a lower setting. As with the Landworks model, you can also choose between front or side discharge. With an iron sleeve, it's durable, but it's with little wonder that it also makes the blower rather heavy at 115 pounds.
In terms of noise level, this machine has a low 71 dB rating, so it's less likely to injure your hearing. You should still wear ear protection just in case, but compared to many other machines, the Merry Mac walk behind leaf blower is kind to your ears.
While it also has a swiveling wheel at the front, it's reportedly rather small, which means that it can't go through wet and muddy terrain that well.
Pros
Padded handles decrease vibration
A powerful machine that blows away leaves and debris easily
Adjustable air power
Low noise level at 71 dB
Front or side discharge
Durable metal housing
Cons
Rather heavy 115 lbs
Some complaints that the front wheel is too small to maneuver through wet terrain
6. SuperHandy Leaf-Snow Blower Walk Behind
With an 8-inch 360-degree front swivel wheel and 10-inch rear wheels, the SuperHandy walk behind leaf blower can move easily through tough terrain. The tires are made from rubber and designed to be heavy-duty.
Other pros include the adjustable airflow between 1270–2000 CFM and air speed between 150–200 mph (321.87 km/h). The engine is a 212cc 4-stroke, which is powerful enough to handle your average-sized yard. Another feature worth mentioning is that this machine can hold 0.7 gallons (2.65 l) of gasoline, which is pretty decent.
According to users, the assembly is straightforward and doesn't take too long. Also liked by buyers is the durable steel housing that extends all the way under the blower for a stable design. Furthermore, the airflow angle is adjustable to 90 degrees which is another plus.
In terms of negatives, the handles aren't padded, which means that they don't protect your hands from vibrations, this should not be too much of a problem to fix with some foam and a roll of duct tape!
Another con is that the air filter isn't removable, so you can't take it out and clean it or replace it.
Pros
Heavy-duty large wheels.
Adjustable airflow and speed.
Straightforward assembly.
Stable steel housing design.
Adjustable airflow angle.
Cons
Non-padded handles.
Air filter can't be removed or replaced.
How To Choose the Best Walk Behind Leaf Blower
Let's take a look into what a walk behind leaf blower actually is and why you might need it. We'll also guide you through what features the best models should have and what advantages it has vis-à-vis other types of leaf blowers.
What Is A Walk Behind Leaf Blower?
As evident by the name, these blowers can be pushed (and sometimes pulled) by the user, causing you to walk behind them. These blowers carry a larger, more powerful engine than other leaf blower types, and the nozzle is typically placed from the side at the foot of the blower, so it's not in your way.
These leaf blowers can be used for commercial use and work great for landscape businesses or those with larger backyards with lots of trees due to the sheer power of the blower.
What Are the Different Types of Leaf Blowers?
There are three main types of leaf blowers:
Push leaf blower: Has a lot of blowing power and gets rid of leaves and other garbage from large properties fast, but is also comparatively expensive.
Hand-held leaf blower: Maneuverable and lightweight, a handheld leaf blower works well for a small yard, but doesn't have the power to remove large pieces of debris.
Backpack blower: A backpack leaf blower typically has more power than most hand-held leaf blowers but is lighter, cheaper, and takes up less space than a walk behind blower. Backpack leaf blowers are great for larger shops and garages and are a good middle-ground device.
What Are the Advantages of Walk Behind Blowers vs Other Types of Leaf Blowers?
Since you walk behind this type of blower as opposed to carrying it, as you do with a backpack blower or hand-held leaf blower, walk behind leaf blowers are generally fitted with a larger, more powerful engine (which is obviously also heavier).
Therefore, they are the most powerful leaf blower design and great when you have to get rid of leaves from large areas quickly.
Naturally, this also means that it takes the least amount of time to get rid of leaves from your backyard with walk behind leaf blowers and they can cover larger areas faster.
If you have a lot of trees on your property, especially pine trees that are dropping needles, and want to start a compost pile, or possibly already have a compost pile, the mulching models are great for collecting the leaves and debris to include in your compost. Needles from pine trees make great compost and mulch for certain plants, such as rhododendrons or azaleas.
It's also ideal for the elderly or those who have backache, for example, since you don't need to carry this type of blower in your hands or on your back. However, they tend to be rather heavy, so look for a lightweight walk behind leaf blower if you suffer from any injuries.
How To Choose a Walk Behind Leaf Blower
Now, let's look at the features that make the best walk behind leaf blower powerful, durable, and easy to maneuver.
Engine
The engine size is measured in ccs, and the average walk behind model should have a 199cc engine, which is a good amount of power. Naturally, the more powerful the motor, the more leaves you can blow away fast, so look for those above 300cc for extra power.
You also have the choice of a 2-cycle engine or a 4-cycle one on your walk behind leaf blower. A 2-cycle engine is more powerful but also makes more noise and needs a mixture of oil and gas to run properly. While a 4-cycle engine only requires gas and is quieter, it's also more expensive and has less power than a 2-cycle one.
Air Power
Furthermore, you should also consider walk behind leaf blowers cubic feet per minute, often shortened CFM. This measures the amount of air that blows from your machine every minute. If you mostly use your walk behind leaf blower on a smaller lawn, 300 CFM is enough. For bigger areas or if you want to clear snow and debris, look for those at around 500 CFM.
Another thing to keep an eye on is how fast the air blows from the machine, which is measured in miles per hour (mph). The higher the mph, the faster the wind blows, and thus the faster you'll clear your lawn of leaves. The average walk behind models has an air speed of 176mph, so look for devices that are at least this powerful.
Noise
We all know that leaf blowers can be pretty loud, but you should know how loud it is exactly to make sure you protect your hearing appropriately. These are some common noise ratings measured in decibels (dB):
60 dB: your regular conversation.
80 dB: sounds like a normal kitchen appliance or a freight train. After 8 hours of exposure, it might lead to hearing loss.
100 dB: as noisy as a lawnmower or gas-powered motor. Damages your eardrums after 8 hours of exposure.
110 dB: same loudness as a mill or a nightclub with music. One hour of exposure can damage your hearing.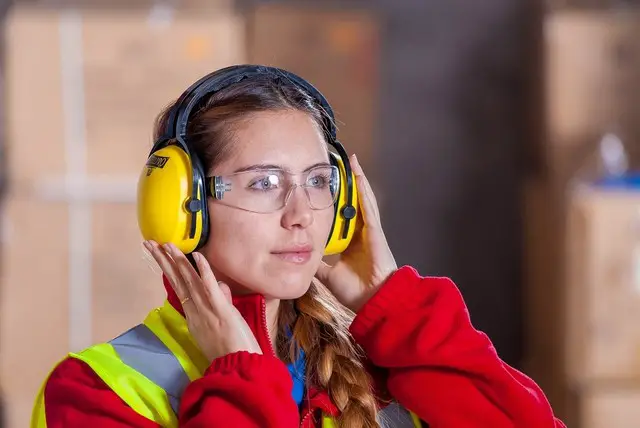 As most walk behind leaf blowers have powerful engines, they typically range between 60dB and 95dB. While selecting a quieter model is the ideal choice, you should always use hearing protection while using this type of leaf blower.
Versatility
Since your walk behind leaf blower might be heavy to push, many prefer those that are self-propelling. This means that they advance on their own and all you have to do is guide them along in the right direction.
When it comes to air direction, the best walk behind leaf blowers have directional controls that allow you to aim where you want to blow your leaves and debris to. This is super convenient when you want to blow garbage along a wall or a building, for example.
Wheels
Larger rear wheels are better for moving through rough terrain with ease, and your blower won't move around as much as you use it. Also worth considering is getting a machine with a front swivel wheel that helps when turning and steering your walk behind leaf blower on the ground.
Handle
It's little wonder that an ergonomic handle is your best bet so you'll avoid pain in your hands. Go for models that are made from bouncy rubber and have padding to reduce vibrations and make using the device more comfortable.
Housing Material
The housing surrounding the walk behind leaf blowers' moving components helps keep the airflow smooth and uninterrupted. But you should know that the type of material you use here can affect the weight and durability of your leaf blower.
While a metal housing is more long-lasting, it tends to make your device heavier. Plastic, on the other hand, is more lightweight, but it tends to break easily as well.
Spark Plug
Remember to check this vital part of the engine. If you are having problems starting, then 9 times out of 10, it's the spark plug that is at fault. Always ensure that you have a spare on hand.
Finally, watch this video to see some tips on how to use your walk behind leaf blower.
Summing Up: The Best Walk Behind Leaf Blower Is…
Now you know that the best walk behind leaf blower is powerful, lightweight, and has padded handles as well as durable wheels that can go through almost any terrain.
In terms of getting the most bang for your buck with a leaf blower with lots of power, the Landworks Super Duty Wheeled Walk Behind is our favorite product. With 200 mph (321.87 km/h) air speed and 2000 CFM airflow, it's little wonder that it blows away both leaves and larger debris efficiently. It's also easy to handle with its 360-degree swiveling front wheel and an adjustable discharge plate.
If you're looking for a walk behind leaf blower option with padded handles, however, we recommend the Merry Mac Walk-Behind Leaf and Debris Blower instead. This machine will lessen the vibrations in your hands while still retaining a good amount of airflow and speed for a reasonable price.
But which walk behind leaf blower is your favorite?