Last Updated on January 7, 2022 by Grow with Bovees
Fall is a beautiful time of year when all the leaves on the trees are the most stunning shades of red, gold, and orange. The problem comes when, as the name of the season suggests, they fall to the ground.
It may be nice to walk through the leaves on a cool fall morning, feeling them crunching underneath your feet. However, as they fall onto your well-manicured lawns and pathways, it becomes an issue.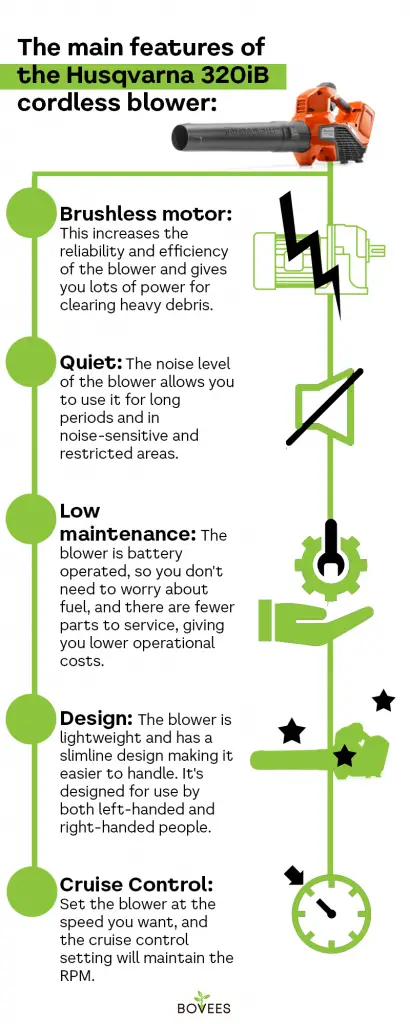 Pathways and steps can become slippery when the leaves start to break down. This can be dangerous to anyone walking on them, and they may fall over.  
Fallen leaves will also cause your grass to yellow, which can encourage diseases that may harm your lawn. They can also damage plants, so the best thing to do is clear them as soon as they fall.
We can recommend the Husqvarna 320iB 40V Cordless Blower to get rid of the fallen leaves. In this guide, we will share with you the pros and cons of this cordless leaf blower there and give you a comprehensive Husqvarna 320ib review.
Some of the features we'll look at in this Husqvarna 320ib review include:
Low noise levels.
Ergonomic design.
Cruise control.
Brushless motor.
Low maintenance.
Why Do We Need Leaf Blowers?
Removing fallen debris used to be a hands-on, back-breaking job that everyone used to avoid. You would have to use a hand rake, which would take hours, causing lots of blisters and pain. You would then hope that the wind would be kind and not blow them everywhere before you were able to dispose of them.
This job no longer requires you to spend hours each day gathering them together. A leaf blower to do the hard work for you is a great investment that the whole family will be fighting to use.
Leaf blowers can be used for other things throughout the whole year; it's not just for blowing leaves, some of the larger wheeled walk behind models can also be very effective at snow blowing.. It can be used to clear up your hedge trimmings and grass cuttings. It can also be used to clear your rain gutters, which are hard to get at to clean normally. Now you can just blow the dirt away.
So is the Husqvarna 320ib leaf blower the tool you need for these jobs to make them easy and fun? Let's take a look.
What Are the Features of the Husqvarna 320iB Leaf Blower?
The Husqvarna 320ib blower is a cordless, handheld blower that comes with many great features.
Brushless Motor
The Husqvarna 320ib leaf blower has a brushless 40 volt battery-powered motor that features an innovative axial fan for increased reliability and efficiency. This maximizes run time and air flow, outperforming other products.
The brushless motor gives you lots of power for clearing heavy debris. It gives you up to 410 CFM (Cubic Feet per Minute) of air volume. The air speed is at impressive speeds of 120 mph (193.12 km/h). The powerful motor also gives the leaf blower a longer product life than other brands of leaf blowers.
The high torque and reliability of the Husqvarna 320ib blower will make your yard work a pleasure rather than a pain.
Quiet Operation
There's nothing worse than using a tool that's so loud you can't hear yourself think. Many leaf blowers are noisy and can only be used for short periods. The Husqvarna blower offers low noise, between 80 and 95 decibels, due to the 40-volt lithium-ion battery. This means that you can use it for longer working times than other products without any issues.
You can also use it in noise-sensitive and restricted areas, making it ideal for residential yard use. There's no need to worry about waking your neighbors and upsetting them when using it on the weekend.
Low Maintenance
The 320ib leaf blower is battery powered, so you don't need to worry about refilling the fuel. The 40-volt Husqvarna battery is easy to remove to charge or swap over to a spare battery. A full recharge of the battery takes just one hour, and the product comes with one battery and charger. The battery system in this leaf blower is flexible and can be used in other Husqvarna products.
The blower has an electronically-controlled drive system, which gives you low operational costs. There are fewer parts to service than on gas blowers, saving you both time and money.
Ergonomic Design
The leaf blower is lightweight, weighing in at just 5.7 pounds (2.59 kg), which is lighter than many other handheld blowers. It has a slimline design that's easy to hold with a comfortable handle, and it can be held by both right-handed and left-handed people without any problems. The large power trigger allows you to have full control at all times.
As it's cordless, there's no need to worry about any cables or cords getting in your way or getting caught up. The weight of the leaf blower is evenly distributed, which will keep you stabilized when using it without worrying about straining yourself.
Cruise Control
Just when you thought that it couldn't get any easier to clear everything in the garden that needs clearing, Husqvarna has made it easier still by giving you a handy switch. With this, you can find the right setting for the job that you are doing without using too much power.
This addition gives you the advantage of locking the leaf blower to one position and level of power. This will maintain the optimum RPM for the task that you are doing at any one time.
If you think that you may need a larger capacity blower, have a look at our reviews of the best Husqvarna backpack blower models around at the moment.
Pros
There are lots of Pro's for the Husqvarna 320ib leaf blower, and it's a great tool to have in your garage. Everyone has their own thoughts, but the main positives of the product are below:
Easy to use: The push-button to start and variable speed settings allow you to select the right amount of power for each task.
Slim, lightweight design: The slim, well-balanced design is lightweight and easy to carry and hold for long periods.
Cruise control: Locking the blower to the right setting gives you the optimum power and position for each task.
Quiet when running: No more waking the neighbors with your loud gardening tools. The Husqvarna leaf blower is very quiet to keep everyone happy and allow you to work for more extended periods.
Powerful: This is more powerful than expected for a slim, lightweight product. It completes all residential jobs with ease.
Two-year warranty: The blower comes with a 2-year warranty to give you peace of mind.
Add a String Trimmer
Husqvarna makes a string trimmer that makes use of the same battery as this tool. If you enjoy using this blower, and also like using a lightweight trimmer for keeping your weeds under control, this could be the toolkit for you, only requiring the purchase of one battery and charger.
Cons
Nothing is perfect, and there are always things that can be improved. Here are some disadvantages of the Husqvarna 320ib leaf blower that users found:
Battery drains quickly: If you're using the blower at the top speed, the battery appears to drain quite quickly. If you need to use it on full power for any length of time, maybe invest in a spare battery. This can then be swapped over to complete the task.
Full speed resets after one minute: The leaf blower will drop to a slower speed after approximately one minute at full speed. This is to conserve battery life and can be overridden. Simply let go of the trigger and then go back to the full-speed setting.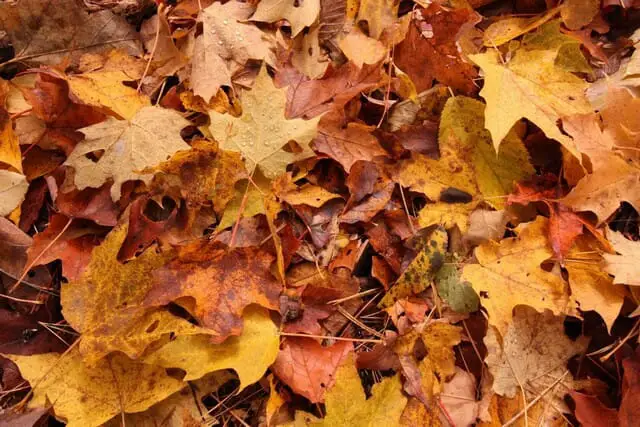 Conclusion: Husqvarna 320ib Review
If you're looking for a lightweight leaf blower that's still powerful and easy to use, you don't need to look any further. The Husqvarna 320ib 40V leaf blower ticks all the boxes when looking for a residential blower. It's easy to maintain and battery-powered, removing the need for cables and fuel. It also rates highly in product reviews.
It's suitable for many jobs around the home and can tackle the dirtiest of yards and rain gutters. The leaf blower outperforms other leaf blowers based on performance, design, and value for money.
We hope that you found our guide helpful, and it has given you the information you need to determine if the Husqvarna 320ib 40V leaf blower is for you.
Check it out here.