Last Updated on January 7, 2022 by Grow with Bovees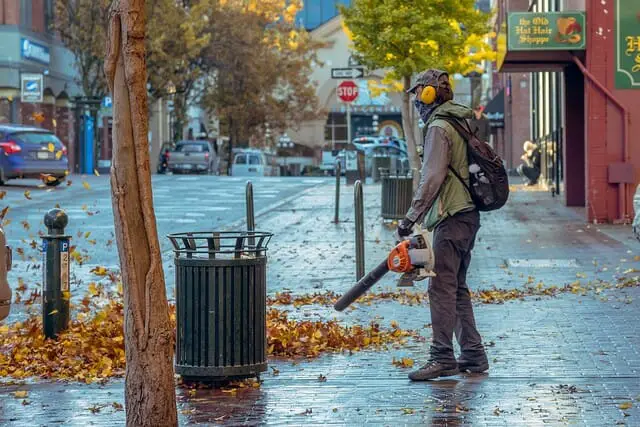 You're someone who owns a nice yard. You're also someone who likes to maintain their yard and make sure it's always clean and pleasing to the eye. Because, who wouldn't? Luckily for us, we have the right tools to accomplish the job at a much lesser effort.
So during times of fall or those occasions when too many leaves end up spread over your yard, it becomes handy to use an effective leaf blower.
Could the Hitachi RB24EAP gas-powered leaf blower solve this issue? Let's find out.
Hitachi RB24EAP Review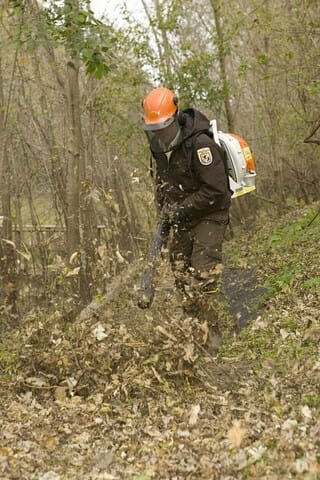 What Kind of Engine Does It Have?
The Hitachi RB24EAP features a PureFire low-emission, two-stroke engine. These engines have the advantage of being lightweight as well as having fewer working parts compared to four-stroke engines. Its low-emission capabilities make it produce much fewer fumes, hence making it much safer to handle.
The 1.13-horsepower engine's displacement measures at nearly 24 cubic centimeters, producing air velocities up to 170 miles per hour. In addition, it's able to flurry out 441 cubic feet of air every minute, which is pretty impressive for its small weight and compact size.
Dealing with large volumes of debris or working over large lawns would become a lot simpler and safer if you were to use a walk behind wheeled leaf blower.
How Comfortable Is This Hitachi Gas Leaf Blower?
This handheld Hitachi leaf blower is pretty easy to carry around and use. It only weighs 8.6 pounds and comes with a big handle, a two-finger throttle lever system, and an overall well-balanced design that gives you the ability to change its working speeds while carrying it with ease.
It also features soft-grip handles that reduce vibrations, thus making it easier to use for longer periods. But this doesn't mean that it eliminates vibrations. Taking breaks is still required if you have a long session of working to avoid getting hand-arm vibration or carpal tunnel syndrome.
Is The Hitachi RB24EAP Easy to Assemble?
Getting the Hitachi RB24EAP leaf blower assembled isn't challenging at all; it's pretty straightforward.
The straight pipe easily slides into the blower housing after alignment and then rotates to lock into place.
Similarly, the conic pipe, which is the frontmost part, is fixed onto the straight pipe by a simple alignment, then sliding the piece in and rotating it into place.
The markers for alignment are also easy to spot — a projection from one piece along with a corresponding groove in the other. So, putting this together is a simple task and requires no tools or engineering expertise.
Is Starting This Gas Powered Leaf Blower Difficult?
Starting up the leaf blower involves a few steps. It can be a bit tricky, but it doesn't take long:
Check the top ignition switch to the on position.
Push its priming bulb several times to pump the fuel inside the bulb.
Set the choke lever to the closed position.
Pull the recoil starter quickly, making sure you don't let go of it to snap back.
After the engine makes noise being ready to start, return the choke lever to the run position.
Then pull the recoil start quickly again.
Give the engine a few minutes to warm up before use.
Steps two and four can be repeated in case the engine doesn't start or makes a noise to indicate its readiness.
What About Stopping It?
It doesn't take long to stop the leaf blower. All you need to do are these simple steps:
Decrease the engine's speed via the throttle lever.
Leave the engine idle for a couple of minutes.
Switch the ignition button to the off position.
Keep pressing the switch until the engine stops completely.
After the engine has come to a complete halt, you can safely set it down on the ground.
Hitachi RB24EAP Fuel Mix
The Hitachi RB24EAP runs on a mixture of fuel and oil, the ratio of which can range from 25:1 to 50:1. The mixing should always happen in a separate container, where half the intended fuel volume is added first, followed by the oil, then the rest of the fuel, all while mixing in between these steps.
For fuel, it's recommended to only use unleaded and branded 89 octanes. As for oils, don't use oils for four-stroke engines or waste oil.
Additionally, oil mixtures labeled for water-cooled engines cannot be used. Only types of mixtures labeled for air-cooled engines with antioxidant qualities can be used in case no genuine oil was present.
Can It Clear All Kinds of Debris?
The leaf blower comes with variable speed settings, all of which provide enough momentum to clear many types of debris.
At the low-speed setting, you can easily blow away all those fallen leaves and dry grass, along with its clippings. Dry sand can also be cleared at that speed.
For the medium-speed setting, taking care of wet leaves or wet patches of grass becomes the blower's niche. Wet sand isn't difficult to remove from your presence with the blower, albeit more effort is needed.
The high-speed setting is what makes this lightweight handheld blower not just able to move leaves, grass, or sand, but also gravel and other heavier material. It won't be a problem getting those pebbles out of the way, nor slightly larger rocks.
The air blown out is also useful to melt off any snow on your car or dry off any water.
Does It Come With Accessories?
Yes, there are extra things that you can buy in addition to the Hitachi RB24EAP leaf blower. These include:
Hitachi oil mixtures.
Tanaka oil mixture.
A shoulder strap.
These extras, while not necessary, make garden tasks garden tasks much easier. You get to have ready-made mixtures that can be directly poured into the tank without the need for preparation.
The shoulder strap is a nice addition for those who would like to take off some of the weight and vibration from their arms. It also makes a great choice for those who have large gardens and prefer a style similar to that of a backpack leaf blower.
How Reliable Is it?
Mostly, you won't find any problems using the Hitachi RB24EAP leaf blower, as long as you follow the instructions for starting it up and operating it.
There are also several maintenance procedures that you can follow to maximize its reliability:
Clean it on the outside.
Check for any cracks in the cover or fuel tank.
Make sure all the nuts and screws are tightened.
Clean the air filter.
Clean the fuel tank.
What Safety Measures Should I Take?
Keep in mind these safety measures when using the Hitachi RB24EAP leaf blower:
Wear protective gear for your head, eyes, ears, and hands.
Put on a dust mask.
Keep your hands away from exhaust and engine areas.
Maintain a distance of at least 15 meters between the leaf blower and any other people or animals.
Wear footwear that's sturdy and doesn't slip.
Make sure the engine is to the right side of your body during use.
How Loud Is it?
Like many leaf blowers, this unit is pretty loud. It can produce as much as 87 to 109 decibels for the operator, and 70–75 dB at 50 feet (15.24 m) away. This makes the use of earmuffs a necessity if you want to keep your hearing intact.
This also doesn't make it suitable for use late at night when all your neighbors are asleep. That being said, the optimal time for working this machine is during the working hours.
Does It Have a Vacuum?
No, it doesn't have a vacuum and only blows air to the outside to move the debris away. Nothing is sucked anywhere.
Does It Have a Mulcher?
There's no leaf mulcher since no leaves or debris are sucked into the leaf blower. You would need a leaf picking up tool or vacuum for that job.
Does It Come with a Warranty?
Yes, it comes with a flexible warranty policy. For consumers, a seven-year warranty is offered by Hitachi. For those who use it in a non-rented commercial setting, a two-year warranty is available. As for those who use it in a rented setting, they get a one-year warranty.
What Makes It Stand Out?
The Hitachi RB24EAP provides a great balance between power and weight. It has enough power to clear most debris, including pebbles and small rocks. That doesn't come at a cost to its weight, which is less than 9 pounds.
Its fuel tank is translucent, which enables you to keep an eye on the fuel level. It also helps you visually watch the refueling process, minimizing the chances of pouring too much fuel in there and risk spilling it on yourself or the machine.
The machine is also cordless in addition to being handheld. This makes it very convenient for the user to move around without a power cable. Also, the variable speeds are easy to switch between with the trigger only needing a single finger pull.
How Does It Compare to Other Leaf Blowers?
The Hitachi RB24EAP stands out in comparison to other leaf blowers, especially since it's within the average weight of 8.43 pounds for leaf blowers. However, it has a slower speed of 170 miles per hour, compared to the average of 270.
Having a translucent fuel tank makes it very handy since you can keep up with how much fuel remains as you use it. This feature isn't present in all competitor leaf blowers. The low fume emissions as a result of fuel consumption makes it safer, too.
The RB24EAP is also able to displace a large volume of air at a relatively high velocity despite its size and weight, albeit it's still as loud and noisy as competitors. You're less likely to get injuries to your hands or arms from prolonged use of this leaf blower, though, due to its vibration reduction system.
The biggest advantage over other leaf blowers is that there's no cord. You won't be limited to the destination and distance you use this product. You also won't have to suffer any problems with wire entanglement, which is hell for anyone!
However, there's also no system to assist you in starting up your leaf blower, so that can be a bit of a nuisance if you aren't familiar with the starting method.
If the hand held model of blower is not big enough for your needs, you my want to check out the best Husqvarna backpack blower models here. They have a lot more power than a handheld leaf blower.
Stats
The following are the Hitachi RB24EAP's stats:
Type: Gas-powered.
Handling: Handheld.
Weight: 8.6 pounds (3.9 kg).
Engine Type: Two-stroke.
Engine Displacement: 23.9cc 2 cycle.
Air Volume: Up to 441 cubic centimeters.
Air Velocity: Up to 170 miles per hour (273.59 km/h).
Fuel Tank: Translucent.
Fuel Tank Capacity: 17.6 fluid ounces (0.52 liters).
Noise: From 87 to 107 decibels.
Speed Settings: Low, medium, and high.
Vacuum: No.
Mulcher: No.
Spring-Assisted Starter: No.
Cordless: Yes.
Vibration Level: 12 meters per second squared.
Warranty: Up to seven years.
Pros
Highly affordable for home and commercial use.
Lightweight, thus, easy to carry around.
No cord connections.
Transparent fuel tank.
Vibration reduction system.
High air volume and air velocity despite compact size.
Low fumes emmissions.
Cons
Requires taking several safety measures.
Starting it up can be a bit tricky.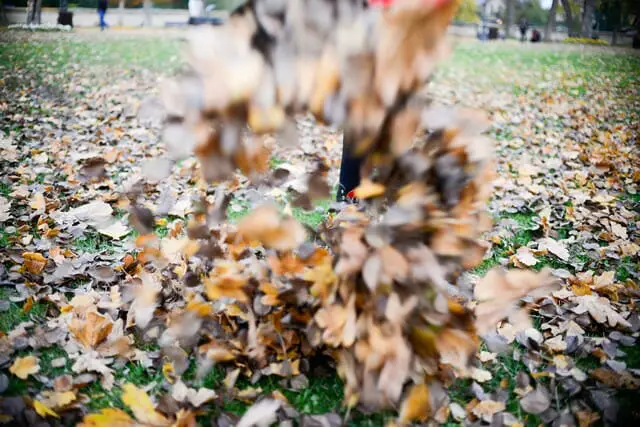 Conclusion
This small-sized leaf blower is very versatile and covers all yard-clearing needs. It's also powerful and highly affordable; many wouldn't hesitate to buy it for these reasons alone.
Thus, if you're looking to have the best leaf blower in your hands, the Hitachi RB24EAP is definitely worth considering. The leaves had better be ready since they're about to be blown away like dust in the wind.