Last Updated on February 28, 2022 by Grow with Bovees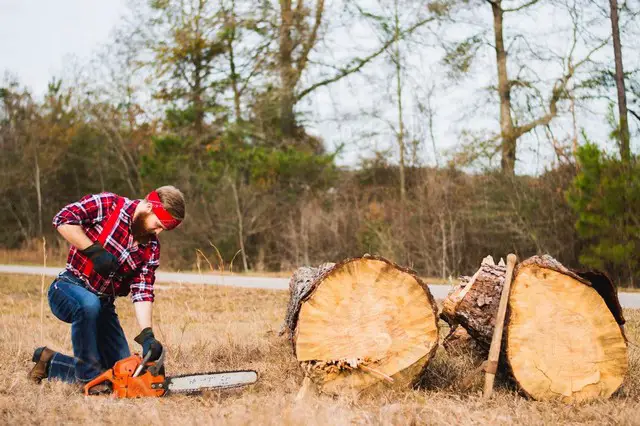 Shopping for your very first chainsaw can be confusing, to say the least. That's because motorized saws haven't changed much in the last 30 years, but the number of offerings from reputable chainsaw makers has tripled.
That's why we put together this Husqvarna 460 Rancher review to help you cut through the noise.
When you hear Husqvarna, you immediately think of high-quality power tools. This company has been at it for centuries, emerging as a leader in the chainsaw industry.
So, if you're looking for an in-depth Husqvarna 460 Rancher review, look no further. We discuss everything from build quality to safety features and everything in between.
Here's the top features of the Husqvarna 460 Rancher:
Air injection.
Side-mounted chain tensioner.
Smart Start® technology.
Adjustable oil pump.
Inertia activated chain brake.
Cylinder decompression valve.
Snap-lock cylinder cover.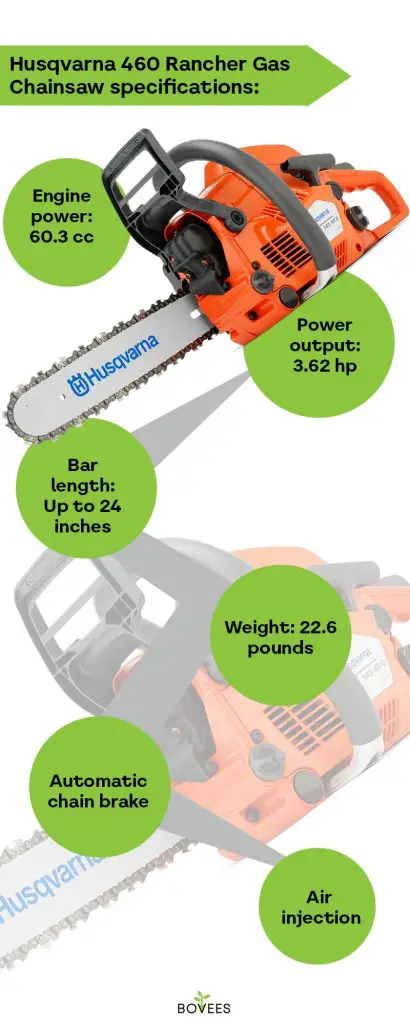 Who Is The Husqvarna 460 Rancher For?
This tool is for anyone looking for a reliable all-round gas chainsaw with heavy-duty performance. It's perfect for getting rid of large branches or cutting down medium-sized trees.
People who want to replace their old, worn-out chainsaws may find the 460 Rancher the ultimate choice. That includes folk who don't have modern safety features on their current setup. With proper care and maintenance, the 460 Rancher will work efficiently for many years with little to no issues.
Product Review
The gas-powered Husqvarna 460 Rancher is not your average chainsaw. It's a heavy-duty saw with an impressive feature set, — maybe not the best tool for light trimming and pruning your wooded yard a few times a year. That said, here's what you can expect from this bad boy.
Excellent Build Quality
Everything on the 460 rancher screams quality. From its weight to its balance, this thing is pretty much everything you need to take your logging to the next level. You can work and move around with it all day without feeling tired.
This gas chainsaw is outfitted with an X-Torq® engine that promises excellent fuel efficiency and fewer emissions. It can crank out 3.6 horsepower, which can make cutting down trees seem like small work. That, combined with the flexible bar length, makes this an excellent option for the average landowner looking for a powerful, responsive chainsaw.
Ergonomics
Ergonomics is a big part of the overall user experience with any chainsaw. The last thing you want is a tool that slows you down while on a big job. The people at Husqvarna thought this through while designing the 460, and the result is a robust and comfortable power saw.
The grip on this saw is a class above its competition. It comes complete with anti-vibration technology, perfect positioning, and a sturdy build. This comes in handy when working on big projects that require hours of continuous use. A firm, comfortable grip will reduce fatigue in your hands and allow you to control the saw properly.
Everything on this puppy is designed to make operation a breeze. For example, pulling the choke puts the saw in the ON position automatically. It also allows you to close the choke separately without turning the thing OFF. Plus, both switches are conveniently placed within thumb's reach.
Features of the Husqvarna 460 Rancher Chainsaw
Air Injection
The chainsaw features a centrifugal air cleaning system that removes most of the dirt, debris, and particles from the air before reaching the air filter. That means the engine will live a longer, healthier life as it won't have to deal with a clogged air intake.
Side-Mounted Chain Tensioner
The chain adjuster on this tool is on the side for easier reach. You'll never have to open the case as you would with most chainsaws in this class.
Adjustable Oil Pump
This saw comes with a three-position oil flow adjuster on the side for fast and easy access. The first position is for a 13–15 inch bar, position two is for a 16–18 inch bar, and position three is for a 20–24 inch bar length. Having control over the oil flow allows you to save on oil used.
Smart Start® Technology
While you still get the traditional pull-to-start setup, this chainsaw maker added an assistive technology to make starting the 460 easier. This feature comes in handy when cold starting the saw on a chilly day.
Inertia Activated Chain Brake
In the unfortunate event of kickback, the chain brake engages automatically as a result of inertia forces. That reduces the likelihood of injury as most people cannot react fast enough to engage the brake when kickback happens. It works like a car's seat belt—only when needed.
Cylinder Decompression Valve
The 460 Husqvarna comes with a manual decompression valve to make starting easier. You press it before attempting to start the unit, making the engine turn over easily when pulling the recoil rope.
Snap-Lock Cylinder Cover
This easy-to-open lock feature protects the quick-release air filter and spark plug while giving you easy access. You will never have to bring extra tools to this routine maintenance job.
Felling Marks
These marks help the operator control the direction of the fall. This keeps people safe when working near power lines, structures, and water bodies.
Cutting Speed
The cutting speed on this bad boy depends on how you treat it. That includes getting the oil and gas mixture right, tensioning the chain, and making sure the teeth are sharp enough. All these are routine maintenance tasks that you can do yourself, so this shouldn't be a problem.
Of course, the cutting speed on this thing is impressive when brand new. You can slice a medium-sized trunk in under 60 seconds, depending on your skill level. This figure changes as the engine ages and also depends on the lumber you are working with. Aged hardwood might take a little more effort to cut than fresh softwood trees.
Uptime
Anybody who has been around chainsaws knows that they often refuse to start after extended usage. The problem is usually restricted gas flow to the engine or an issue with the spark plug.
Husqvarna solves this problem with its revolutionary Smart Start® system. That means you can use this tool all day long without having to worry about uptime issues.
However, using this power tool for too long without breaks can cause issues. It's not a commercial-grade saw, which means it needs a break in between hours of heavy-duty cutting.
Safety
A chainsaw can be a pretty dangerous tool, especially when in the hands of an inexperienced operator. The tiniest mistake can result in a missing finger or worse. That's why they decided to add an inertia activated chain brake to the 460 Rancher. You get passive protection from the saw in case of kickback.
You also get a handguard that protects your left fingers from stabs and slaps from tree branches when working. This feature will save you from serious injury if you trip and fall between cuts. However, you have to activate the brake to enjoy this protection.
The saw also features a 24-inch robust guide bar that provides precise guidance as you cut. The chain is durable and won't loosen from the guide bar with regular maintenance.
Value
It's hard to beat the value you get in the Husqvarna 460 Rancher. The safety features, powerful engine, and ergonomic design are all things that make this chainsaw stand out from the herd. That explains why this tool comes at a higher price compared to other power saws in its class.
So, it boils down to what you think is important in your chain saw. If safety and efficiency are high on the list, the 460 Husqvarna would be a great option. If price is the determining factor, then you might have to settle for a cheaper option.
Pros
The Husqvarna 460 Rancher is ergonomic, fast, and easy to use.
The build quality is a class above the rest.
A powerful X-Torq® engine that can cut through any wood.
Innovative three-point adjustable oil pump.
Damped vibrations.
Long chain bar support.
Cons
It can be loud.
It has quite a few plastic components.
Not the best beginner chainsaw in the market.
Frequently Asked Questions
Is Husqvarna Better Than Stihl?
The Husqvarna vs. Stihl chainsaw debate is strikingly similar to the HP vs. Dell showdown. Both camps have quite a few attractive offers in their lineup, and they both have a reputation for producing quality products.
Take this comparison to random loggers, and you'll notice a 50/50 split. One half thinks Husqvarna is better, and the other half thinks Stihl is a solid choice.
Still, we think Husqvarna is a better option. They've built a reputation for cutting faster than Stihl chainsaws, and that counts for something. You also get a bigger gas tank with Husqvarna and better fuel consumption. That explains why most professionals go for the 460 Husqvarna or better.
Stihl is a great option for people looking to cut aged hardwood lumber for firewood, as they usually have more low-torque than most Husqvarna chainsaws. They also have a smaller tank that reduces the overall weight considerably.
How Many CCs Is a Husqvarna 460?
You get a 60.3 cc X-Torq® engine with 9000 rpm with every 460 purchase. That means it can cut through mid-sized logs like it's pruning small branches. It also comes with Smart Start® technology that ensures your chainsaw starts every time.
The power output of the 460 Husqvarna is 3.62 hp, which allows it to plow through lumber faster than most power saws in its class. Add the compression release button and adjustable oil to pump to the mix, and you'll see why this is one of the most popular power tools in the market.
What Is the Best Husqvarna Chainsaw?
Unfortunately, there's no one-size-fits-all approach to logging. That's why Husqvarna has many offerings, with each saw targeting a small niche in the market. The 445 is an excellent option for people looking to do routine maintenance on their property, such as pruning and other lightweight jobs.
The 450 is designed for more heavy-duty work than the 445 but falls short of the 460. That means you can cut down fell small trees faster than you would with a 445. The 460 is more powerful than its smaller brothers and can handle pretty much anything. However, it is not a commercial-grade chainsaw.
What Is the Difference Between Husqvarna 450e and 450 Rancher?
If you're considering a Husqvarna chainsaw in the 450 range, you might want to know the differences between the 450, 450E, and 450 Rancher.
The main difference between the 450 and 450E is the tool-less adjust. This feature allows operators to adjust chain tension while out in the woods without going back and forth looking for the right tool. This handy feature will cost you a little extra.
The 450 rancher comes with a side-mounted chain tensioning feature that makes it possible to adjust the chain on this fairly powerful chainsaw. You'll fork out some extra bucks for this feature, but it's well worth the money.
What Chainsaw Do Most Professional Loggers Use?
Most professional loggers will use a Husqvarna for heavy-duty logging, then switch to Stihl when cutting hardwood. Both brands price significantly higher than other chainsaw makes, as they want to keep the quality of labor and materials high.
Most loggers will have a Husqvarna 460 Rancher chainsaw for most clearing and logging work because of its innovative safety features and decent power. It gets the job done faster and with a high level of accuracy, which is what any logger would want.
Conclusion of Our Husqvarna 460 Rancher Review
The Husqvarna 460 Rancher is the midpoint between professional and beginner logging. It will do the lightweight stuff without problems and handle enormous tasks easily.
Most professional loggers think it's a must-have chainsaw for someone who wants an all-around machine with an outstanding reliability rating. Regular people also review it positively.
The brand has included an innovative start feature that eliminates the need for cooling. The innovative air injection feature keeps out all the dust and debris, which results in a happy engine. That, coupled with a 60.3cc motor at 9000 rpm, makes the 460 an easy winner over other chainsaws in its class.