Last Updated on July 21, 2021 by Grow with Bovees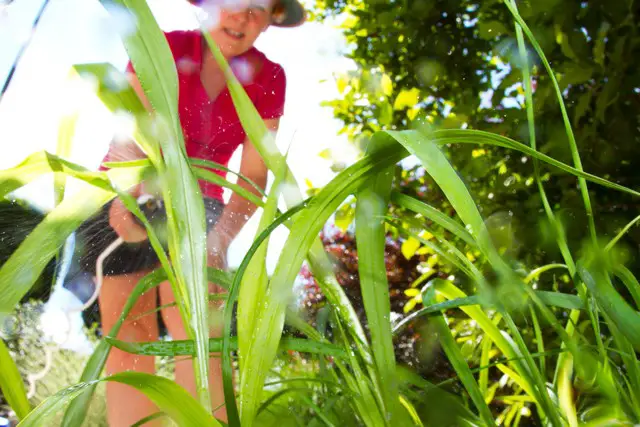 Nobody wants weeds in their garden, and especially not around the flowers. It can be heartbreaking to watch ugly weeds ravaging your flower garden, considering the time, money, and amount of gardening work put in.
To save your beloved flower garden, weed species should be identified early for easy flower bed weed control and management. If left to thrive, the unsightly weeds compete with the flowers for minerals, water, and vital nutrients, resulting in inferior and unhealthy flower beds.
This is where weed killers for flower beds come in. These efficient products will eradicate the pesky weeds, restoring the beauty and the lost glory of your flower garden!
Our buyer's guide includes reviews for the best weed killer for flower beds on the market at the moment.
Our Top Picks At A Glance:
Preview
Best Organic
Best Preventer
Best Eco Friendly
Best Organic
Preview
Best Preventer
Preview
Best Eco Friendly
Preview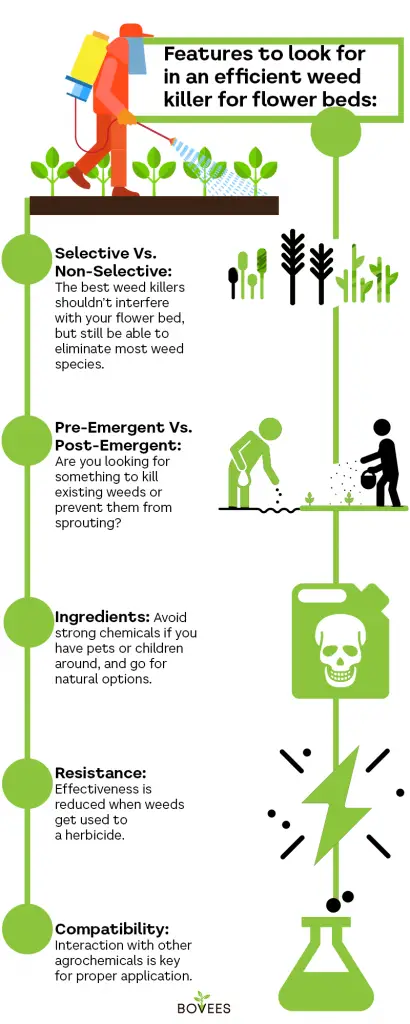 5 Best Weed Killers for Flower Beds: Reclaim Your Flower Garden's Lost Glory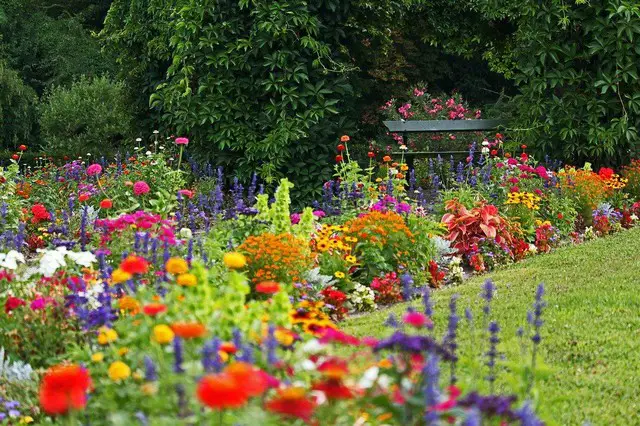 1. Green Gobbler Vinegar Weed & Grass Killer
The Green Gobbler Vinegar Weed & Grass Killer is said to eliminate weeds in less than 24 hours. It's safe to use on flower beds and pretty much any place you want to remove grass and weeds.
The solution helps fight different types of common garden weeds, including crabgrass, moss, dandelions, chickweed and clover weed, although you may need to use a dandelion puller tool on dandelions, due to their heavy-duty tap roots.
This product is organic and natural, containing no glyphosate, making it a firm favorite for both residential and commercial use. It's similar to vinegar, but four times stronger, so it's safe to use and effective. It's considered a pet safe weed killer, so your kids and pets can still play in the yard once you've applied the weed killer, though it's best to wait 24 hours.
The weed killer contains 20 percent acetic acid, which desiccates weeds and provides fast results. It's ready to use out of the bottle, which comes with a trigger sprayer included, making it quick and easy to get rid of those weeds once and for all.
Even better, the Green Gobbler Vinegar Weed & Grass Killer comes with a 30-day money-back guarantee to ensure users are happy with the product.
Pros
Money-back guarantee.
Easy application with trigger spray included.
Kills weeds on contact.
No dangerous chemicals.
Organically certified.
A good weed killer for flower bed use.
Cons
Strong vinegar smell.
User experience shows it can damage patio and garage floors if left on too long.
2. Preen 2464221 Extended Control Weed Preventer For Flower Beds
The Preen 246421 Extended Control Weed Preventer suppresses many different types of weeds for six months from just one application. It's suitable for flower gardens and patios, and is safe to use around over 600 types of plants. Not for use in vegetable gardens.
This product is a weed preventer rather than killer, so it's best applied in spring just before the weeds start growing—though it can be used throughout the year.
It's activated in only four simple steps. Start by removing existing weeds, mulch the area, then apply the herbicide on top of the mulch, and finally, sprinkle water to activate the weed killer.
An invisible barrier is formed when water is sprinkled on the Preen granules to block weeds from sprouting.
The 13.75-pound product package can effectively prevent weeds in an area covering 2,245 square feet.
If you're searching for a weed killer that won't kill flowers but can keep the weeds away from your garden beds for a long period, consider using Preen 2464221 Extended Control Weed Preventer. It's not intended for use on flower seeds, lawns and grass areas, or getting rid of weeds in a vegetable garden though.
Pros
Long-lasting.
Applicable in a large area.
Easy to use.
Economical.
The kit includes a scoop.
Cons
Unsuitable for edible plants.
Not for weed removal, only flower bed weed prevention.
3. Doctor Kirchner Natural Weed & Grass Killer
The Doctor Kirchner Natural Weed & Grass Killer is manufactured with natural ingredients, making it safe for both people and pets. Additionally, it's safe for use around kids, is glyphosate-free, and has no hormone-disrupting harmful chemicals.
The ingredients include commercial vinegar (food-grade), soap, and ocean salt water. The solution is made and packaged by a family business in Florida, using a supercharged version of their grandmother's garden weed killing recipe. You simply spray the weeds, and results begin showing after 12 to 24 hours.
This product has a shelf life of four years, which makes it long-lasting. The natural ingredients further ensure the product remains sustainable, as its use has no impact on the environment.
The Doctor Kirchner Natural Weed & Grass Killer is suitable for use on flower beds but not on lawns. Unlike other weed killers, water isn't necessary when using it.
The quart bottle that comes with a sprayer is ideal for small flower gardens, courtyards, paths and walkways. However, you can also get 1, 2.5, and 5-gallon sized cans for large-scale use.
Pros
Fast results.
Easy to use.
Pet-friendly.
Safe for kids.
Natural and sustainable.
Cons
Can't plant directly after application.
Price is higher than other weed killers compared to area covered.
4. Compare-N-Save Concentrate Grass and Weed Killer
The Compare-n-Save 016869 Concentrate is ideal for killing existing or active weeds. It's suitable for flower beds, driveways, fences, around buildings, and walkways—but not lawns as it may kill the grass.
This herbicide exterminates weeds by killing the root system, giving visible results within two to four days. The Compare-N-Save 016869 Concentrate also eradicates stumps, grass, brush, and vines, in addition to killing weeds.
The Compare-N-Save Weed Killer 1-gallon bottle makes up to 85 gallons of spray to cover over 25,000 square feet. You simply mix the concentrate with water to your desired strength, depending on how tough you need the weed control.
Your desired plants can be planted straight after application if required. Additionally, the weed killer should be applied on warm days when temperatures are above 60 degrees Fahrenheit and when no rain is expected for the best outcome.
If you're looking for a herbicide that will bring the lost glory of your flower garden in a couple of days, consider the Compare-N-Save 016869 Concentrate Grass and Weed Killer.
Pros
Easy to apply.
Value for money.
Covers large areas.
You can plant after application.
Kills to the root, facilitating total extermination.
Cons
Results take a while to show, contrary to what is advertised.
Contains glyphosate as an active ingredient, (which is a good annual weed killer), so take necessary precautions.
5. Roundup Landscape Weed Preventer 
The Roundup Landscape Weed Preventer works by creating a barrier underneath the ground, cutting off weeds. It's ideal for preventing weed growth in flower beds, lawn weeds, shrubs, and around trees for up to six months. Not to be confused with roundup weed and grass killer.
The package comes with a built-in applicator, facilitating even coverage. There's also an in-bag handle to make the application comfortable and easy—even over large areas.
It's best applied before the weeds sprout in spring, but you can use it any time of the year. Just make sure to pull any existing weeds from the soil before you apply it, and sprinkle water over the top once it's on the soil.
The large 13-pound bag covers a wide area of your flower bed and garden area. You won't have to worry about the safety of your plants, as this herbicide only selects weeds and allows your flowers to thrive. Remember to use it on any cracks in sidewalks or paving where weeding is difficult once they grow.
The Roundup Landscape Weed Preventer may be left on the soil's surface or raked in an inch beneath the topsoil.
Pros
Safe for flowers and only targets weeds.
Easy to apply.
Value for money.
Long-lasting prevention.
Cons
Doesn't kill the entire plant, only prevents.
May stain stone or concrete.
Choosing the Right Weed Killer That Won't Kill Flowers
A good weed killer for your flower bed should have several qualities. It should be well-formulated, feature low weed resistance, and be compatible with other agrochemicals.
The ingredients that make up a herbicide should be a formula that's balanced for the right results. If you have children or pets around, it's best to avoid chemicals such as glyphosate, and stick to natural weed killers.
Weeds develop resistance when the same herbicide is used often, eventually making the weed killer ineffective. Users should know the resistance capabilities of weeds before using a particular herbicide.
Some plants use a combination of several agrochemicals for proper growth and development. Therefore, it's imperative that the ingredients used to make a herbicide are compatible with the other agrochemicals used on the resident plants and flowers.
So, as ever, the answer to the question "what is a good weed killer for flowerbeds", is, it depends. Read on for some help on making your decision.
Selective Vs. Non-Selective Weed Killers
Selectivity allows the herbicide to only act on the weeds without interfering with the desired plants. You should ensure that the chosen herbicide addresses your selectivity preferences, especially when using it on your beloved flower bed.
If you choose a non-selective flower bed weed killer, make sure to keep it far away from your flowers, plant foliage or vegetation that you want to keep, and only spray it on the weeds you want to kill, as it'll essentially kill everything in its path. A selective herbicide may be less effective, though for flower beds it is preferred, as it will only target certain weeds and grasses, and leave all other plants to thrive.
Additionally, you may want to be able to plant right after you've applied the herbicide. Make sure to read the instructions of your selected weed killer before planting, as some allow for this and others suggest waiting a short while. If you have wildflowers growing in your garden, such as fleabane daisy, if you want to keep them, make sure to protect them from herbicides.
Pre-Emergent Vs. Post-Emergent Weed Killer
Weed killers function in different ways. Pre-emergent herbicides fight weeds before they sprout from the ground and are otherwise known as weed preventers. Pre-emergent weed killers are often effective for up to six months, but you'll have to carry out the removal of already sprouted weeds by hand before application.
On the other hand, if you have a number of common weeds already taking over your flower bed, like nutsedge for instance, a post-emergent herbicide will help to eradicate these.
A gardener should consider factors influencing the use of each class of herbicides for the perfect outcome. Pre-emergent weed killers work best before spring when weeds begin to sprout, while the post-emergent weed killers work best when you already have a large weed problem.
Are Other Accessories Required?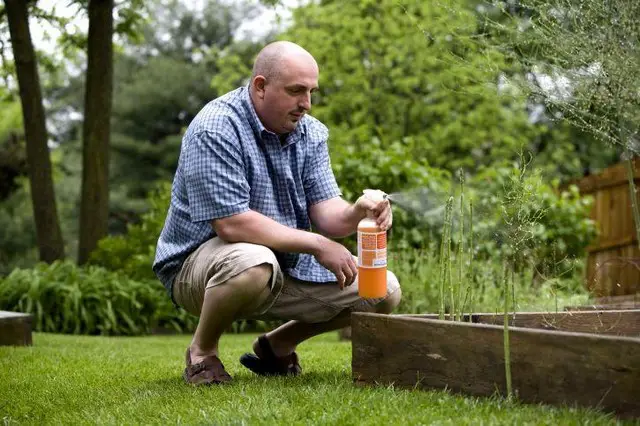 As well as the herbicide itself, you'll need more equipment for efficient and convenient application. Additionally, the assistive equipment helps users work faster, and do a thorough job. Below are some accessories used when applying weed killers:
Spraying device, or tank sprayer for large areas.
Protective clothing, such as gloves, mask, and eye protection.
Strainers.
Retractable garden hose reel for watering.
Pump regulators.
Weed Killer Safety & Precautions
Safety precautions are simply meant to keep users of weedkiller safe to avoid unnecessary challenges. The following are some of the safety guidelines that can help preserve the health of herbicide users:
Use personal protective equipment (PPE), which includes overalls, a dust mask, eye goggles, gumboots, and waterproof gloves.
Avoid leather and canvas clothes as they may absorb and retain the herbicide.
Read instructions carefully before starting to ensure the application is correct and the desired results are achieved.
Carry extra cloths to manage spills.
Wash hands before leaving the gardening area for whatever reason.
Avoid spraying in windy climatic conditions.
Wash your clothes immediately after accidental spillage.
In case of contact during spillage, wash your skin thoroughly. However, you should seek medical attention if any changes are detected in the affected area of the body.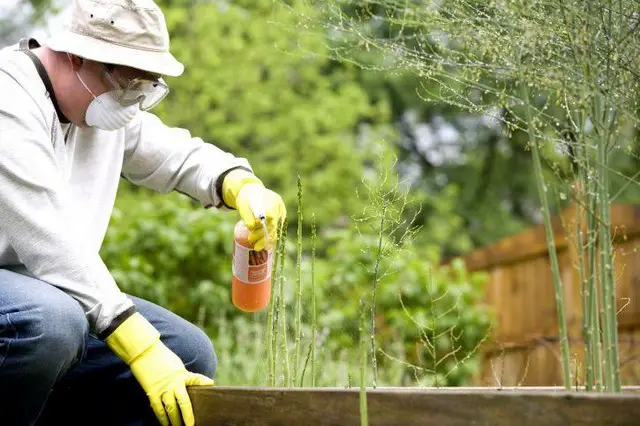 Conclusion
When unwanted weeds attack your flower bed, and grow more vigorously than your desirable plants, a herbicide for garden beds can be life-changing, helping in curtailing the growth of weeds, and reclaiming the lost glory of your garden beds.
To save your beloved flower garden, weed species should be identified early for easy flower bed weed control and management. Be aware that several types of weed flowers, henbit, for example, appear like flowers but are actually invasive weeds.
The best weed killer for flower garden use on our list have the necessary features for total extermination of the bothersome weeds and even prevention for many months.
Hopefully, the information we've provided in this buyer's guide will help you choose an ideal weed killer that won't kill flowers.