Last Updated on June 16, 2023 by Grow with Bovees
The battle against weeds without a good weed killer can seem never-ending.
But applying weed killer in a yard with pets or kids running around can be a challenge. Strong weed killers can be toxic to your dog or cat, not to mention wildlife.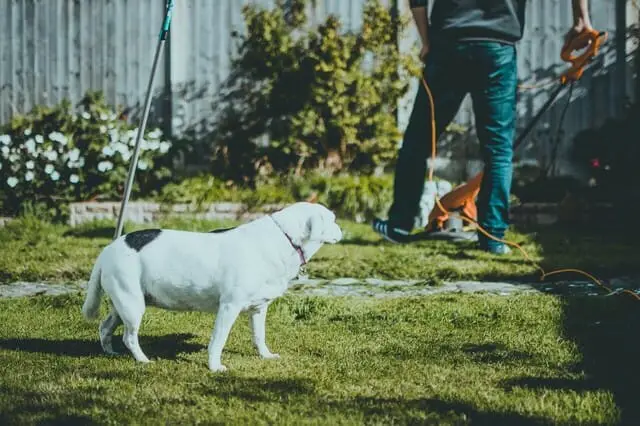 But what's the best pet friendly weed killer, and are they effective?
What else should you know before buying a pet-safe weed killer? We'll go through all of that in this article.
If you're in a hurry, these are the best pet-safe weed killer options on the market right now.
Doctor Kirchner Natural Weed & Grass Killer
Green Gobbler Vinegar Weed & Grass Killer
Natural Armor Weed and Grass Killer
ECO Garden PRO – Organic Weed Killer
Just For Pets Weed Killer Spray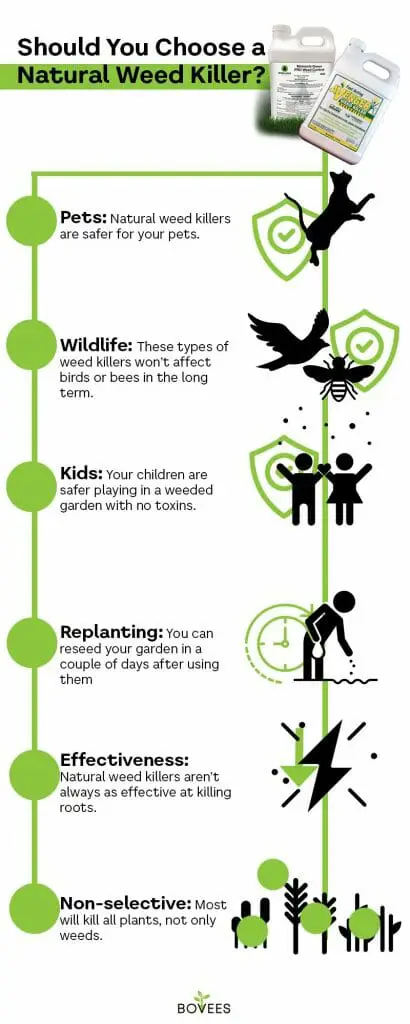 Reviews of the Best Pet Safe Weed Killer
1. Doctor Kirchner Natural Weed & Grass Killer
The Doctor Kirchner Natural Weed Killer is an effective product that keeps your pets safe and doesn't harm wildlife. The formula is simple: soap, vinegar and ocean water, but it works amazingly fast. Customers love that it doesn't have an overpowering vinegar smell.
The application is easy, and the product ships ready to spray onto the weeds. Apply it when temperatures are steadily over 65 degrees, and the weeds are actively growing.
You should see it killing the weeds in about 24 hours after spraying—that's the same time or even faster than traditional herbicides.
Just keep in mind that the Doctor Kirchner Natural Weed Killer is powerful, so you'll need to be careful when applying it.
This product is not selective, so it'll kill weeds as well as grass wherever you use it.
Like most pet-safe weed killers, this might not be 100 percent effective on some of the toughest perennial weeds. It does work amazingly well if you use this natural weed killer with a hand weeder tool.
Pros
Fast and effective.
The smell isn't too overpowering.
Easy application.
Cons
Not selective, will kill your lawn as well as weeds.
Some tough perennial weeds may need mechanical removal.
2. Green Gobbler Vinegar Weed & Grass Killer
Green Gobbler is one of the biggest and best-known animal-safe weed killers, and it's popular for a reason. The formula contains 20 percent vinegar and promises to kill weeds in 24 hours or less.
It works on dandelions, clovers, crabgrass, purple henbit and moss, and is made from corn grain without toxic chemicals that would infiltrate your soil.
Green Gobbler is safe to use on patios and flower beds, as well as close to pools or around pets. It arrives ready to use. Just spray generously on the weeds, preferably in the sunshine, and leave for 24 hours.
It's biodegradable and neutralizes in a couple of days or after rainfall. Unlike chemical weed killers, vinegar weed killer doesn't leave a chemical residue, you'll be able to plant anew quickly, usually after only a couple of days.  
Most people who bought the Green Gobbler are happy with the effectiveness, but some stubborn weeds can persist. This pet-safe weed killer is non-selective, though, so you'll kill both the good and the bad. You'll need to be extremely careful about where you're applying it.
This product includes horticultural vinegar, which, while more natural than some other herbicides, is acidic and corrosive, so you'll need to take the necessary precautions when applying it.
Some customers have also said they've seen damage to their patios and concrete driveways because of a leaking bottle. We recommend being careful when applying this product to avoid problems.
Pros
Effective, strong solution that works in 24 hours.
Safe to plant a couple of days after application.
Vinegar solution safe to use around the yard and even next to a pool.
Cons
According to customers, spillages can damage driveways or patios.
Non-selective, kills all grass and plants.
3. Natural Armor Weed and Grass Killer
The Natural Armor Weed and Grass Killer is another safe and fast-acting product that has entirely natural ingredients. You can use it all around the yard, from fences, pathways, walkways and poolside areas to mulch beds. It can work as quickly as in a couple of hours to one day, and many people who bought this product were amazed by its speed.
However, some customers say they haven't seen much in the way of results. To improve your chances of getting rid of the weeds, we recommend using the product on a hot and sunny day.
It comes with a 30-day money-back guarantee, so you'll get your investment back if you do not see results.
According to customers, the Natural Armor Weed Killer will work best on weeds that don't grow deep roots. In cases where the weeds are deep, you'll need to break up the roots after using the solution.
This product does have a noticeable vinegar smell that bothers some users, but it usually lasts only for a day or two. Another thing customers dislike is the bottle that comes with the liquid. They commented that it tends to get blocked or leak easily. And a product like this is still corrosive, so you don't want it all over your hands.
Pros
Fast-acting weed killer.
30-day money-back guarantee.
Can be used all over the yard, including walkways and pool areas.
Cons
The sprayer leaks and gets blocked easily.
Doesn't work as well on deep roots.
4. ECO Garden PRO – Organic Vinegar Weed Killer
It's completely phosphate-free and biodegradable, and safe to use around pets and the whole family. It contains white vinegar, rock salt and plant activators for a completely natural formula.
This product generally works well on poison ivy, moss, clover, thistles and dandelions, and especially on sunny patches. However, it's not as strong as the other options on our list, so it might not be effective on all lawns.
If your yard is shaded, you might have a more challenging time getting rid of the weeds. Some customers needed to make another application or had to wait a little longer, but then seen results after 24 hours.
Customers are happy with this product because it's not too strong and usually doesn't harm other surfaces. It does have a strong initial smell of chemicals, but it goes away quickly, and you're left with a vinegar smell for the next 24 to 48 hours.  
Pros
Natural and light formula.
Generally doesn't harm other surfaces.
Works well in sunny spots.
Cons
Not the fastest or most effective.
5. Just For Pets Weed Killer Spray 
The Just For Pets Weed Killer product is designed specifically for pet owners. Its natural ingredients don't include glyphosate or other toxic ingredients, making it an excellent choice for targeting weeds in a yard with pets running around.
The company even donates a portion of the proceeds to animal shelters across the nation.
This dog-safe weed killer comes ready to spray, no diluting needed. Just spray it on your weeds, with extra care to not kill your lawn. However, the applicator is far from perfect, so you might need to switch it to another liquid weed killer sprayer to make it work.
Customers love the Just For Pets Weed Killer because it's a light and natural product, while still maintaining effectiveness. It's safe to let your pets walk on your lawn shortly after spraying, without having to worry about their sensitive paws.
However, it might not be strong enough to kill off all weeds, especially some tougher, broadleaf weeds, like spurge weed, for example. Some customers say they've seen their weeds survive while the surrounding grass suffered. But this depends on your lawn and climate. Overall, people find this product to work well.
Pros
Mild enough to not harm your pets' paws.
Pet-friendly company that donates part of proceeds to pet shelters.
Easy application, no diluting needed.
Cons
The spraying doesn't work well.
Not selective and may leave some tough broadleaf weeds alive.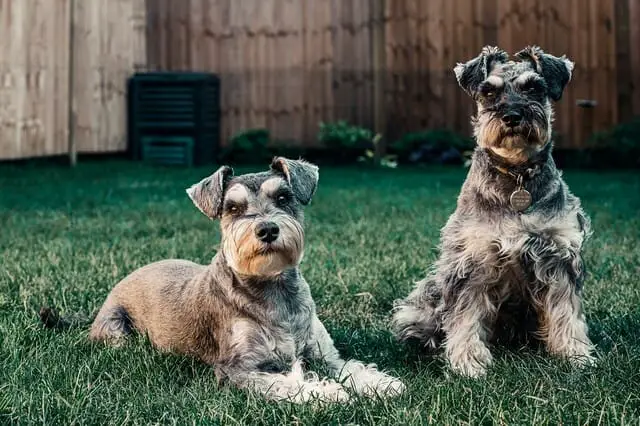 Can Green Gobbler Be Safe For Pets If It's So Good At Killing Weeds?
Green Gobbler and other weed and grass killers in our review are considered safe for pets because they're usually made from natural ingredients. These types of weed killers are ideal if you prioritize eco-friendliness and the health and safety of your pets.
However, there are some things to consider when using Green Gobbler or other weed and grass killers to get the best results.
How To Use Pet-Safe Weed Killers
Even if a weed and grass killer is safe and doesn't harm your pets or wildlife in the long term, you still need to make sure you're applying them safely. Here are some tips for staying safe and making the most out of your weed killer application.
1. Protect Yourself and Your Pets
Vinegar-based weed and grass killers are highly acidic, so they can harm your skin if. And if you get any spray in your airways or eyes, they can be dangerous. This means you should always wear gloves, glasses and a mask, and exercise caution when you're using these kinds of products.
Also, leave your pets and kids inside when you're applying the weed killer. Don't let pets run around freely in the yard until the weed killer has dried up.
2. Spray Generously
You'll need to saturate the weeds completely when applying the weed killer. Spray the product on them generously and don't water afterward. Natural weed killers generally work burning through the leaves, not the roots.
Remember that they're usually non-selective, so you'll need to protect your grass when you're applying, or you'll lose both.
3. Apply In the Morning
For the best results, apply your pet-safe weed killer in the morning, during the active growth phase of the weeds. You should always use these weeds when the temperatures are over 65 degrees so that the heat helps the weed killer work.
Opt for a sunny day if you can, because sunshine will help the acid burn through the leaves. Water will wash away your weed killer and render it useless, so make sure the forecast promises at least 24 hours free of rain.
4. Break Up the Roots
To keep weeds at bay, a couple of days after applying your weed killer of choice, work through the roots and break them apart. You can also pull the weeds out.
5. Pick the Right Grass
Some grass types form a thick layer and strong roots that don't let weeds thrive. The right one for you depends on your climate and soil type—as well as the amount of sunlight your lawn receives in a day.
For example, tall fescue works well in cooler climates, while Zoysia is a great option for the Southern heat, and both are relatively weed-resistant.
Pet-Friendly Weed Killers — What to Look For
Not sure what to look for? Here are some tips for finding the right one for you.
Effectiveness vs. Safety
Some pet-friendly weed killers are more effective than others. In general, the faster a weed killer works, the more powerful and corrosive it is.
All the options on our list are natural, but they can still be harmful if they touch your skin or your pets ingest them by accident. Think about what you need, speed or safety, before making your pick.
Application
The ease of application is a crucial feature of the best pet-safe weed killers. If you want to make things as easy as possible, make sure the product is ready to use, like the ones on our list. Most of them also come with a spray bottle, so you don't have to buy anything else to start using them.
Safety for Other Surfaces
If you're looking to use your pet-friendly grass killer next to a surface that can easily get damaged, such as wood or concrete, be careful. Some of the more corrosive products can stain these surfaces, even permanently. To err on the safe side, opt for milder products.
Benefits of Using Pet-Friendly Weed Killer
If you're still not convinced, here are some benefits of using the pet-friendly weed killer options we reviewed.
Safe for Kids
If you have kids running around your yard, you might know how hard it is to stop them from touching everything. Kids are curious, and it's normal to have them touching plants only to put their fingers in their mouths or rubbing their eyes right after.
Doesn't Ruin Groundwater
Natural weed killers wash off into the garden soil and your groundwater sources when you're watering your lawn or with rain. That's why they're safer and more eco-friendly in the long term, especially if you or your neighbors use groundwater for human consumption.
Safe for Wildlife
The animal-friendly benefits of using natural weed killers in your garden extends to the birds, butterflies and bees, as well as other wildlife. Being careful with pollinators is crucial because many of your plants depend on them to grow. Bees are also a key player in agriculture, adding around $15 billion yearly in crop value.
Of course, if you spray a highly acidic product like a pet-friendly weed killer directly onto insects like bees, they will likely die together with the plants. But these products don't stay on the soil or your plants, where they could harm pets and wildlife in the long term.
Quick to Replant
Since vinegar-based solutions aren't overly toxic, you can move on to replanting very quickly. The vinegar washes off with rain and doesn't accumulate in the soil—so you can move on to replanting in about two days.
With a product like Roundup, it's better to wait a little longer before you replant. While the manufacturers say you can replant after as little as three days, there might still be a lot of residues in the soil.
Some fruits and vegetables might be so sensitive that you'll need to wait for weeks before replanting.
Negatives of Animal-Friendly Weed Killers
Pet-friendly weed killers do have their negatives, as well. Since the formulas aren't specific for a particular type of plant, they'll kill your grass, too.
Another negative is that these formulas aren't as effective at killing the roots. Vinegar-based solutions always work best when they're used in combination with mechanical weed removal. Glyphosate, by contrast, works through the soil, too, killing the roots of your weeds.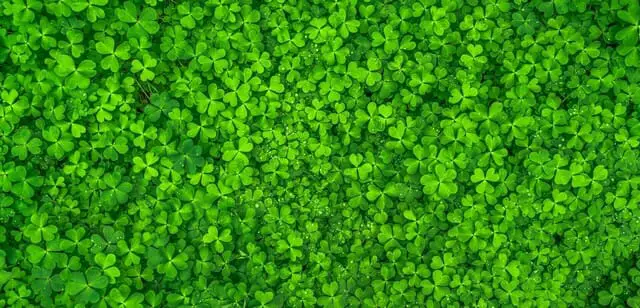 How Do Traditional Weed Killers Work?
There are differences to traditional weed killers, too. Here are the characteristics of these lawn care products.
Glyphosate
Glyphosate is one of the most common weed killers, and it's part of products such as Round-Up brush killer. It's intended for both agricultural and non-agricultural uses, and it's especially effective on broadleaf weeds.
Products made with glyphosate are non-selective, so like many vinegar-based weed killers, it will also kill most other plants. Instead of burning your weeds, it prevents an enzyme pathway that's necessary for plants to grow. It binds to the soil and can take up to 6 months for bacteria to break it down.
There are sometimes concerns about whether glyphosate is safe for use in agriculture, but so far, the EPA has deemed it safe to use. However, it can be dangerous to birds and mammals, not to mention pollinators like honey bees.
Also, when using this product at home, it can be tougher to evaluate the safe amounts. You may get some pesticide residue in your vegetables, as well as plants your pets might be around.
2,4-D (Trimec)
2,4-D is a common herbicide that's been used in the United States since the 1940s. It has a bad reputation, mainly because this product was a part of Agent Orange, a mix of two herbicides that have been banned as potentially carcinogenic. However, 2,4-D isn't considered dangerous to humans by the EPA.
What makes 2,4-D special is that it's selective, killing weeds but leaving most grass types alone. It's called an auxin-type herbicide, which means that it works by dividing the nutrient-carrying cells of the weeds.
Depending on the herbicide brand you pick, 2,4-D can have quite a long half-life. It eventually breaks down in the soil through contact with bacteria, but it can take up to two weeks for half of it to be gone. Some forms of 2,4-D have been found in water up to 186 days later.
Sethoxydim
Sethoxydim is another selective herbicide that works directly on weedy grasses. It works by inhibiting the formation of some fatty acids that are necessary as building blocks or plant cells. This product isn't immediate but instead stops plants from growing within 2 to 3 days and eventually kills off your weeds, including the roots.
It works exceptionally well on annual summer grasses, like crabgrass. It's not the best for yearly bluegrass, red or hard fescue, or broadleaf weeds. To get the best possible results, apply sethoxydim in the spring when the weeds are actively growing.
Remember that sethoxydim will take a little while to kill weeds completely, even up to 2 to 4 weeks. It's also a potent herbicide that stays in the ground for a time, so you'll need to wait about two weeks before seeding new grass.
A Home Made Recipe
There are a couple of ways to make weed killer from products that aren't expensive.
Just keep in mind that any product that's strong enough to kill weeds requires care and caution when applying
Borax Weed Killer Recipe
You can make a cheap DIY weed killer with borax and white distilled vinegar. The right amount is around one cup of borax to one gallon of vinegar. When you've prepared the mixture, you can spray it onto the weeds until they're completely saturated. The borax and vinegar will burn through the weeds, killing them.
Just remember that borax is toxic when ingested by animals, so you'll need to keep your pets away from it for a couple of days after application.
On the positive side, you can use it to kill small insects like ants and mites. Just add some sugar to the mix to attract them.
Baking Soda
Another household item that can help kill your weeds is baking soda. It's a non-toxic weed-killing method that's easy to apply and helps burn the plants, but it's safe to use around pets and kids.
Sprinkle baking soda on the weed, about one teaspoon on one small plant. Make sure to cover the entire plant, both the stem and the leaves.
This method is usually not the fastest but works well mainly in warm, sunny summers. If you don't see results, you can reapply in 4 to 6 weeks to ensure the weeds are gone.
Salt
Salt, in high amounts, is also bad for plants. You can easily prepare a DIY weed killer solution from three parts table salt and one water, diluting the salt and applying it with a spray bottle.
Salt is a non-selective weed killer, though, so be careful about spraying it on any plants you want to keep alive. Pouring it onto the roots or using too much can also be harmful to the soil in the long run, so don't use a heavy hand when applying saltwater.
You probably noticed many of the pet-safe weed killer options on our list contain vinegar, which can be very effective. However, food-grade vinegar isn't as strong as the special horticultural vinegar used in the animal-friendly weed killers on our list. It might not kill the tougher plants, but it can work, especially when combined with heat and sunshine.
Just add some distilled white vinegar into a spray bottle and apply it directly onto the weeds.  Always be careful not to spray on the plants you want to keep alive. Vinegar can affect your grass, especially more delicate thin-leaf varieties, as well as flowers and vegetables.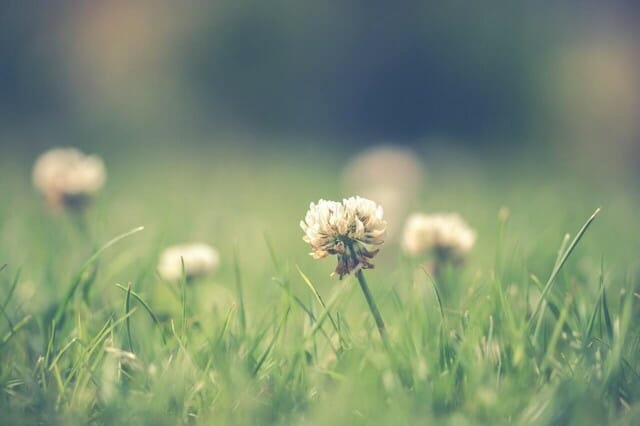 Remove By Hand
Most weeds can be pulled out by hand or with some kind of tool. There will be times when there are so many weeds, as in the case of stickers, or sand burrs in your yard that there are simply just too many to cope with. That is the time to turn to alternative methods of weed control.
Alternative Methods
If you're unsure about these methods for killing weeds, other options allow you to do it entirely without chemicals. These will involve killing weeds with heat.
Boiling Water
If you truly want to keep your yard pet-friendly, the safest way to rid yourself of weeds is by pouring boiling water on them. Just grab a kettle and pour water on them, and let the weeds wither.
After a while, they should have died, but you can repeat the process a couple of times or pull them out if you're battling some tough weeds. You can also add some salt to the water to make it more effective.
This strategy is best used in small batches, especially since you'll have to boil water each time. It's not as effective as the more corrosive products. But, there are absolutely no chemicals involved, so you don't have to worry about your kids or pets, or wait to reseed.
And remember to wear some gloves or oven mitts if you're carrying hot water to the yard. Also, wear closed-up shoes and long pants when performing this method. You don't want to end up with burns all over your hands and feet!
Burning Weeds
Burning weeds with a weed burner is another good option for pet-safe weed killing. These weed torches work with a regular propane tank and have a long nozzle that's easy to use directly on the weeds.
Weed burners are ideal for smaller spots with weeds, such as driveways, edges of flowerbeds or pool areas. And like boiling water, they're wholly pet-friendly and toxin-free.
You might find a weed torch to be less comfortable for more expansive areas of grass, for example, if you have to completely de-weed and overseed a lawn.
Weed torches also won't kill the roots, so you might still have to dig them up. It's best to do it in the spring when the weeds are starting to actively grow but aren't yet too long and strong.
Keep in mind that burning weeds is not the best option if you live in an arid area or in places where you might start a wildfire. While they're relatively safe, open fire always needs to be used with caution.
Smothering Weeds
Another natural way to prevent weeds from growing is by blocking them, so they can't get sunlight and sprout. You can do this by adding a thick layer of newspaper or mulch on top of the weeds. The mulch needs to be about 3 inches (7.62 cm) thick to block them effectively.
This technique works best on low-growing weeds like clover and crabgrass and is a great option for vegetable gardens, flower patches and other smaller parts of your garden.
Mulching your vegetable garden is also great for returning nutrients to the soil, so you'll get the benefit for your plants in the long run, while keeping your pets safe from toxic chemicals. The bad part is that it will take a while to get those weeds to die.
Add A Barrier Before Planting
Using a weed barrier, or landscape fabric at the time you plant your beds is one way to effectively suppress weeds. The fabric stops the weeds growing through it and keeps them at bay.
Weed Preventers
You can also use weed preventer products, such as Espoma Organic Weed Preventer, which is made from corn gluten meal. There are arguments about whether corn gluten meal is effective as a weed preventer, and it also needs to be applied quite thickly to be effective.
The Takeaway
The best pet-safe weed killer in our review is the Doctor Kirchner Natural Weed & Grass Killer. It works fast, in about 24 hours, and doesn't have too overpowering of a smell. The formula consists of soap, vinegar and ocean water, and is incredibly strong for such a natural product.
If you're not sure about these options for the best weed killer safe for pets, you can also try our DIY options. And if those don't convince you either, you can always roll up your sleeves and start pulling the weeds out.