Last Updated on December 15, 2021 by Grow with Bovees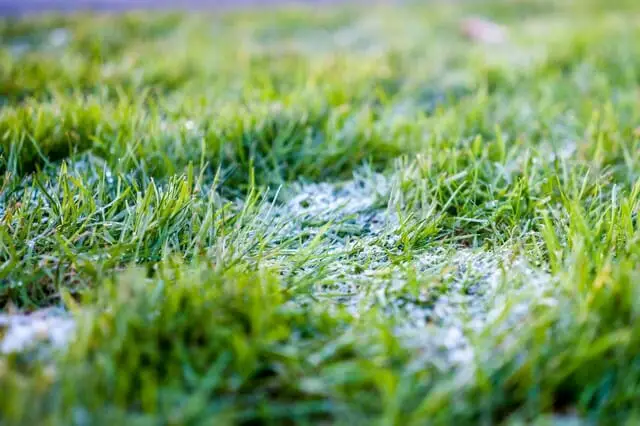 Have you ever considered overseeding to keep your lawn looking great all year?
We know what you're thinking; "overseeding" sounds like a negative thing to do, right? But, it's useful if your lawn's in constant use since it can prevent it getting worn.
It's also an excellent way to maintain a lush and green lawn vibe.
Before we look into overseeding in more detail, here is the best premium grass seed for overseeding your existing lawn right now:
Kentucky bluegrass
Tall fescue.
Red fescue.
Perennial ryegrass.
Annual ryegrass.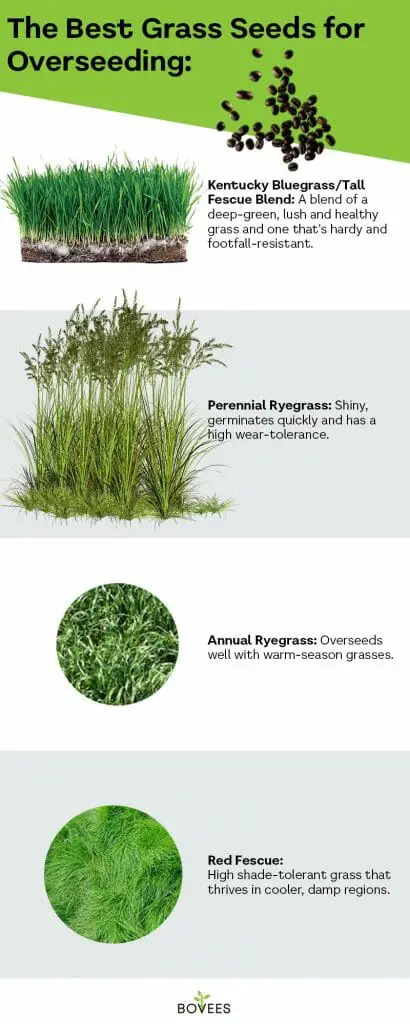 Benefits of Overseeding Your Lawn
Overseeding your lawn maintains a lush, green and healthy appearance.
Think about it: grass is a living entity and needs nourishment to survive, and walking over it can take its toll. This slows the growth rate and eventually leads to thinning.
Considering grass blades have a short lifespan of around 40 days, you need your grass seed to regrow faster than it declines for it to stay healthy and strong. But, grass can't always sustain this balance on its own.
Enter overseeding to ensure the positive regrowth rate!
The Best Time to Overseed
You have two options as to when to overseed:
Regularly to prevent thinning; or
As and when needed to treat specific worn lawn areas.
The best time to overseed your lawn depends on the grass type.
Cool-Season Grasses
Overseed cool-season varieties in late summer or early fall. The soil is still warm then because of the hot summer heat; hence it provides a conducive environment for fast seed growth. There's also adequate precipitation in fall to keep the soil moist.
Ideally, the temperature ranges should be:
Soil: 50–65F.
Air: 60–75F.
Warm-Season Grasses
For warm-season grass seed, overseed in late spring. Usually, this is the time when warm-season grasses get into active growth.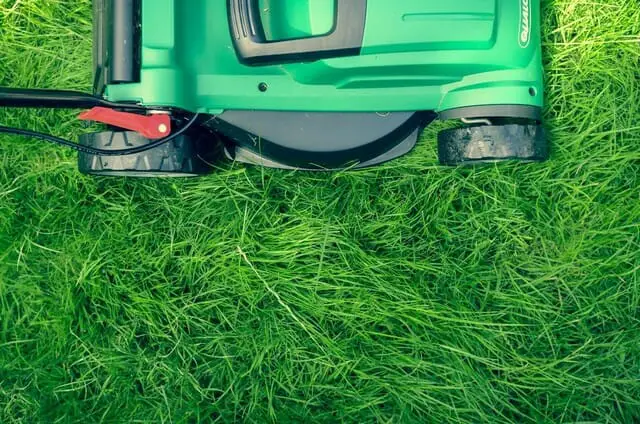 What To Do Before Overseeding
You need to prepare the grass and soil first:
Step 1: Mow The Lawn
Mowing ensures the seed mixture doesn't get caught on the blades:
Cut the grass to 2 inches (5.08 cm) or lower to ensure the seeds reach the soil.
Use a metal rake with strong tines to remove the cuttings and scratch the soil to loosen it.
Get rid of stones, dead grass and other debris, too.
Step 2: Aerate The Soil
Aerate the lawn using a core aerator, plug aerator, lawn aerator shoes or a manual plug aerator. This will ensure a sufficient air supply to the soil.
Step 3: Feed Your Lawn
Ensure you apply some organic grass fertilizer if the lawn hasn't had any fertilizer for the past four months.
However, wait 3 to 4 days before overseeding so that the starter fertilizer can take effect.
How to Overseed Your Lawn
There are a couple of popular methods of overseeding. You can consider slice seeding vs overseeding. You will get faster growth with slice seeding, than with regular overseeding.
Once you've prepared your lawn, simply use a broadcast spreader to spread the seeds evenly and fast. However, feel free to use a handheld spreader if you have a small yard.
Overseeding lawns should be a gradual process of enriching your lawn. Using too much seed in an attempt to make your lawn thick, lush and healthy within three months will only lead to overcrowding. This isn't healthy for growth because it leads to competition for limited essential nutrients.
How Much Seed Do You Use for Overseeding?
When using the best grass seed for overseeding, the rule of thumb is to use at least either half the normal seeding rate or half of the seed rate you'd apply on bare soil. So, if the normal seed rate is 6 pounds of seed per 1,000 square feet, go with 3 pounds of grass seed per 1,000 square feet.
What To Do After Overseeding
You're not quite done!
Follow these tips for maximum effect:
Water: After spreading the seeds on the lawn, keep the ground well-watered—2 to 3 times a day until the seeds germinate and the shoots sprout.
Keep off the grass! Ensure there's little to no traffic on the lawn for one to three weeks to give the seeds ample time to grow without any disturbance.
Cover: Use a net or garden fleece until the new shoots sprout to prevent birds from eating the seeds.
What Is the Best Grass Seed To Use for Overseeding?
So now your brain is full of overseeding knowledge, it's time to choose the best type of grass seed from these options:
Kentucky Bluegrass Seed
Kentucky bluegrass is one of the best grass seeds to overseed with as it's a popular cool-temperature grass. It's known for its dark green color and rich density. The young grass spreads aggressively over the lawn, making it perfect for healing damaged patches of grass through overseeding.
It also survives well in high-traffic yards and under scorching sun rays. This makes it ideal for fairways, lawns and athletic fields. These traits also make it one of the best grass seed for overseeding different lawns.
Unfortunately, bluegrass doesn't do well in shaded lawns, so consider perennial ryegrass if your lawn is shaded.
Pros
Rich green color and dense texture.
A good spreading grass seed choice.
Available in both seeds and sods.
High tolerance to cold weather.
Cons
Tall Fescue Seed
This fescue variety is a perennial cool-season grass with a deep root system and wide, dark-green blades. It also grows upright and clumps, forming a dense and lush lawn, making it one of the best grass seed types for reseeding your existing grass.
Perhaps its greatest attribute is thriving in different environments. It grows efficiently in both full sun and a little shade and in various soil types, like loamy, chalky and clay soils.
You can overseed it without issue, and it doesn't need regular watering—except in summer—or fertilization. These benefits make it an excellent low-maintenance option and a best grass seed for overseeding contender.
The downside of using this grass seed is its susceptibility to a fungal disease called brown patch when grown in humid areas.
Pros
Low-maintenance.
High heat tolerance.
Doesn't wear easily.
Thrives outside its adaptation zone.
Cons
High water usage in the summer.
Susceptible to brown patch.
Red Fescue Seed
This is a shade grass seed that thrives in cooler, damp regions, making it the best grass seed for fall overseeding.
With this in mind, combine it with a warm-season seed in the fall for the best results. It's a particularly good option if you live in the US's transition zone, where it's notoriously difficult to grow grass.
It's also excellent for allowing fewer weeds and doesn't require much mowing, despite having a fast seed germination rate.
Be aware that it doesn't thrive so well when exposed to lots of sun but works better in the shade.
Pros
High shade tolerance.
Good for the transition zone.
Combats weed growth.
Fast germination rate.
Cons
Can't survive the full summer sun.
Perennial Ryegrass Seed
This seed stands out as one of the best grass seed for overseeding because of its shine, high tolerance to wear and partial shade and its ability to grow fast. Plus, you can mow it to a low height.
Overseed it on your lawn if you want an improved lush appearance and tolerance to different elements. The only problems you'll have with perennial rye grass are its high maintenance and the fact that it's not dense enough to be a stand-alone grass.
Note: You can combine the benefits of tall fescue and perennial rye grass with the Pennington Smart Seed, which needs 4 to 8 hours of sun per day and is excellent for overseeing.
Pros
Shiny, lush green grass for a beautiful lawn.
High wear tolerance.
Germinates fast.
Can survive low mowing.
Cons
High maintenance requirement.
Not dense enough to grow on its own.
Annual Ryegrass Seed
Annual ryegrass is one of the best to overseed with and a top choice for a green lawn all-year-round. It's particularly popular with other warm-season options since it's best used in cooler temperatures.
Annual ryegrass holds one over the perennial type, since it lives longer, saving you a bit of your hard-earned cash. But, if your lawn is prone to diseases, perennial is more stubborn.
Pros
Great for full-year green grass.
Combines well with warm-season grasses.
Long lifespan.
Cons
Less resistant to disease than perennial ryegrass.
Poor quality turf grass as a stand-alone.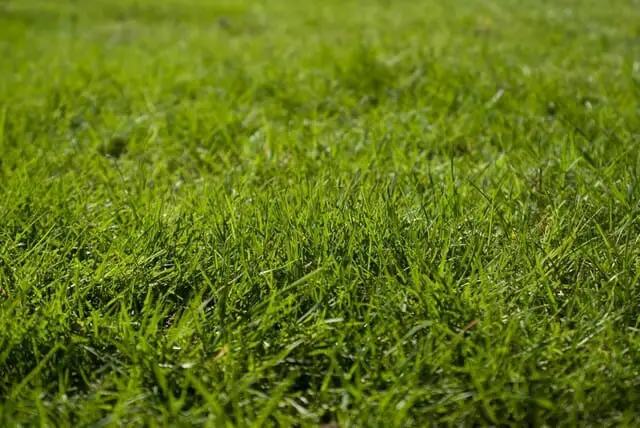 Overseeding Is Good for Lawn Survival
You have the choice of using different warm and cool-season grasses, so make sure the new grass seed suits your location.
For instance, Kentucky bluegrass is the best grass species for overseeding if you want to maintain a healthy, lush look and heal damaged parts of the lawn and enhance its tolerance to cold weather.
For low-maintenance lawns that don't need much fertilization, tall fescue is the best grass seed for overseeing.
In contrast, perennial ryegrass seed germinates faster and has a high heat tolerance, so consider this for warmer climates.