Last Updated on March 12, 2022 by Grow with Bovees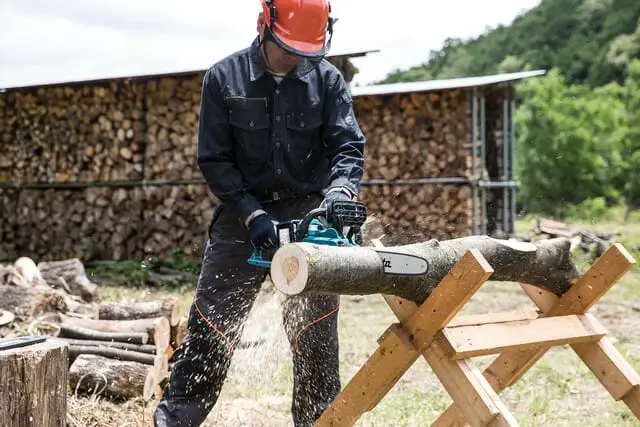 Makita has been around for over a hundred years and has a great reputation for high-quality electric tools. The UC3551A is no exception. This corded electric chainsaw has overwhelmingly positive reviews. The fact there are minimal negative reviews is because this saw just works.
It does what you need it to without unnecessary bells and whistles. It's a simple and reliable workhorse you can depend on time after time. Is it the best electric chainsaw under 16 inches?
It has tool-free adjustments for the chain and the blade, a large trigger switch with a soft start, and an ergonomic rubberized handle grip. The motor is protected by a built-in current limiter which keeps it from being burned out if it binds during a tight cut.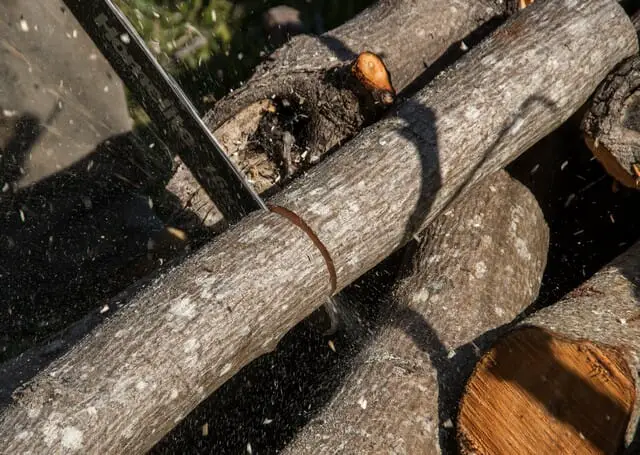 It has a large oil reservoir for the bar/chain oil with a view window allowing you to easily keep an eye on the oil level, and an automatic bar and chain oiler. The speed of the chain is an impressive 2900 FPM. It has large metal bucking spikes for those more serious jobs and a chain brake.
This particular model weighs 15.15 pounds and measures 10.5 by 24.2 by 10 inches. It comes with a 30-day satisfaction guarantee and a 1-year warranty on parts and workmanship.
What Is Included With This Makita Electric Chainsaw?
The saw, the bar, chain, and bar cover (scabbard)  are in the box. The owner's manual is available online if it doesn't come with one. I couldn't determine if one comes in the box or not.
What's Good About The UC3551A Makita Chainsaw?
There are a number of features loved by reviewers. The first one is the amount of torque compared to other electric saws with the same 14.5 amps. The Makita wins in that area and in chain speed as well. This means you will get the job done faster.
The second great feature is the open design of the bottom of the saw, making it mostly unnecessary to take off the cover to clean the saw.  Also, the motor is heavy-duty enough to handle a longer 16" bar, should you choose to replace the 14".
The saw is well-balanced and powerful. Several reviewers mentioned cutting down and pruning very hard wood trees such as cherry and maple. Some people use it to cut the rounds before splitting them into a rick of firewood. Those who are very familiar with chainsaws seem to be the most pleased with this purchase.
There is a great appreciation for the build quality of this electric saw and the cutting power it provides, considering it's electric.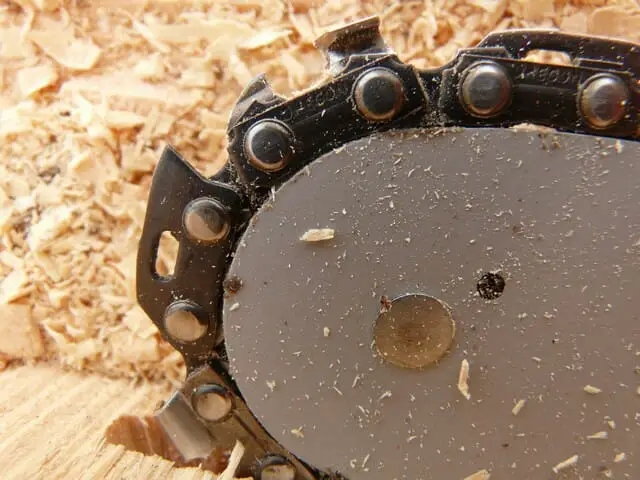 Not So Good
Those who are not as comfortable using chainsaws were the ones who seemed to have complaints. There were those who felt that leaking oil after use might be a service issue, and those who had problems with the chain tensioner adjustment.
These are more or less minor concerns and are apparently no problem at all for those who have used chainsaws in the past and know that they "leak" oil.
Oil from the well-oiled bar dripping off after use is only to be expected, considering you need that much oil on the chainsaw bar to keep it from burning up the chain. The excess will drip off when you're done using the saw.
Those who had trouble with oil coming out of the oil filler cap could possibly benefit from storing the saw in a different position or loosening the cap after use to release the vacuum pressure and allow the oil to settle back into the reservoir.
All the other negatives were one-off things with a likely defective product (it happens, right?) or other issues related to not being comfortable using any type of chain saw.
The one concern that has to be taken into account is the price. Some of us would have to consider that a negative because of our budgets. But others of us don't have that restriction and are happy to pay more to get a higher-quality product.
Conclusion Of The Makita UC3551A Electric Chainsaw
Ultimately, the UC3551A electric chainsaw is a great saw for medium-size jobs and the occasional larger task. It comes highly recommended by most reviewers, and the one with negative reviews or comments are not only rare, but the issues are not necessarily with this model or brand.
The Makita UC3551A is more expensive (read: high end) than some other electric chainsaws, but with a minimum of complaints and a very high percentage of great reviews, most purchasers were very satisfied that the extra cost was money well-spent.
If you need a larger, more powerful gas – powered chainsaw, then please have a look at our Husqvarna 460 Rancher review. That saw has a lot more power than most corded electric chain saws.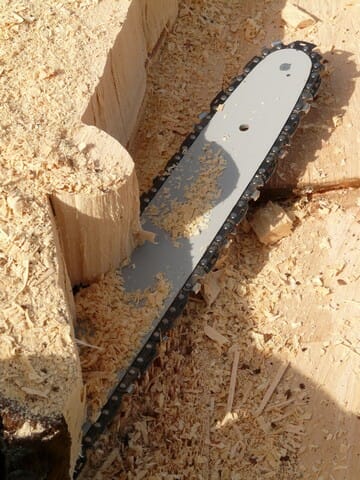 The excellent torque ratio users are so impressed with is due to a very efficiently designed motor. This is an engineering benefit you will not get from a less expensive chainsaw.
One reviewer stated it made sense to spend more in order to get a power tool that wouldn't need to be replaced multiple times, in contrast to less expensive models that would not last as long. Makita's great reputation for high quality is hard-earned and well-deserved.
Makita UC3551A Electric Chainsaw
Quick and easy chain adjustments
Current limiter helps protect motor burnout by reducing power
Large oil reservoir with view window
Smooth start-ups
Tool less chain tensioning
It may cost more, but if you need a powerful saw with great features that will have low maintenance costs, and be dependable for a long time to come, you will most likely be very happy with this model.