Last Updated on January 7, 2022 by Grow with Bovees
When talking about gas-powered blowers, it's hard to ignore the Husqvarna 350BT review. Compared to other leaf blowers, the Husqvarna 350BT backpack blower is one of the bestselling.
The reasons for its popularity are because of its features; the Husqvarna 350BT does an unapologetic job of blowing dust, leaves, and other yard debris efficiently and quickly.
If you can't wait to learn more about this backpack blower, here's a rundown of all the features this leaf blower has.
Superb engine
Superior power
LowVib shock dampening
Comfort
Maneuverability
Low noise levels
Low fuel consumption rate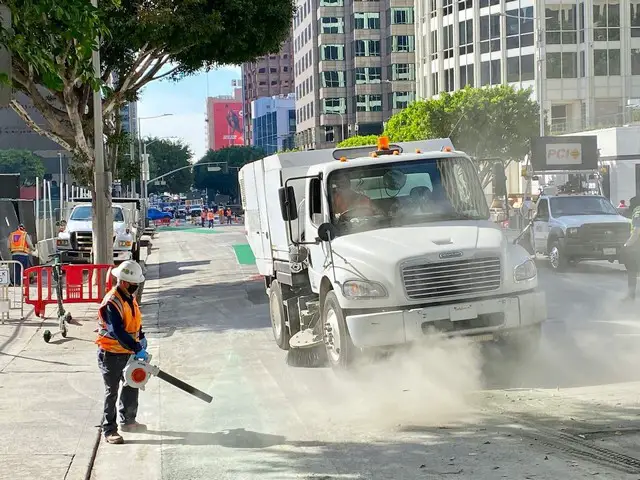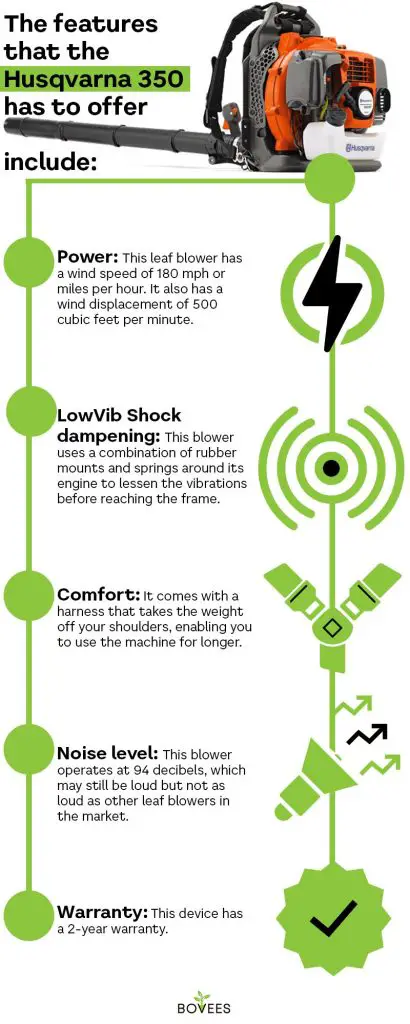 Features of the Husqvarna 350BT Leaf Blower
Here are the features that help make this machine outstanding.
The X-Torq® Engine
When it comes to engines, Husqvarna has taken a different route compared to other leaf blowers. The X-Torq® engine introduces a new stratified system that enables two-stroke motors to function optimally.
The backpack blower Husqvarna engine aims to match 4-stroke levels of emissions and efficiency while still maintaining the lightweight and compact nature of two-stroke engines.
This Husqvarna backpack blower has an X-Torq® engine; this engine makes this 2-stroke engine functionality efficient. Despite this effectiveness, the engine still maintains the lightweight and compact nature of the machine.
The engine also utilizes a secondary butterfly valve in the blower's carburetor, enabling the device to squeeze in fresh air at the end of its power stroke.
The fresh air charge ensures that the burnt fuel-air mix leaves and the fresh air enters from the blower's crankcase. The fresh air charge also increases the blower's efficiency by preventing fuel-air vapors' escape alongside outgoing gases.
With this feature, the engine reduces exhaust emissions by up to 60 percent, making it more environmentally friendly; this also guarantees that the fuel can last longer. You're assured that the blower will produce more torque, which increases the engine's power band effectiveness allowing for better throttle response and superior airflow performance.
The engine also has a cylinder displacement of 50.2 cc. It's important to note that since its engine can't run on gasoline alone, it requires an appropriate gas and oil mixture—50:1—for it to function properly.
Power
Another essential aspect to look at when reviewing this device is its power. If a leaf blower can't move enough air at a fast enough speed to displace grass, leaves, and other debris, then it might not be any good.
This leaf blower has a wind speed of 180 miles per hour. It also has a wind displacement of 500 cubic feet per minute; this is plenty of power for any leaf blower to disperse a backyard full of leaves quickly.
With a speed of 180 miles per hour, you can also use the blower to clear a larger area.
LowVib Shock Dampening
This feature is commonly referred to as an anti-vibration system. Like other backpack blowers Husqvarna, this blower uses a combination of rubber mounts and springs around its engine to lessen the vibrations before reaching the frame. This blower also comes with cushioning between your back and the device's frame that further prevents vibration transfer.
The vibration level of this backpack leaf blower is 2.2 M/s2 (Meters per Second Squared), which is absolutely within acceptable limits.
Comfort
To determine the comfort of this device, it's essential to look at its weight. Weighing in at 22.5 pounds (10.21 kg), this device has a moderate weight range for a gas-powered blower. But, according to customer reviews, the blower tends to get a little heavy within an hour's use.
This is why the Husqvarna 350BT leaf blower comes with a harness that takes the weight off your shoulders, enabling you to use the machine for longer. The harness design consists of a belt and two shoulder straps that are adjustable depending on your personal preference and physique.
The harness straps are made using breathable material and adequately cushioned to allow for proper ventilation while working out in the sun. It also features an ergonomic handle that's easy to adjust. The handle has rubber inserts that strengthen your grip, ensuring there are no slips even during wet conditions.
Maneuverability
When choosing a leaf blower, it's essential to consider if each part is easy to maneuver. This backpack leaf blower comes with several parts that make operations easier, thanks to its flexibility. The first part is the adjustable length tubes—the elbow and blower tube. You can make this tube longer or shorter depending on how far you want them to reach the ground.
The blower also comes with a cruise control switch that ensures you no longer have to place your finger on the throttle at all times. The cruise control feature comes in handy when blowing leaves off a large area.
Noise Level
When it comes to noise levels, leaf blowers are some of the noisiest machines; they almost have the same loud noise level as chainsaws. Most leaf blowers on the market produce a high-pitched shrill that's very painful to the ears, even from 20 feet (6.1 m) away.
This blower operates at 94 decibels, which may still be loud but not as loud as other leaf blowers available. Most blowers can reach noise levels of up to 112 decibels; this makes 94 decibels seem charming.
Despite its lower noise levels, always ensure you wear protective gear like hearing protection, goggles, boots, and gloves when operating a leaf blower.
Fuel Consumption
Compared to its rival blowers, the fuel consumption of this blower is much lower. This leaf blower has a 1.25-liter or (2.24 fl oz) gas tank capacity, and its engine significantly reduces fuel consumption. The fuel tank capacity enables you to get in one hour of work without worrying about refilling the blower.
Speed Settings
The Husqvarna 350BT offers users variable speed settings that make it easy to use. With different speed settings, you can comfortably clear debris utilizing the suitable option depending on the weight of the twigs, grass, and leaves.
Warranty
Like all other Husqvarna blowers, this device has a 2-year warranty. However, you can upgrade the warranty period to three or four years with the purchase of Husqvarna brand oil and your machine's registration.
Pros
X-Torq® engine.
2-year warranty.
94 Decibels noise level.
Cruise control feature.
Cons
Customers can't understand the warranty process.
Tends to be a little heavy when used for some time.
Frequently Asked Questions
Is It Easy To Assemble the Husqvarna 350BT Blower?
Yes, it's pretty easy to assemble this blower. Start by attaching the blower's body to the elbow using clamps. You can then attach its control pipe to the blower's flexible part using clamps. Once this part is securely connected, attach the cabling and handle holder to its control pipe. And, finally, join the nozzle and straight pipe.
What's the Difference Between the 350BT and 150 BT Blower?
These two models are almost identical. The only difference between the two is the speed and airflow. The 350BT blower has a much lower rate, and the Husqvarna 150BT has a higher speed of 245 miles per hour. The 350BT blower has excellent airspeed, making it easier to move large piles of debris quicker than the 150BT blower.
Can You Switch the Side of the Operation Controls of the 350BT?
No, there's no way to switch the right-handed controls to the left when using the blower.
If you are left-handed, you should look at the 350BF model which has the throttle mounted on the frame.
How Do I Start the 350BT Blower?
Starting this leaf blower doesn't have to be a challenge. All you have to do is slowly pull the throttle trigger until you feel resistance. Then powerfully and quickly pull the blower's cord and wait till the engine attempts to run.
Overall Performance
For most users, the features that stand out about this blower are its power level and ease of use. Another feature is its noise levels; according to customer reviews, the noise level is low, and most users didn't require earplugs to operate. According to several users, the only drawback was its extended warranty process, which seemed confusing to follow. You can find further models of Husqvarna back pack blowers here.
So, if you're looking for a leaf blower that can do an excellent job, why not try the 350BT blower?