Last Updated on January 13, 2022 by Grow with Bovees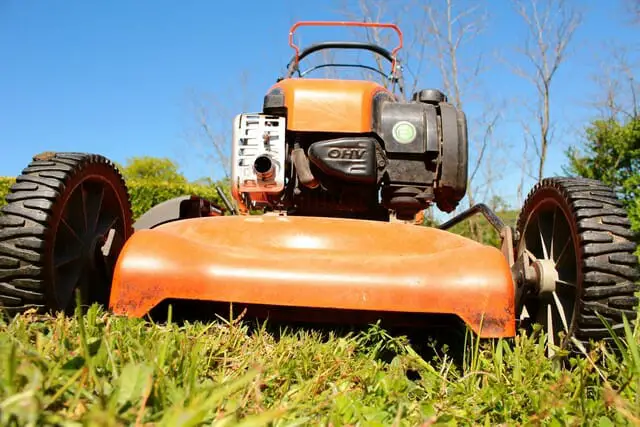 A no mow lawn alternative may start to grow on you.
Growing dark green, lush grass lawns is an addictive and enjoyable thing to do, especially in America.
That wonderful, fresh mowed grass smell is amazing, but this can be outweighed by the effort needed to maintain a lush grassy lawn.
A grass lawn also isn't an eco-friendly option. For example, a gas lawn mower emits many toxins into the air, which certainly isn't what we want.
However, you can take a different approach and remake your backyard to be more environmentally friendly.
Enter these eco-friendly grass lawn alternatives:
Ornamental grasses.
Ground cover lawn alternatives.
Artificial grass.
Moss lawns.
Perennial garden beds.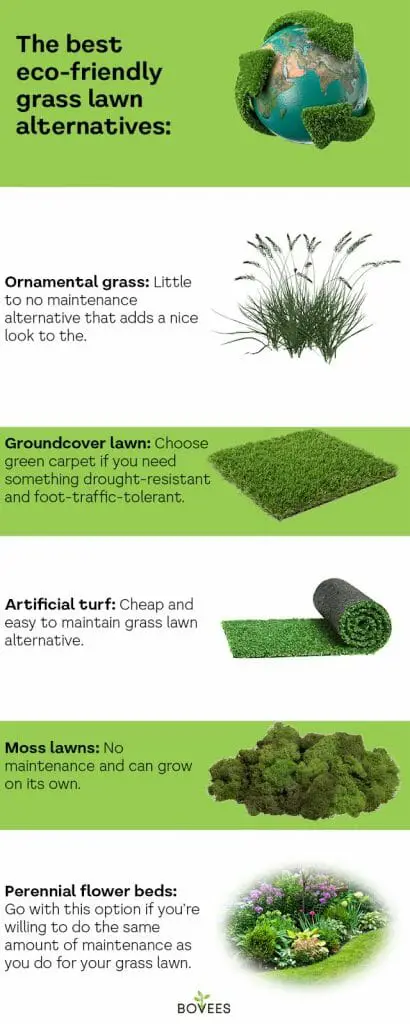 Benefits of Replacing Your Old Grass Lawn
Not sure whether you should replace your grass lawn?

Check these reasons out:
Cost Saving
Regular mowing, buying high-quality fertilizers, reseeding and watering the existing lawn to always have a lush, cherished lawn takes plenty of money.
Additionally, hiring a landscaping company is a solution but comes at an insanely high price, a no mow lawn will save you a fair chunk of change!
Damage to the Environment
According to the EPA, gasoline-powered lawn and garden equipment—GLGE—emitted around 6.3 million tons of VOCs (volatile organic compounds) in 2011, with lawn mowers contributing to 40% of GLGE.
That's not to mention the damage caused by fertilizers:
Groundwater pollution.
Soil acidity.
Eutrophication.
Algae growth.
What does this mean? A need to shift away from either GLGE or the traditional lawn area.
Time-Saving
Growing grass lawn requires:
Phew… that's a lot, right?
In contrast, moss lawns don't require mowing, are very resistant to drought—although still need some watering—and shaping and modeling are super easy.
What Can I Use Instead of Lawn?
There are plenty more alternatives to a traditional lawn; check out some of these excellent options:
Ornamental Grasses: Reduce Turf Use
Ornamental grasses are one of the most-used alternatives and a great way to reduce the use of turf.
You can use short or tall ornamentals, with both being excellent additions when incorporated with flowers.
The best part is that most varieties are robust and flourish in all four seasons. Also, they handle drought, require less water, require little care and thrive in almost every type of soil, meaning no fertilizer is needed.
Ornamental grass comes in two versions:
Clumping: Tends to be shorter than spreading grass and more dense.
Spreading: Grow taller and wider than the clumping variety.
Some of the most popular ornamental grasses are:
Blue fescue.
Zebra grass.
Purple fountain.
Japanese blood.
Blue oat.
Black mondo.
Japanese forest grass.
Mexican feather.
Pros
Low maintenance: Requires very little attention to grow into lush tufts with little watering.
No mowing: They form in peculiar, thin wisps and hold their shape throughout the year, no matter the weather. If you don't like their natural shape, you can trim them using garden pruning tools.
Sturdy and drought-resistant: Thrives in droughts and stays beautiful in winter.
Cons
No trampling: It can't withstand foot traffic, so is limited in terms of location.
Ground Covers are a Low-Maintenance Lawn Alternative
Ground cover plants are an inexpensive way to replace your grass lawn. They grow reasonably fast and don't require much watering.
Maintenance is easy, and it's mow-free, saving a lot of time. Usually, homeowners use ground in slopes, where mowing is problematic, and water doesn't stand.
To understand better how they look, check out some of the most popular varieties:
Creeping Thyme
Creeping thyme is often used to effectively fight against weeds spreading and to fill gaps between pathway stones.
It also has special properties to release enchanting scents when touched, making it ideal for those wanting to add a scent to their garden. This benefit doubles-up if you enjoy cooking with thyme!
Emerald Carpet
If you're looking for moderate height plants that attract birds and bees in the spring, then emerald carpet blossoms guarantee that.
They need a high amount of direct sun and are prone to damage from foot traffic, so the best location is against pathways or slopes.
Note that they also don't require much watering and survive harsh droughts.
What Is the Best Low Maintenance Ground Cover?
Green carpet is the best low-maintenance ground cover. It grows up to an inch in height and spreads up to 2 feet. It's the best choice if you're planning to walk on your lawn since it's highly tolerant of foot traffic. Also, it's highly drought-tolerant, requiring little water to survive.
Pros
Resistant to foot traffic: The perfect alternative to grass around pathways and trails.
Mow-free: Ground covers don't require any mowing as they don't grow that high, although, you can mow them if they grow too high for your liking.
Cons
Appearance: Not many colorful varieties to choose from.

Artificial Turf as an Option
Artificial turf is getting more popular nowadays, and it's easy to tell why:
Looks exactly like real grass.
Low-maintenance no mow lawn.
Costs very little.
Place it once and forget it.
While it has some clear advantages, make sure you grab turf that can survive heavy foot traffic and stay sturdy and green.
But, here's the problem.
It's easy to buy artificial turf that gets damaged easily, so avoid cheap options.
Make sure you go for UV and weather-resistant artificial turf. This will make them last longer, saving you money in the long run.
Though artificial turf requires minimal to zero maintenance, expect to clean it thoroughly via a power wash.
Pros
Very little maintenance: Usually, artificial materials last for a long period and are easily washable.
Withstand hard foot traffic: Best-suited to heavy traffic pathways or areas that need access.
Price: Doesn't cost much to landscape an entire backyard.
Cons
Smell: Synthetic materials, including artificial turf, tend to emit bad smells.
Weather resistance: Cheap artificial turfs tend to lose their green color and turn yellow quickly.
Moss Lawn Alternatives
Usually, if you notice moss on your lawn, you start looking for solutions to get rid of it.
But, don't overlook the benefits of moss lawns!
Essentially, moss is the environment's natural carpet and requires less watering than a grass lawn. You can also propagate it, reducing long-term costs from having to buy new moss each time.
Just be careful since it can dry out quite quickly, but it doesn't need fertilizer and requires little other maintenance.
Important note: It's a hassle-free lawn alternative only if growing in highly acidic soil with a pH of 5.5.
Pros
No maintenance: Requires little watering, there's no mowing involved and spreads finely by itself when there's appropriate acidic soil.
Cons
Growth restrictions: Moss only grows in acidic, wet turf, with little sun exposure. Also, the soil pH should be around 5.5. Otherwise, it won't develop.
Dry quickly: Without enough moisture, it dries quickly and starts losing its green color.
Perennial Plants
Perennial flower beds are great grass lawn alternatives for bringing different colors into the backyard and enjoy charming blossoms every year without reseeding plants.
They're an important component of a splendid garden, attracting pollinators and developing a healthy garden environment.
Perennials also thrive in both shade and sun, making them a solid choice for your garden without worrying about seasonality.
Yet, perennial flowers take up a lot of space, so it's a good idea to include them when sizing down the lawn space.
To better understand how these beautiful flowers improve appearance, here are some design examples:
Tree Ring Flowers
Have many trees in your backyard?
Use landscaping pavers and make precision rings around the trees, planting perennial flowers or evergreens in the rings. You can even add more potted plants instead of the pavers to add extra glamour.
Hostas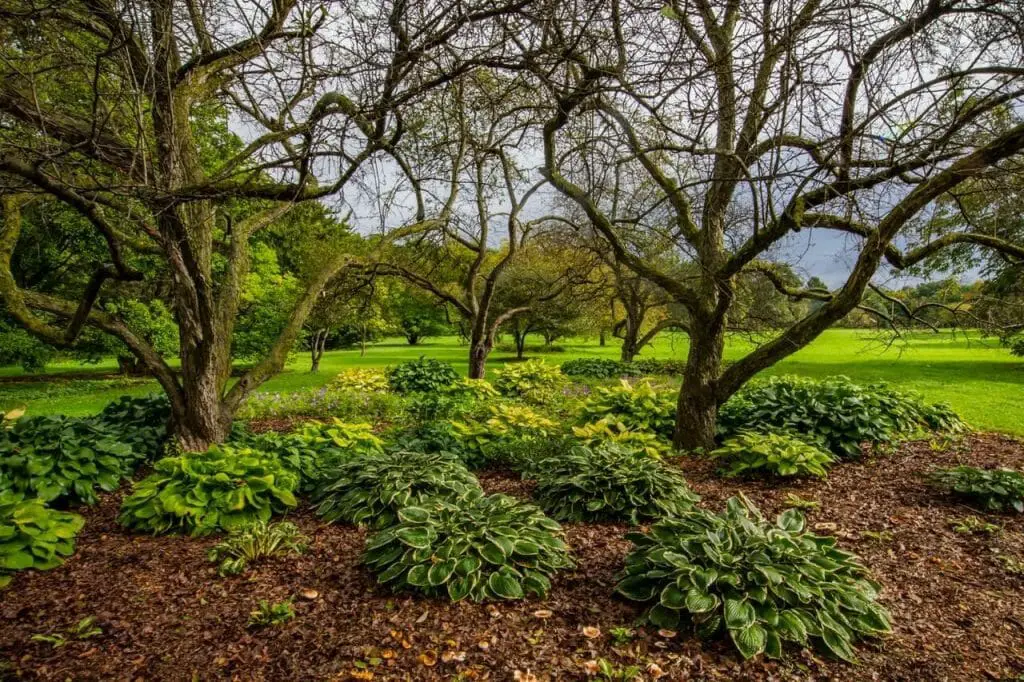 Implement hostas in your garden's shady spots to improve landscaping. They're best known for their good-looking, brighter-colored foliage.
Moreover, during summer, white and lavender hostas emit an enchanting scent, adding fragrance to the garden and attracting birds, especially hummingbirds.
Also, hostas are hardy and don't require much maintenance, even in chilly climates.
Tiered Flower Beds
If your garden is sloped, tiered perennial flower beds can make a great lawn replacement option.
The best part is that you don't need to replant planting perennial flowers, saving you time and physical effort compared to other garden beds.
You can also get creative here and use whatever materials you like for the flower bed walls: broken bricks, interestingly shaped stones and concrete are popular options.
Pros
Variety of types: Many different looks and a wide range of colors.
Improves the environment: Attracts pollinators, improving the garden's overall condition.
Cons
Requires more time: Takes longer to establish and flourish compared to the other alternatives.
Build A Rock Garden
If you have an area with a difference in levels, one way to effectively use that space is by making a rock garden using landscaping rocks. Rock gardens are a great way to incorporate some native plants, maybe a small water feature, and, if done correctly, will keep you busy for hours!
Is Clover a Good Substitute for Grass?
Clover is definitely a good substitute for grass since it requires little water, flourishes perfectly without fertilization and you don't need to "weed" it.
In fact, clover is considered a weed on grass lawns, but without the negative association we usually give to weeds. For instance, the lesser yellow trefoil variety is particularly aesthetic, and it's known to prevent other weeds from growing.
When you replace the whole lawn with clover and keep it neat, it looks similar to regular grass, especially since it's quite easy to keep it lush and green all the time. Just be warned that it can be tough to mow, so be prepared to put in a bit more maintenance.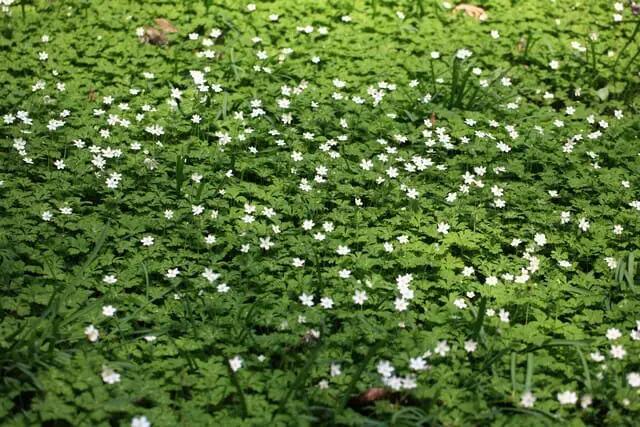 Pros
Attracts pollinators: Pollinators help to maintain a garden.
Fertilizer-free: Clover is already rich in nitrogen and doesn't require extra fertilization.
Price: Clover plants are one of the least expensive seeds you can buy.
Drought-resistant: Handles hot summer days with little water and stays green.
Grows in poor soil: Grows perfectly fine in a majority of soils.
Cons
Attracts bees: Expect numerous bees around your lawn.
Short-lived: Requires reseeding every 2–3 years to keep a lush lawn.
Suffer from high traffic: Can't be used in high-traffic areas.
Final Thoughts on No Mow Grass Lawn Alternatives
Converting your lawn into a more eco-friendly one isn't as hard a job as it might seem to be.
And, you don't need to remove the entirety of your grass lawn. You can simply start by reorganizing a small part of your lawn with ground covers, for example.
In particular, green carpet ground covers can be placed between lawn pavers to add some attraction.  
On the other hand, perennial flower beds are more eco-friendly and provide more blooms than grass lawns. Even so, keep in mind they still need regular watering, weeding out and trimming.
In contrast, replacing your garden with artificial grass or ornamental grasses will give you the best low-maintenance lawn and green backyard all-year-round. Like we said, a no mow lawn alternative can definitely grow on you!