Last Updated on December 11, 2021 by Grow with Bovees
When planning a gardening project, most people will instantly think about what plants they want to include.
But, when we look at natural landscapes, there's so much more to consider, including stone and rock.
In this article, we'll explore different types of landscaping rocks. We'll also discuss how to choose suitable stones for your project.
How to Choose the Right Landscape Rocks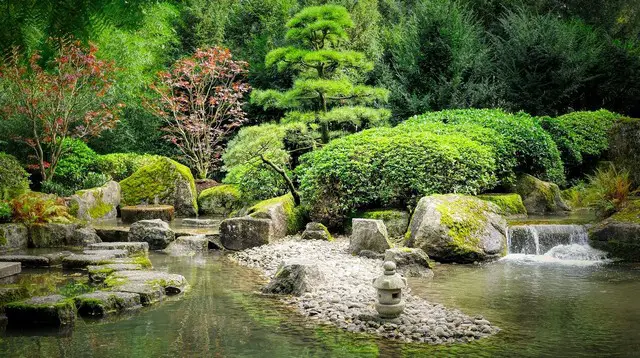 You can use landscaping rocks for a wide variety of things in your garden. But before you choose a landscaping rock, you might want to consider the cost. Stones and rocks that are local, regional, or indigenous to your area are usually a more affordable option.
The stones you choose will also depend on several factors relating to your garden's appearance and the functions you want them to serve.
Appearance
Shape and texture: Are you after soft, smooth edges or do you want a jagged, crisp look? While the shape and texture affect your garden's appearance, it can also change the acoustics.
Color: Do you like cool blues and grays, or are you after warmer earthy tones like reds and browns? Consider the color of your home and surrounding landscape. Do you want it to match or contrast? The color will set the mood for your outdoor living space.
Theme: Some rocks are well suited to specific themes. For example, lava rocks look great in desert-style landscapes, whereas river rocks are fantastic for zen gardens. Choosing a theme before you start looking for the perfect stone combinations will help you decide which rocks you want to incorporate.
Size: Think about the size of your outdoor space. If your yard is small, you probably don't want to go out and buy boulders.
Functions
Plant habitats: Some larger rocks can be positioned to shelter plants from sunlight or help reflect light onto sun-loving plants.
Prevent erosion: Some landscaping rocks can slow down soil erosion. Using smaller stones as mulch will help protect vulnerable areas from the natural elements, mowing, and foot traffic.
Covering Unsightly Areas: Landscaping rock can be used for landscaping around tree roots, or other features that would otherwise be difficult to hide.
Drainage: If the soil slopes away from the foundations of your home, you could use rocks to create a barrier against rainwater. Some stones, including gravel, help drain water away from your home and keep the foundations dry.
Rocks also absorb heat from sunlight and radiate it a night. This speeds up the melting process of ice and snow, and the stones can quickly drain it away from your home.
Inhibit weed growth: You can use rocks as inorganic ground cover to suppress weeds.
Hardiness: If you want to landscape a driveway, it's essential to choose suitable rocks. Some stones, such as pavers, are more suited to driveways as they're flat and can withstand wear.
What Are the Different Types of Landscaping Rocks and Stones?
Flagstone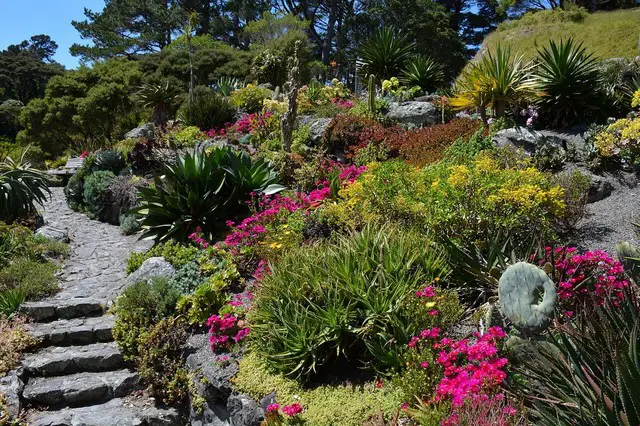 Flagstones are large flat rocks made from slate, travertine, limestone, sandstone, or bluestone. Each type of stone has a different texture and color. The flagstone is often cut into a rough square, rectangular, or irregular pieces.
These can be difficult to install because of the stone's natural texture and rough cuts. You can use flagstone for patios, pathways, driveways, or you could fit it to the top of a garden wall. This creates a natural-looking flat surface, ideal for seating areas or placing flower pots.
River Rocks or Rainbow Rocks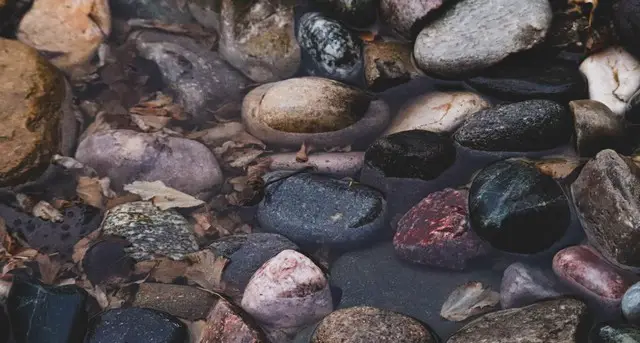 River or rainbow rocks are a diverse group of stones that have been eroded by water, sediment, and silt. The river current carries sediment and silt, and they collide with the soon-to-be river rocks. The speed of the current determines how quickly they're formed.
These beautiful rocks come in a variety of colors, shapes, and sizes. They're often used as part of a water feature, and they also look incredible as ground cover.
Decomposed Granite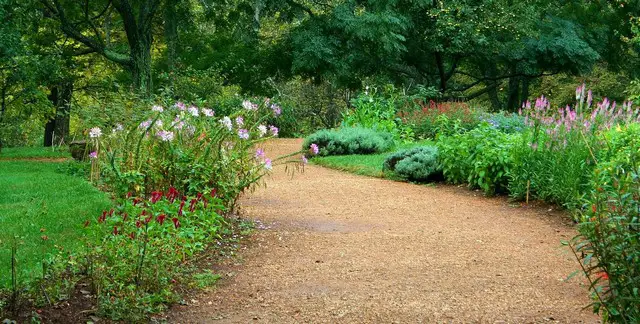 Decomposed granite is a versatile landscaping rock that comes in two forms; crushed and fine. The crushed granite is similar to a gravel texture, whereas fine is sand-like.
Both types of granite are often used on pathways, driveways, patios, and as mulch. It's permeable and provides excellent drainage.
Decomposed granite can be spread around flower beds and trees. It'll continue to break down after it is laid and provides nutrients to the soil and plants. It lasts longer than organic mulches and won't attract pests.
Pea Gravel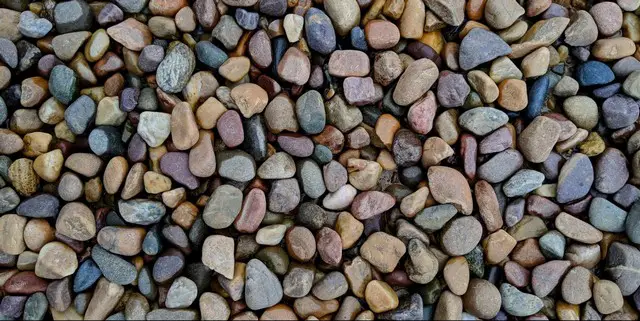 Like river rocks, pea gravel is formed due to natural weathering, and it's usually found near water. The smooth pea-sized stones come in a range of vibrant pinks and blues that intermingle with earthy browns and greys.
The aesthetics of pea gravel make it suitable for many different garden areas, including driveways, walkways and flower beds. It's also commonly used to fill spaces between much larger stepping stones or pavers.
Although pea gravel can inhibit weed growth, you may still find some work their way through the small rocks. It's always best to use landscaping fabric below the stone as a barrier to help suppress weeds.
Pea gravel makes fantastic mulch because it retains moisture. It can also work well as a border around your house. It'll protect against rodents as they can't dig through it, and it makes an ideal drainage system to steer water away from your home.
Limestone Gravel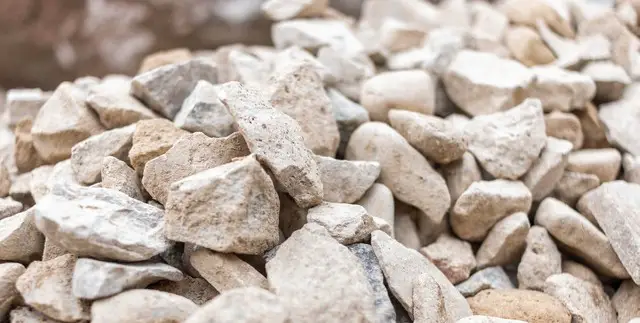 Limestone gravel is durable and can make stunning paths or driveways due to its bright white color. You can also use it on garden beds.
However, limestone reduces the acidity of the soil by increasing the pH. So it's best to avoid this material if your garden already has a high pH as it may harm your lawn.
Limestone also comes in other forms besides gravel, including boulders, stones, and slabs. It's recommended that limestone slabs be sandblasted if used on walking surfaces to prevent them from becoming slippy in wet weather.
Lava Rocks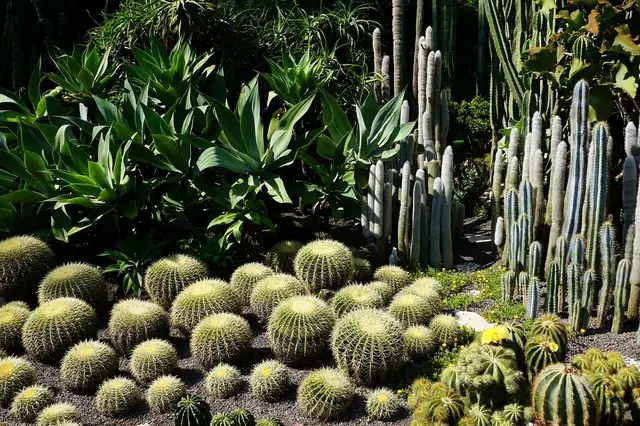 Lava rock, also known as scoria, is a volcanic rock available in red or black varieties. It looks fantastic as part of a desert landscape.
They also make an excellent addition to fire pits. It's aesthetically pleasing, low-maintenance, and it provides a porous barrier that protects the components of the pit from the flames.
It's a lightweight landscaping material that's easy to transport and spread. It makes excellent ground cover because the air pockets pitted into the stone allow nutrients, water, and oxygen to the soil. It also prevents slugs from reaching your plants.
However, lava rock is so light it can easily be blown onto your lawn by slight winds. This can be hazardous to gardening equipment as rogue pieces have been known to damage mower blades.
Pavers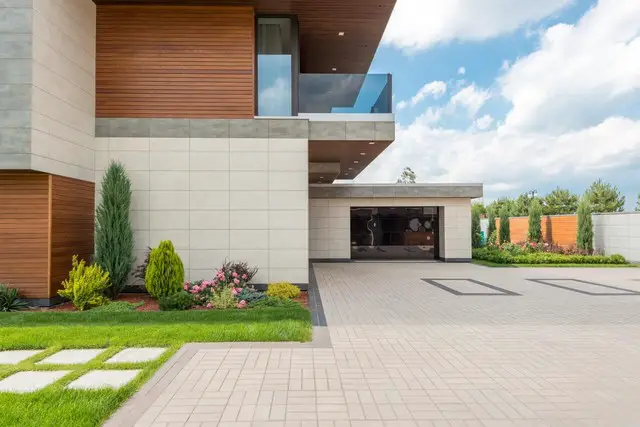 Pavers can be made of brick or concrete, and they come in many textures and colors. Sizes and shapes are customizable, which makes them easy to replace if needed.
The diverse range of paving stone options allows you to use them for hundreds of garden projects. This includes driveways, pathways, patios, or decking around a pool or pond.
Since pavers are manufactured, they're much easier to install compared to the natural equivalent, flagstone. It takes an artistic eye to match up flagstone, but pavers can be made to fit together perfectly.
Stepping Stones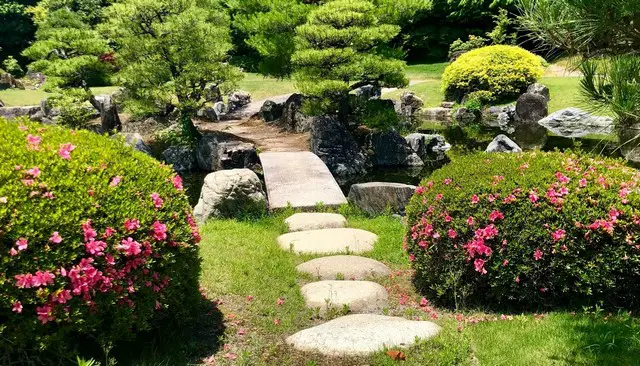 Stepping stones are often used to make charming walkways across streams and through public garden trails. If you want to add a bit of fun to your yard, stepping stones could be just the thing you need.
Each stepping stone is cut from natural stone, although they can be made from concrete. The size, color, and finish of stepping stones vary due to the range of materials used to make them and customization options.
Walkways can be created using stepping stones surrounded by other aggregates such as pebbles or gravel. Another option is to pace them out at intervals across your grass. However, this can make mowing around them difficult.
Pebbles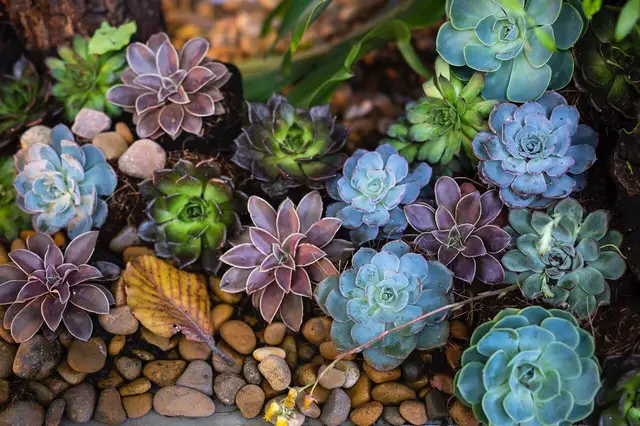 Pebbles are smooth rocks that come in a variety of colors and sizes. They can be used as ground cover, mulch, direct drainage, and in water features. They're also perfect for creating a clean finish between stepping stones or flagstone on a pathway.
Pebbles are an excellent addition to Zen gardens. You can also use them to create decorative patterns, and they look great in a rock garden. Some people like to add pebbles to the top of planters to help retain the soil's moisture.
If you're using pebbles as a weed suppressor, make sure you spread them thickly or put landscape fabric underneath. If they're applied thinly, weeds will still grow through.
Boulders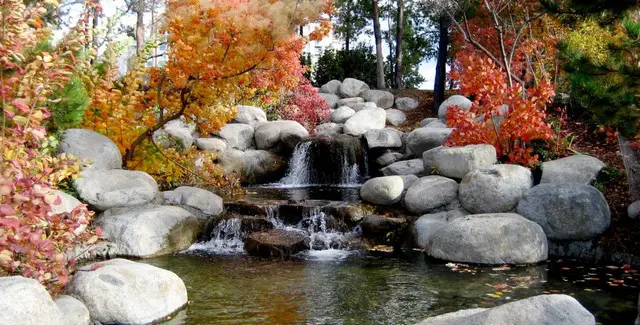 Boulders are the largest landscaping rock you'll come across. They look incredible in a desert landscape with sun-loving plants such as cacti and succulents. They'll also help to support larger plants such as cacti as it grows.
They would also sit nicely alongside focal points and in extensive rock gardens. You can incorporate them into natural ponds, placed with large plants, or surrounding swimming pools.
When installing them in your yard, it's always best to partially bury boulders; otherwise, they can look out of place.
Artificial Rocks
Artificial rocks can be made from fiberglass, plastic, rubber, or plaster, all lightweight alternatives to the real thing. They're long-lasting and can be purchased in various shapes, sizes, and colors.
Although artificial rocks are lightweight, they're usually shaped for wind resistance and can withstand inclement weather conditions. These rocks are hollow and can be placed over unsightly objects on your lawn like irrigation equipment or wellheads.
Some companies will even custom-make rocks, and whatever you can imagine could be made a reality. These could be seating areas, plant pots, animal habitats, wall veneers, ponds; the list is endless.
Faux rock features such as seating or ponds could also be constructed as a single piece, saving time and effort when installing.
If you're feeling crafty, you could even try making your own. Check out this video for a DIY boulder idea.
Final Thoughts
Incorporating rocks into your landscape can bring your garden to life. The versatility of stone is incredible. You can create focal points, paths, seating areas or blend them into your flower bed to create a more natural look.
There are rocks to fit all garden themes, and many provide benefits to your outdoor space.
resources;