Last Updated on August 23, 2021 by Grow with Bovees
It's such a pleasure to have a lush looking lawn, especially during the summer months when you've got friends & family round for a BBQ or… you just fancy chilling on your own in the backyard.
Unfortunately, a lush, green, healthy lawn takes commitment, hard work & TLC…which also takes a lot of time!
And, for many of us there just aren't enough hours in the day for all that mowing, let alone, sowing, fertilizing and mosquito control.
However, luckily there are lawn care companies out there, such as TruGreen, who are just a call away from helping you out.
TruGreen is one of many professional lawn care companies and serves over 2.3 million customers across the United States.
TruGreen works with both residential and commercial customers and offers annual plans not just for lawn care, but also for tree and shrub care.
So, what exactly does TruGreen offer that other lawn care companies don't, how does it work and what does it cost?
We decided to find out for you, so we sent The Bovees Research Team on a thorough investigation into; the different TruGreen services, the prices TruGreen charge and exactly what people think of TruGreen.
How TruGreen Lawn Care Works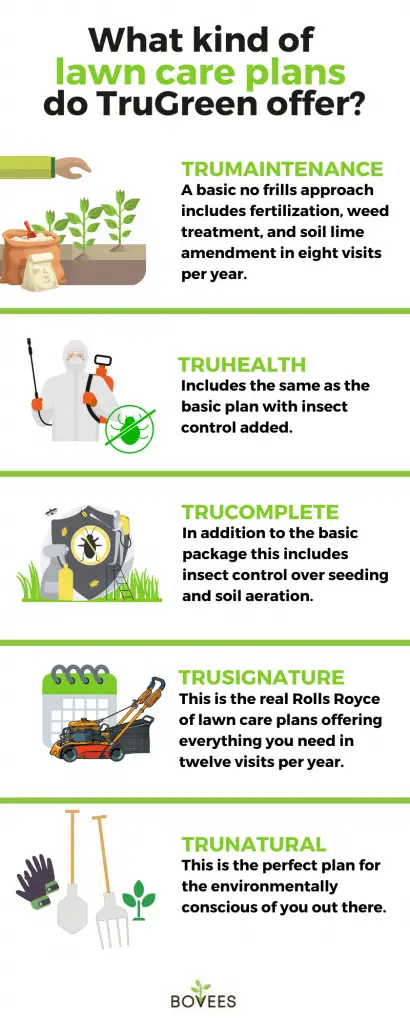 TruGreen is, first and foremost, a specialized lawn care company who will undertake every element of looking after your lawn care for you. From reseeding and fertilizing to getting rid of pesky pre-emergent & targeted weeds and insects.
TruGreen know exactly how to go about getting you the lawn that you want.
TruGreen has five annual packages on offer to choose from that include not just general lawn care but complete garden care. There's one for every kind of budget and there's even a package available for those of us who'd like an environmentally friendly option.
There are also various additional services that you can add on, to tailor the standard TruGreen package to suit your specific needs. These include; lawn aeration, pest control, balancing the pH level of your lawn, and trimming shrubs and trees.
All the TruGreen lawn care packages come with the TruGreen Healthy Lawn Guarantee.
This guarantee pledges that Trugreen will identify and carry out any adjustments required to keep your lawn looking great.
Different Types of TruGreen Plan and Their Prices
There are five different basic TruGreen lawn care plans to choose from as per the list below and various add-ons as previously mentioned.
All include; a healthy lawn guarantee, fertilizer applications, lawn visits from a lawn care specialist and some soil amendments.
If you are unsure which package you need then you can contact the friendly TruGreen team by phone or via their website, to discuss exactly which is the plan most suitable for you.
Once that has been determined, TruGreen will then send a TruGreen lawn care specialist to your home to perform a healthy lawn analysis. This will further confirm the level of TruGreen lawn care that you actually need.
TruMaintenance
This is the basic TruGreen package that offers a no frills approach. Included in this lawn care package is fertilization, pre emergent and targeted weed treatment, and soil lime amendment.
TruHealth
The standard TruGreen TruHealth lawn care plan includes the same as the basic package, fertilization, targeted weed control, and soil lime amendment.
However, it also includes prevention and control of insects as standard.
This package will give you eight lawn care visits per year from a TruGreen expert.
TruComplete
The TruComplete lawn care plan option is a slightly more comprehensive package that offers; fertilization, targeted weed control and soil lime amendment.
However, in addition the TruComplete Lawn Care Plan also includes; insect control, over seeding and core soil aeration.
You will receive eight lawn care visits per year from a TruGreen expert on this package.
TruSignature
The TruSignature package gives you everything you need for your lawn care… and more(!)
As with the previous packages it includes fertilization, emergent and targeted weed treatment, insect control, soil lime amendment, over seeding & soil aeration.
However, in addition to this, the TruSignature package also covers tree and shrub maintenance.
It also includes an additional four visits per year, so a total of twelve visits per year from a TruGreen expert.
TruNatural
This TruGreen plan is ideal for those of you who are environmentally conscious as it includes organic lawn fertilizer.
Environmentally friendly weed killer solutions can also be added to the TruNatural package on request.
Additional Extras
Optional extra services that can be added to your choice of TruGreen plan, at an additional cost.
Perimeter Pest Control — This will control insects such as mosquitoes, fleas, ticks, ants & chiggers, and prevent them from returning.
Grub Prevention and Control — This will control the white grubs/beetle larvae that can cause hellish damage by burrowing beneath the surface of your grass and eating the roots.
Soil Amendment — This will include analysis by testing pH levels in your soil, (they will use the best soil pH tester kits for this), and the application of supplements to amend them where necessary.
Core Aeration — Lawns develop discolored patches due to tightly compacted soil. This treatment will encourage a better flow of water, oxygen, and nutrients to the roots of your lawn and improve the condition.
Cost
Lawn care prices depend on many factors including; the location, the size of the lawn area, the current condition of the lawn and what standard of lawn you aim to achieve.
So although there are guidelines, which we give below, TruGreen will not commit to a final price until one of their experts has been out to assess your lawn.
Location — The location where you are living will influence the cost and selection of packages that are actually available to you. Which part of the country and how close you are to an urban city are the main factors here.
Size of your lawn — This is standard with all companies. Obviously you will need to pay more for a bigger lawn than you would for a smaller patch of grass. This is due both to the time spent on the lawn and the quantity of the products needed.
Lawn health — The aim of the TruGreen lawn care company is to at least maintain, and in most cases, improve on the health of your lawn. Therefore, they will need to determine the current condition by doing a healthy lawn analysis before advising on cost. If your lawn is already quite healthy this won't be an issue.
However, if your lawn has existing damage e.g. discolored patches from pet urine or deep thatch that needs to be removed, then more work will be required initially.
Treatment package — The more TruGreen treatments you'd like included in your package e.g. adding tree and shrub care, the more you should expect to pay.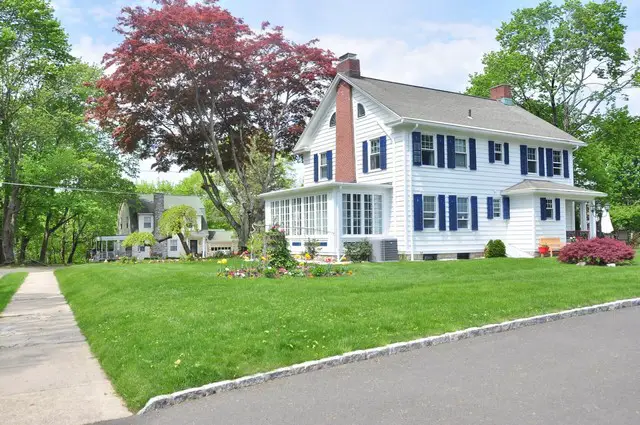 TruGreen Cost Estimate For 5,000 Square Feet
The below costings for a 5,000 square foot lawn care are as per an estimate that was given to the Consumers Affairs Blog in 2020 for a lawn in Tulsa, Oklahoma.
They indicate an initial cost for the first treatment and then an annual cost.
TruMaintenance Lawn Plan
First treatment USD 29.95 Yearly plan USD 485.65
TrueHealth Lawn Plan
First treatment USD 29.95 Yearly plan USD 568.60
TruComplete Lawn Plan
First treatment USD 29.95 Yearly plan USD 777.60
TruCare Mosquito Defense
First treatment USD 39.95 Yearly plan USD 464.70
Tree & Shrub Care
First treatment USD 49.95 Yearly plan USD 709.65
TruShield Tick and Flea Control
First treatment USD 80.95 Yearly plan USD 404.75
How Much Does TruGreen Actually Cost for a Half-Acre Yard?
A half acre lawn would be around 22,000 square feet in size and the TruGreen plan prices for this size of lawn care would be:
TruComplete Lawn Care Plan
The cost for the annual plan with no overseeding would be 1,000 dollars per year. With over seeding including, this will cost 1,200 dollars per year.
TruSignature Lawn Care Plan
The cost for the annual plan with no overseeding would be 1,300 dollars per year for a half acre sized lawn. With over seeding including, this will cost 1,500 dollars per year for a half acre sized lawn.
TruHealth Lawn Care Plan
This plan would cost you 730 dollars per year for a half acre sized lawn.
TruMaintenance Lawn Care Plan
This plan would cost you 640 dollars per year for a half acre sized lawn.
TruNatural Lawn Care Plan
This environmentally friendly treatment would cost you 1,300 dollars per year for a half acre sized lawn.
How Much Does TruGreen Aeration Cost?
Aeration certainly gives your lawn a new lease of life, providing the extra CO2 that it needs to produce the thick, lush grass that you've been looking for.
Piercing the surface helps break up thatch, which is the build up of dead grass on your lawn that inhibits new growth.
The removal of thatch allows more water, air and fertilizer to get to the roots of your lawn. This gives your lawn the nutrients that it needs to grow strong and healthy.
The cost of a TruGreen aeration treatment can cost anything from 200 dollars to 450 dollars depending on the size of your lawn, whether fertilizer is applied at the same time and if so what type and how much of it is required. Some lawns don't require aeration at all while others may need one or two aerations each year.
You should definitely consider a TruGreen aeration treatment if you can see a thatch build-up on your lawn or if you notice bare patches, or puddles following a rain shower.
You may still like to consider whether you could rent or buy a lawn aerator for less than the cost of the service.
Is TruGreen a Good Lawn Service?
Going by the vast majority of reviews that we have read, TruGreen is a GREAT lawn care company.
It offers a countrywide service and is the largest residential lawn care company in the United States looking after the lawns of over 2.3 million customers.
They offer a good choice of different services with five annual packages to choose from. In addition to this, there are bespoke applications that can be added on to any package.
All of their staff are professional and thoroughly trained to a high standard through specialized courses.
Once you've decided which package to go for, the lawn care specialist will visit your home every four to six weeks. They will then apply the treatments to your lawn and make sure that everything is in order.
After every treatment visit, the lawn care specialist will give you a personalized service summary. This will let you know what treatment was applied and give you tips on the best way to care for your lawn until their next visit.
If you're not happy with any part of the service or treatment applied you just give them a call and, as part of their Healthy Lawn Guarantee, they will send someone out to rectify the issue.
What Are Customer Reviews Saying About TruGreen?
TruGreen doesn't shy away from customer reviews, they encourage it. There are many other websites out there, that you can visit to see just what consumers are thinking about the TruGreen service.
As we've already said, the vast majority of customers are giving very positive feedback for TruGreen as a company and many recommend individual technicians by name. You'll read that even those who experience some disgruntlement at some stage, will go on to say that TruGreen responded quickly and courteously to rectify the problem for them.
Customer service is something often lacking and not many companies these days receive such consistently high praise as TruGreen seem to.
Some of the things that customers particularly like about TruGreen are:
The personalized service. Even though they're a large company they don't feel that way and still offer that personalization, which is great.
Great service from all staff, from the people that answer the phones to the guys that come out to treat the lawn.
I like that I don't have to worry about my lawn or my pre emergent and targeted weeds anymore. Any problems I have, I just call them up, and they come out.
All staff go above and beyond to make sure that they are offering a great service.
I originally gave them a poor rating as they put very little seed on my lawn. I contacted them, and they came back within a few days to apologize in person and do the job properly with an additional application. I'm impressed with the quick response and corrective action.
TruGreen has transformed our lawn, and it's now the best on the block. Great product, excellent customer service, and attention to detail. Keep up the great work!
Conclusion
We all want that picture perfect lawn that's the envy of all of our neighbors. The question is, just how much work, time and effort are you willing to put into it to achieve that?
If the answer to this is that you 'simply don't have the time or energy after a long day at work'… no problem! The answer to your prayers could be a lawn care service company such as TruGreen who provide all and more of the lawn maintenance, shrub services and pest control services you would expect from a lawn service company.
TruGreen will send out a technician to assess your lawns requirements and give you a quote for the work to be completed on an annual plan. They will then come out to treat and attend to your lawn between eight and twelve times per year, depending on the agreement you sign up to.
If you're not totally satisfied with the treatment from TruGreen, you just give them a call and they will offer to come back to check and reapply if required.
It may be another expense to be added to your long list but according to existing customers it is well worth the money to get the stunning lush green lawn of your dreams.
We hope that you've found our research useful and are now a step closer to having the lawn that you've always wanted, without having to get off the couch and break your back to achieve it.
Yours in lush lawns!
Lizzy & The Bovees Team