Last Updated on August 24, 2021 by Grow with Bovees
Come late spring, and there's nothing better than sitting admiring your garden or yard after you have spent the time getting it exactly how you want it—with an amazing lawn that will increase the curb appeal of your property.
Your lawn needs water to maintain its beauty until the fall so that it can grow thick and healthy.
The most effective way to give it what it needs is via an irrigation sprinkler system.
Some manual sprinkler system installations are fairly simple, and other custom-designed automatic systems with timers set for different irrigation zones, for example, are more complicated.
The various types of irrigation systems available all offer something different.
Here, we'll give you all the information you need to choose the best system for you. We'll discuss:
The Cost of a Lawn Irrigation System
What Are the Different Types of Irrigation Systems?
What Are the Different Types of Sprinkler Controllers?
Installing a Sprinkler System
Looking for Sprinkler Companies Near You?
How Does a Sprinkler System Work?
What Are the Benefits of a Sprinkler System?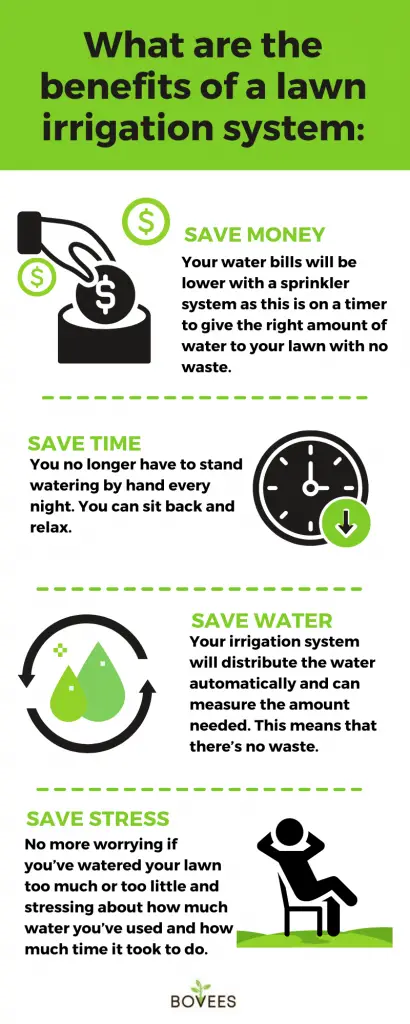 The Installation Cost of a Lawn Irrigation System
So, how much does a lawn irrigation system cost on your property? It depends on several factors—it can cost from as little as 500 dollars to over 10,000 dollars.
The type of home irrigation system that you invest in will have the main impact on cost. The below are examples of different types of irrigation systems and the cost per one-acre area, including materials and labor:
Above-ground sprinkler system — between $1,500—$2,000.
Drip irrigation system — between $1,800—$2,150.
In-ground sprinkler system — between $11,000—$13,000.
Your yard and lawn size will also play a significant part in the irrigation system cost. It will also cost more if you're looking to bring in a professional team rather than doing it yourself.
Surprisingly, your property zip code may also play a part in the cost of installing a lawn sprinkler system. Prices of the materials or labor costs may be higher where you live than in other parts of the US.
However, an underground irrigation sprinkler system installation will not only water your lawn but will also help to conserve water, as it will only water the lawn when it's needed.
This will save you money on water bills, and it's more efficient than guessing the amount of water the lawn needs every day.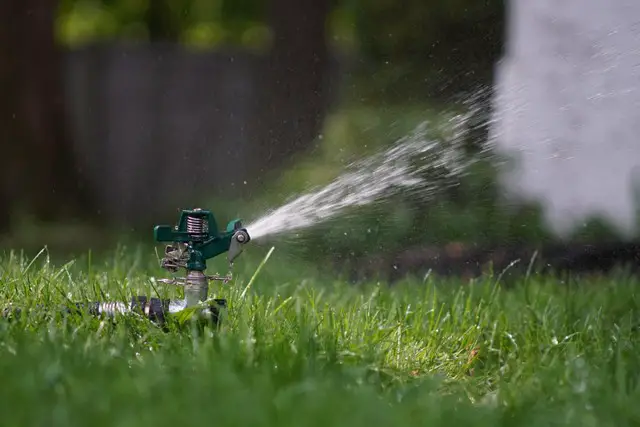 What Are the Different Types of Irrigation Systems?
There are four different types of home irrigation systems for your lawn and the plants in your yard or garden. In a commercial agricultural environment, there are lots more choices available.
We will only look at domestic irrigation systems that can be easily installed on your property by you or an irrigation system professional.
Above-Ground Surface Irrigation
This is a traditional irrigation method and is the most commonly used on lawns. It liberally waters the surface of the soil, and the water, which then soaks down into the ground.  
Though better than doing it manually, this is still a wasteful and inefficient way of nourishing your lawn, as some areas will receive unneeded water and others will not receive enough. The cost to install this system is minimal as it's all down to you.
In-Ground Sprinkler System – Irrigation
This sprinkler system is an excellent way of hydrating your lawn and making sure that it gets the right amount of water at the right time.
The piping is buried underground, and the sprinkler heads may pop up when in use or sit above the lawn. Pop-up heads make it easier when mowing your grass as you don't have to worry about damaging the sprinkler heads.
These sprinkler systems conserve water and shut off when it's raining. They are connected to a timer and have sensors to know the right time to water the lawn. The lawn is divided into zones so that each zone has the appropriate amount of water at any one time.
The cost to install a sprinkler system like this varies depending on the features and size required. This is the most expensive option available as it involves the most work, digging out the zones for the sprinkler system. However, it's worth it if you have a fair-sized lawn and will give you great results, keeping your grass at its best.
Drip Irrigation System
A drip irrigation system, or trickle irrigation, works as the name suggests. The water drips from a tube that's lying on the ground in your yard. It has water emitters that you can locate in the places that need them the most to discharge a more significant amount of water.
The water oozes out slowly, allowing it to seep directly into the soil. This system wastes less water than a simple above-ground irrigation surface system and gets the water directly to the root, offering better and more vigorous root growth. You don't have to worry about sprinkler heads with this system.
Rotor Irrigation Systems
The rotor systems work in the same way as traditional sprinkler systems but on a larger scale. They release water through pressure in a spray, but it's regulated by a screw on the nozzle of the sprinkler head.
You position the spray heads and set the water pressure to target the areas that need the water the most.  
The water from each head should reach the next head. You should place the last heads to reach the edge of your grass to ensure the whole lawn is covered, but watch that you don't end up watering the sidewalk or your neighbor's property.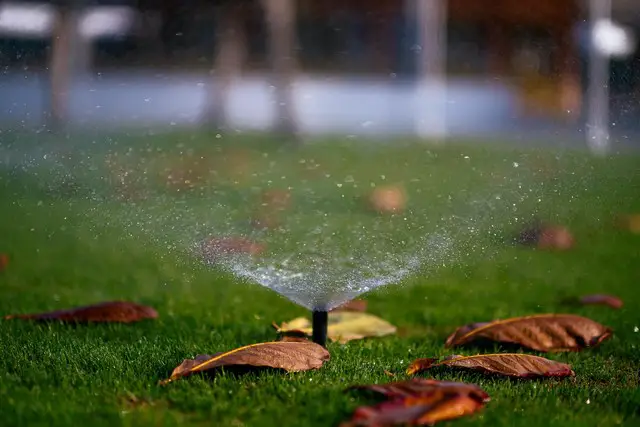 What Are the Different Types of Sprinkler Controllers?
You have a choice of the type of lawn sprinkler system controller that you choose for your irrigation system.
Mechanical sprinkler system controllers — These are manually operated and are easy to understand and use. They are less susceptible to power surges and spikes but have limited features compared to digital controllers.
Solid-state digital controller — Offers a state-of-the-art digital readout screen that uses integrated circuits for the controller elements. These have many more features than manual controllers and can adjust the watering schedule automatically throughout the year. The automatic sprinkler system controllers are powered by electricity, battery or even solar power.
There are lots of features available on an automatic sprinkler systems controller. These will differ depending on the system cost. Some of these are:
Clock and calendar settings: Program watering times and watering cycles. Adjust them according to the season.
Manual start and master switch: These can override the program, allowing you to manually start the sprinkler system or turn it off if maintenance is needed.
Station omission: Allows you to choose which sprinkler system stations operate and which don't.
Rain sensor: A rain sensor will turn off the system if rain is detected. It will allow you to override this if needed.
Battery backup: If you have a power cut, the controller will switch to battery backup to maintain the settings information on your controller. The sprinkler system will not water the lawn without power.
Delay: This will allow the valves to close in one area properly before opening other valves.
Installing a Sprinkler System
When's the Best Time?
There's no wrong time to install a sprinkler system in your yard, but the best time of year to install a sprinkler system is in the fall. Not the answer that you thought? We get it, you think of all things for your yard being done in the spring to be ready for summer, but this isn't always the case.
Your lawn has weathered the hottest summer months, so it will be feeling a little parched and ready for some care by the fall. Also, most of the work that goes on to install a sprinkler system will be underground and will involve a lot of digging of holes and trenches. You don't want this to happen when you're enjoying a summer BBQ with your friends.
Fall is an ideal time as your yard and lawn aren't at their best, the temperatures are cooler, and there will be fallen leaves everywhere. This gives you the ideal opportunity to install a sprinkler system without no one even noticing.
By getting a lawn care professional company to install a sprinkler system in the fall, it will give time for it to bed in and settle into its surroundings. It will also give your lawn time to repair itself following the work needed to install a sprinkler system underground.
It will give the sprinkler heads time to bed into the lawn so that they're not in the way when it comes to spring, and you start to mow your lawn again.
By springtime, you will have everything working perfectly, and a lush, green lawn.
Looking for Sprinkler Companies Near You?
Once you've decided to go ahead with your choice of sprinkler system, you then need to determine if you will install it yourself or get a professional in.
It's possible to do it yourself, but this will take lots of time and work, with often complicated procedures required. It may also involve dealing with electrical systems and water, which is never a great mix, especially when you're not a professional.
A basic irrigation system may be simple to install if you get some mates round to help you out. However, DIY could also lead to mistakes that may cost more to correct in the long run.
With this in mind, most people will get a professional in, especially if you are looking at a state-of-the-art irrigation system. This will, of course, add labor costs to the price of installing a sprinkler system.  
Now you need to figure out how to find a sprinkler system company near you who can do the job the way you want it done.
There are many irrigation system companies out there that will offer up their services, but you should get one that's reputable and, ideally, recommended. You also need to check out whether the sprinkler system cost is cheaper from them or an independent supplier.
Have a look online to find sprinkler system companies near you, and then look at their reviews and customer feedback. If you know someone that's used them before, speak to them to understand how they worked and the service that they offered.
You need to make sure that they are up to the job and are reliable. Don't just choose the first company that comes up on Google.
Lawn Irrigation System Cost
Any reputable sprinkler system company will come to your home to determine the required work before installing a sprinkler system and tell you the sprinkler system cost and an estimated labor cost. They should offer this consultation at no charge and with no expectation that you will give them the job.
Once you are happy with the company and the cost to install the sprinkler system that you've chosen, discuss your expectations, timeframes and possible power and water disruption issues until you arrive at an agreement.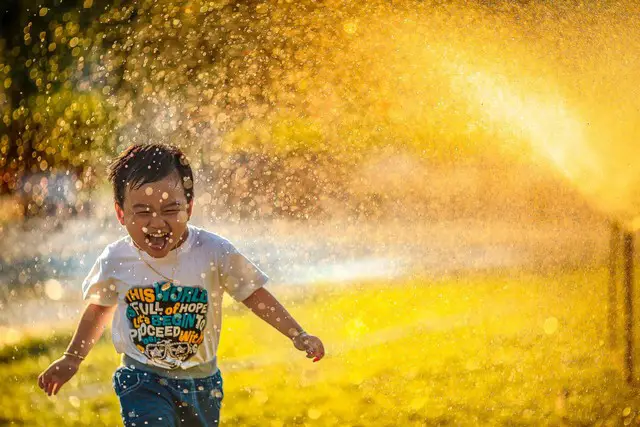 How Does a Sprinkler System Work?
Different components make the sprinkler system work in the right way in your yard. By working together, they will give you the lawn that you're looking for.
Most sprinkler systems have underground polyethylene pipes to move the pressurized water freely into the sprinkler system. Polyethylene is normally the best material as it can withstand the elements, is flexible, easy to work with, and is relatively inexpensive.
These irrigation system pipes will be attached to the main water supply. They will then be buried underground in a configuration that will cover the complete lawn area.
Sprinkler system valves will then be connected to the polyethylene pipes at the starting point of each piping zone. This will control the water flow to each section of the lawn or yard through the irrigation system. The valve will open to release the water and then close once the grass has had enough to drink.
The sprinkler system will have multiple sprinkler heads to give the whole lawn the water that it needs.
There are many sprinkler heads to choose from. Buried sprinkler heads from either Hunter, Rainbird or Toro, are probably the most unobtrusive as they come out of the soil to water your lawn and then disappear back below the level of the soil when not in use.
A timer controller is a crucial element to giving your lawn sufficient water at the right time. This clever device will tell the valve when to open and when to close. It will also turn the sprinkler system off when it detects rain, saving you both water and money.
The controller mechanism can be stored and mounted in your shed or garage to keep it dry and away from the elements.
What Are the Benefits of a Sprinkler System?
If you're reading this, then you've probably had the lightbulb moment when you've realized that there must be a better way to have the lawn that you dream of than spending hours watering it manually.
A sprinkler system will:
Save money – Your water bills with a sprinkler system cost less.
Save time – You no longer have to stand watering by hand.
Save water – The irrigation system distributes the water automatically, so can measure the amount needed.
Save stress – No more worries about how much water to use and how much time it takes.
There are many other benefits to installing a sprinkler system to irrigate your lawn and yard. A few of these are:
No More Manual Work
A sprinkler system that is fully automated means that you no longer have to walk the length and breadth of your lawn with a hose or watering can. It will have a timer that you can program to make sure that your grass gets the right amount of water it needs regularly. You can put your feet up and relax while it beautifies your lawn.
More Efficient
When you're manually watering your lawn, it's difficult to estimate just how much water it's getting. A sprinkler system distributes the water evenly, which increases the efficiency of your watering.
This will also help conserve water as you're delivering the right amount at the right time, allowing your lawn to grow healthy and evenly and giving a lush look and feel all over.
Sensors For All Occasions
Many sprinkler systems feature a rain sensor that will turn the sprinkler system off when it detects rain. It will then reactivate the sprinkler system once the rain stops and the lawn starts to dry. This is a clever technique that prevents you from overwatering the lawn.
It conserves water by not watering the lawn unnecessarily. It also saves on energy as the sprinkler system is turned off when it's raining so it's not using electricity when it's not required.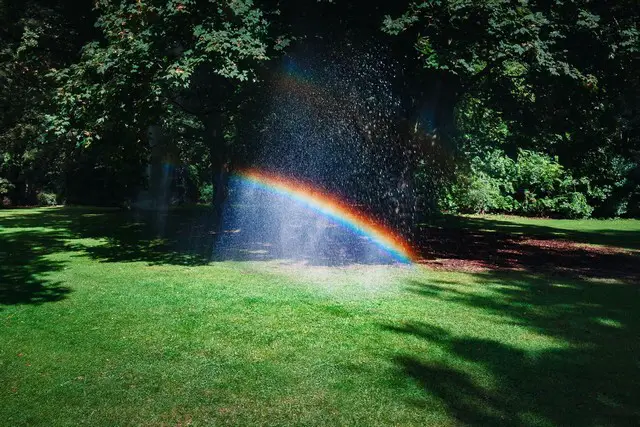 Conclusion
You have decided that you've had enough of doing the watering by hand, and you want to splash out on an irrigation system. The first thing that you need to do is to look at the choices available. There are many irrigation systems options out there, ranging from a few hundred dollars right up to tens of thousands of dollars.  
The sprinkler system that you choose must be suitable for your yard but also your pocket. You may look to show off your DIY skills by installing the sprinkler system yourself. You need to bear in mind that it's not as easy as it seems, so you may be better off getting a professional to do the job.
Take your time to decide what you want to do with your sprinkler system and look at the budget that you have available. Once you've decided, you need to look at who's suitable for the job. Don't choose the cheapest option—you could end up regretting it.
We hope you've enjoyed our lawn irrigation system guide and found all the information you need. Good luck with your sprinkler system. You'll wonder how you ever managed without it once you start to use one. Your yard will thank you for the extra care, and you'll have the best-looking lawn in your zip code!