Last Updated on January 18, 2023 by Grow with Bovees
It's not something that's at the top of your list when planning your garden.
However, installing an outdoor faucet can be one of the most useful investments you make when considering your garden requirements.
You can use an outdoor water supply for so much more than just watering your plants. An outdoor water faucet allows easy access to water to clean your car, windows or your driveway without trailing in and out of your house.
You can also easily jet wash your paths or use it to supply your sprinkler system. You could even use it to fill your swimming pool or hot tub if you're lucky enough to have one.
An outdoor faucet has several names and types, but generally they all do the same job. Deliver water to the outside from the mains outlet via a plumbed water pipe connection.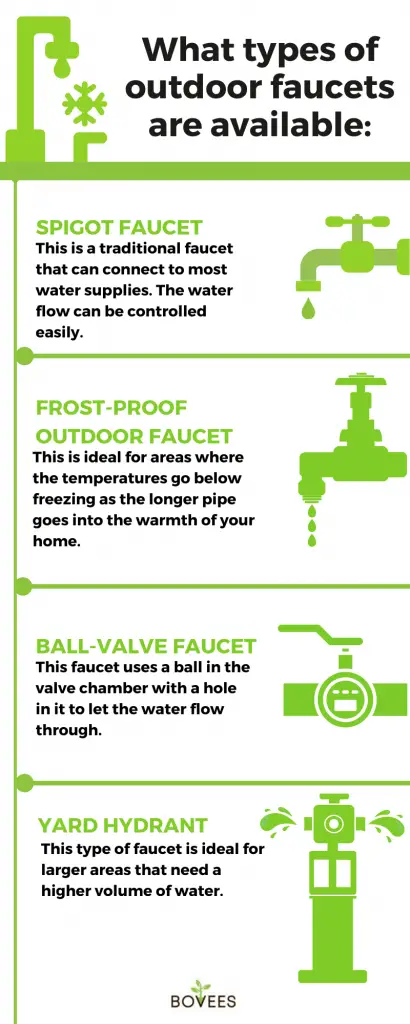 When choosing an outdoor faucet you may not know where to start. You don't just want to go for the cheapest option, but then again the most expensive choice isn't always the best either.
You want a high-quality faucet that will give you the water flow that you require without being affected by extreme weather conditions.
We've reviewed five of the best outdoor water faucets for you. We have also given you some hints and tips on what to look for when buying an outdoor faucet.
If you want to go straight to the selections. They are:
Reviews of the Best Outdoor Faucets
Prier P-164D12 Quarter-Turn Outdoor Hydrant—Best Frost Free
Prier makes the outdoor hydrant from heavy solid brass with nickel plating. It has copper tubing with stainless steel and aluminum accessories.
These fine quality materials ensure it will last as long as your plumbing system.
The outdoor hydrant will provide you with an external water supply all year round, even in areas prone to freezing temperatures.
It is easily maintained, frost-free and has a soft grip operating handle for easy operation in wet conditions or cold weather. The traditional rising stem design has a large integral brass flange with a built-in 4-degree drainage pitch. This will give you a secure and robust connection.
This quarter-turn outdoor hydrant also has an anti-siphon aluminum vacuum breaker with an EPDM (Ethylene Propylene Diene Monomer) backflow preventer and backflow check valve.
Pros
Frost-free so can be used in freezing temperatures.
Soft grip handle for use in wet weather.
Built-in 4-degree drainage pitch.
Easy and smooth twist for water flow.
Robust connection to a flexible garden hose.
Cons
Some users reported leaks.
American Valve M71HD 3/4″ Hose Bibb—Best Heavy Duty
This heavy-duty hose bibb is made from solid brass for a strong, durable product weighing around eight ounces that will last for years.
It has a multi-turn brass handle that's coated for comfort, especially when used in cold and wet conditions.
You can regulate the water flow with the tee handle to have a lighter flow if needed, or a high volume flow when connected to a hosepipe via the ¾ inch GHT connection.
It also has a split and corrosion-resistant ball valve that will still be working well for years from now.
This valve is designed to replace hose bibbs that have reached the end of their useful life. A plumber will need to run a water pipe to the outside if there isn't one already.
Pros
Heavy duty and will last for years.
Water pressure can be regulated.
Good value for money.
It fits well to a hose.
Cons
May contain some lead.
Some users reported that it's difficult to turn on and off.
Liberty Garden 693-2 Free Standing Garden Hose Stand With Brass Faucet—Best Free Standing
The Liberty outdoor faucet has a great free-standing garden hose stand and a sturdy tee tap hose bib built-in. It also has up to 150-foot hose storage capacity.
With a rack radius of 5 inches, your hose is kept tidy and at hand for immediate use on this stand.
The pipe thread is ⅝-inch. You can use it in all weathers as it's weather-resistant and has a steel construction with a durable powder coating finish. The hose connector is PVC and brass construction for a stable connection.
The stand can be mounted in compact soil or concrete and is perfect for residential or industrial use. The inflow takes a male connector.
A standard garden hose will work if you want to use it as an extension to an existing hose bib.
The Liberty garden outdoor faucet comes with a three-year warranty to guarantee solid performance.
Pros
Freestanding, no need to mount on the wall.
Neatly holds a 150-foot garden hose.
Easy to use.
Weather-resistant.
Three-year warranty from the company.
Cons
The stand is quite short to be mounted in soil.
Some users reported leaks.
American Valve 3/4″ M71QT Hose Bibb—Best Quarter Turn
This hose bib has an easy-to-operate, quarter-turn ball valve handle with a male threaded inlet. The bib has a brass powder coat finish, which gives it a great look and makes it resistant to rust.
The hose bib has a ¾-inch MIP (male iron pipe) pipe thread inlet, that allows unrestricted water flow. The handle is durable stainless steel that won't warp, with a rubber coating for a more comfortable grip.
The extended hose bib threads make it a great outdoor faucet to have in your garden.
The hose bib has a PTFE (Polytetrafluoroethylene) O-ring seal, so you can almost guarantee that there'll be no drips or leaks. It's easy to install as it will fit with any water supply line.
Pros
Easy to operate quarter-turn handle.
Easy to install.
Fits with any water supply.
O-ring seal, so no leaks.
Good value.
Cons
Some users reported ball valve cracking in freezing temperatures.
Handle is too thin for some users.
TOLIWEL Antique Brass Garden Outdoor Faucet—Best Antique Brass Finish
This great-looking antique brass outdoor faucet will add a touch of style to any garden. The construction is durable copper with an antique brass finish, a ½-inch connection spigot and an easy-to-turn curved lever handle.
The outdoor faucet is suitable for cold water usage, and it measures 4.3 inches in length, from the spout to the rear threaded connection point. This attractive faucet is ideal for gardens and can also be used in bathrooms and wet rooms.
The water flow is quite fast from this outdoor faucet, but this is easily controllable. It is held firmly to the wall with an attractive wall flange when mounted.
Pros
Great looking decorative design.
High-quality materials.
Solid and durable design.
Can also be used in bathrooms.
Cons
Only suitable for cold water.
The joints need to be maintained frequently.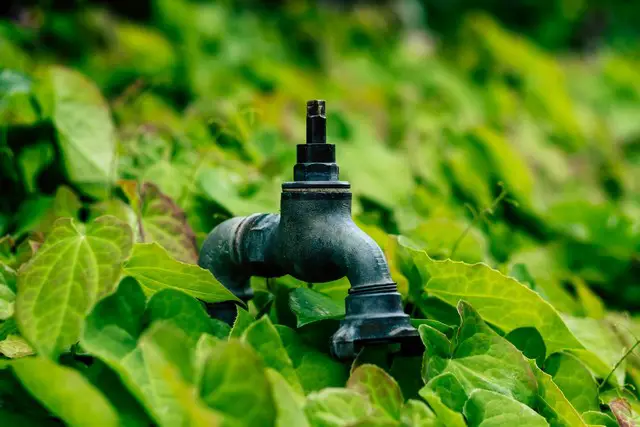 Best Outdoor Water Faucet Buying Guide
Outdoor Faucet Types
There are different types of outdoor water faucets out there. These faucets all generally do the same job. However, they all have slight differences that make them work slightly differently from each other.
Spigot Faucet or Traditional Compression Valve
This faucet is one of the most commonly used outdoor faucets, and you can use it with most water supply lines. They are durable and last for many years.
You are easily able to control the water flow with a simple handle. A single turn will open the flow, and a turn in the opposite direction will close the flow.
Frost-Proof Outdoor Faucet
This is ideal for use in colder climates where the temperature regularly goes below freezing. Standard outdoor water faucets don't work well in these conditions.
The water connection for the frost-proof outdoor faucet is located far within the home, where the air is warmer, preventing the water from freezing.
Ball-Valve Faucet
These types of outdoor faucets use a ball, called a shocker, that's in the valve chamber. The shocker has a single hole in it, which lets the water through. Sometimes there will be a brass ball, other times there will be a stainless steel ball.
This ball valve is useful when you want the water to turn on and off again quickly. However, it can be difficult to control the water flow with this kind of outdoor faucet.
Yard Hydrants
These are ideal for larger areas that need a higher volume of water. You stick the hydrant into the ground, and the riser pipe will connect the water pipe to the faucet.
What Is a Hose Bib?
Hose bibs are small faucets located on the outside of your home. Many homes have them.  You can use this outdoor tap to fill a watering can or bucket. The hose bib will generally have a threaded pipe that lets you attach a hose reel to water your lawn or plants. It also has a handle to let you turn the water on and off.
Hose Bib, Hose Bibb, Faucet, Spigot, Sillcock, What Are the Differences?
You will hear all kinds of these names being bandied about when talking about an outdoor faucet. They all refer to the same thing, which is an exterior tap on your outside wall.
Some of the faucet types react differently to changing weather conditions. Some will work well with freezing temperatures, and others will need to be completely drained before it freezes to stop the pipes and fittings from bursting or cracking.
Whatever the type of faucet you have at your home, you need to make sure that it's appropriately installed before using it.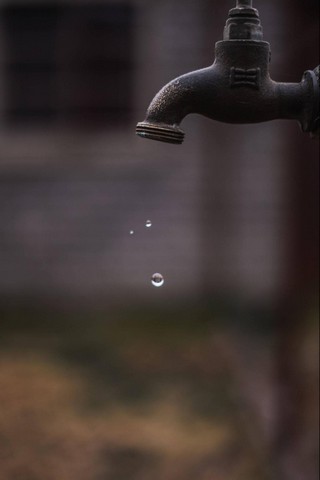 How to Prevent Outdoor Faucets from Dripping
There's nothing worse than a dripping tap, even if it's outside. It may be that the packing nut below the handle needs tightening. If this doesn't work, you may have to replace the rubber washer.
Before you do anything, you should make sure that the water is turned off at the mains.
Start by unscrewing the packing nut in the faucet, turning it counterclockwise. Then remove the handle and stem from the faucet housing. Remove the screw on the stem where the rubber washer is held and replace the washer with a new one.
Tighten the screw and insert the stem back into the faucet housing. Then tighten the packing nut on the faucet housing, making sure that everything is tight.
Time to turn the water back on to see if it's worked. There should be no leaks or drips anymore.
What Are the Consequences if the Outdoor Water Spigot Freezes?
Many outdoor faucets aren't designed to work in colder temperatures. They are meant for the summer months to water your lawns and plants, as well as filling swimming pools and hot tubs.
However, there are lots of reasons that you would want to use your outdoor faucet in the winter months, but by having water flowing through your faucet and the connecting pipes during winter, you could cause a whole lot of damage.
Any water remaining in the faucet when the weather reaches freezing will turn to ice and expand and cause the pipes to crack. This also applies to the water in the pipes from the mains to the faucet.
The water pressure will then push through the pipe and faucet, causing a leak or, worse, a burst pipe. Even a tiny leak through frozen pipes can result in a significant amount of wasted water and possible damage to your exterior and interior walls.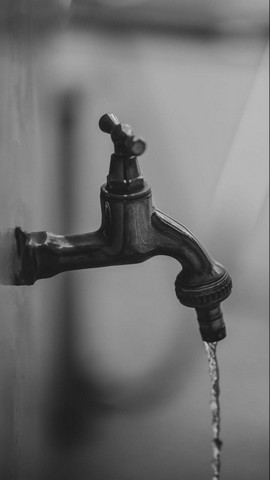 How Can I Prepare My Outdoor Faucets for the Winter Seasons?
By looking after your faucet and the pipes connecting it to the water supply, you can prevent these winter problems.
Prepare your outdoor faucets for the winter seasons by turning off the water supply to them. You should do this by using the shut-off valve in the home that connects the water supply to the outdoor faucet.
This will ensure that the pipes and the faucet are dried out, so there is no water in them to freeze.
You could also buy an insulation cover to use over your faucet during the winter months, protecting it from freezing conditions.
How Frost-Proof Wall Hydrants or Hose Bibs Work
One way to prevent your faucet from freezing in the winter  months is to invest in frost-proof hose bibs or wall hydrants. These faucets are designed slightly differently to stop any freezing of the water inside.
On the outside, the hose bib will look the same whether it's frost-proof or not—it's the inside of the faucet that's different. The pipes on a frost-proof hose bib are much longer than a traditional faucet. The shut-off valve also sits further inside the home, where it's warmer.
The pipe on frost-proof hose bibs should be installed at a slight angle so that any water runs downwards. This means that there should be no water remaining in the pipe that can freeze.
When shutting off the water during freezing temperatures, the water will remain behind the valve. As the water is well away from the outside, it won't freeze.
If you do happen to find your outside faucet frozen, (link to our page), we have all you need to know about how to deal with that problem.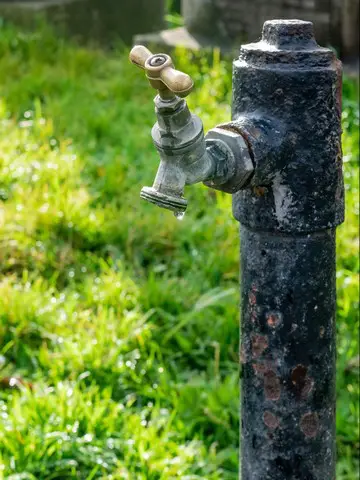 Conclusion
An outdoor faucet is a great thing to have and is convenient for all those jobs outside that require water. You don't want to be going backward and forwards carrying buckets to complete the work. An external water supply can save you a lot of time, money and energy.
With that in mind, you need to make sure that the outdoor faucet that you choose is the right one for your needs.
Our favorite would be the Prier P-164D12 Quarter-Turn Outdoor Hydrant. It's a high-quality faucet that's also frost-free. It has a soft-grip handle that you can easily use in the wettest conditions.
Our second choice would be the American Valve M71HD 3/4″ Hose Bibb. This is made from solid brass and is a heavy-duty faucet that will last for years. It gives a strong water flow that you can regulate to fit your needs.
The faucet that you choose should be durable as you want it to last a long time. If you're not sure how to install the outdoor faucet to the water supply, it's best to bring in a plumber to do the job. We hope that you found our guide useful and we have helped to make your choice an easy one.