Last Updated on August 21, 2023 by Grow with Bovees
As we're sure you already know, compost is a vital part of successful gardening.
Compost helps us improve soil quality, and fine-tune the balance of specific nutrients and moisture, required by specific plants.
It goes without saying then, that we actually need a variety of different composts….and there are many!
See our buyer's guide below for the different benefits of the different ready-made bagged composts.
In a hurry? Here's our top picks of the best bagged compost;
Preview
Best Concentrated
Best Organic
Best Concentrated
Preview
Best Organic
Preview
Different bases are used by compost producers for different types of compost, aka ''black gold''.
Chicken manure, cow poop, fish poop, crustacean shells, grass clippings or natural peat, are all different in both nutritional value and moisture-holding value.
Whichever you need, buying store-bought compost is far quicker and easier than making a load of different compost types yourself.
The trick to buying the best bagged compost is thorough research…and that's exactly what The Bovees Compost Critics have done for you!!
Billed as a natural fertilizer and natural amendment, Charlie's Compost is made right in the company's farm in Calhoun, Kentucky, and from recycled manure from chicken manure along with locally sourced organic matter. It is considered one of the best bagged compost blends.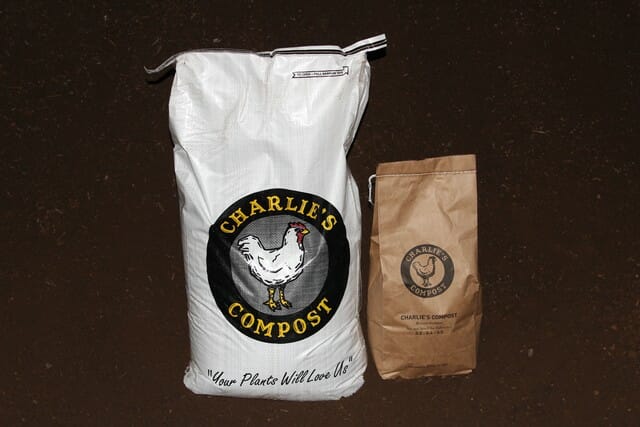 A proud member of the US Composting Council, Charlie's Compost is certified organic by the state of Kentucky, and is formulated to accelerate the bioactivity and nutrient content of your soil. This organic certification means that the compost is all-natural, safe and appropriate for use in the cultivation of organic fruits, plants and vegetable garden.
This highly concentrated formula means that you only have to use small amounts to fertilize even the most deficient soils. Its primary ingredient — vegetarian & antibiotic free poultry manure adds increases the water holding capacity, and helpful biota in soil.
Further, it provides essential nitrogen, phosphorous and potassium, as well as, beneficial microbe inoculants to plants much more than other types of compost including cow, horse or steer manure.
Charlie's can be applied to your garden when the soil is fresh or at any age, and by simply scattering it on the surface, and working it in with a plow, rotary tiller, shovel, spading fork, or similar tools.
Charlie's Organic is a much better choice than synthetic fertilizer, because it not only addresses soil deficiency, but also the microorganisms and organic matter crucial for long – term soil health.
Pros:
Made from chicken manure and locally sourced organic matter
Certified organic by the state of Kentucky
Much better choice than synthetic fertilizer
Vegetarian & antibiotic free
Cons:
Can burn certain plants if used in too large quantities
Michigan Peat has been a leading name in the lawn care segment and offers a massive portfolio of both residential and commercial grower products.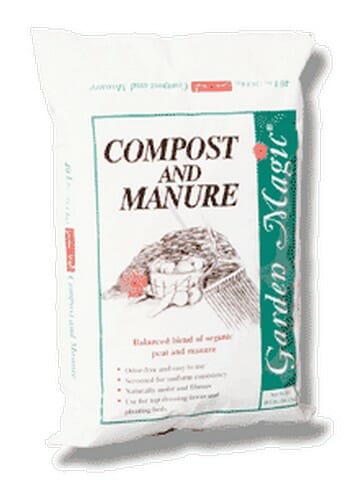 The Garden Magic Compost is yet another hit and the best compost for garden use from the Michigan Peat hangar. It is a great choice for the vegetable garden, nursery planting, and as a top dressing for lawns and planting beds.
It is an odor-free and all-natural blend of peat, which is made from partially composting plants and mosses in acidic and waterlogged bogs. Reed-sedge peat is the classification of peat used in the Michigan Peat compost and arrives in a brown to reddish color.
This peat is formed primarily from a variety of plant materials such as cattails, grasses, reeds and sedges. It offers a 65 percent water holding capacity and contains over 90 percent organic matter.
Pros:
Variety of uses
All-natural blend
Odor free
Naturally moist and fibrous
Screened for uniform consistency
Cons:
Price tends to fluctuate widely
Hoffman Composting started its journey in sustainable agriculture roughly 25 years ago, and today offers a wide range of products geared towards small scale farmers and gardeners, and large, state of the art agricultural producers.
Hoffman cow manure and compost is made up of digestive grass and grain, and is also super rich in important nutrients such as nitrogen, phosphorous and potassium. Adding to this, Hoffman manure compost contains high levels of ammonia, and is composted by the company prior to being used as a manure fertilizer, making it one of the best bagged compost mixtures on the market.
Hoffman cow manure and compost can be mixed into the soil or used as a top dressing, and adds a considerably high amount of organic material to your soil to produce healthy vigorous plants, and lawn.
Pros:
Purely organic
Add essential nutrients to your soil
Improves soil structure
Non-burning, safe and easy to apply
Cons:
Available in one size only
Approved for organic growers, and OMRI listed, The Coast of Maine Quoddy Blend is a lightweight dark and rich soil that is made with chitin and calcium-rich lobster shells, and composted bovine manure.
The lobster shells used in this compost formulation are sourced from the dark, cold waters of the Bay of Downeast Coast of Maine, and the Bay of Fundy, making it an ideal choice for conditioning potted herbs, vegetable gardens, flower beds, and borders, and annuals.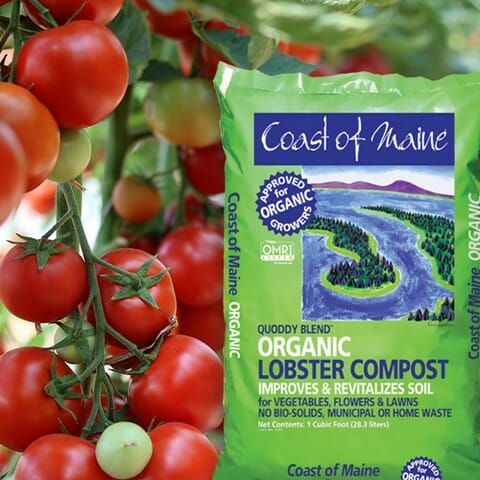 The real lobster shells used in the Quoddy blend are first blended with the blueberry brush and wood fiber.
Next, they are moved and formed, and then go through four to six months of churning, aerating and checking temperatures. The finished lobster compost is then bagged in a production facility in Marion, Maine, and shipped all across the United States.
Lobster shells add phosphates, calcium and magnesium to compost piles, and contain chitin — a carbohydrate that retains moisture and deters harmful insects. The calcium in the Coast of Maine compost is perhaps the most important element, as it prevents blossom end rot, and several vegetable diseases.
Pros:
OMRI listed and certified organic
Contains chitin and calcium-rich lobster shells
Composted with cow manure
Lobsters sourced from the Maine coast, and the Bay of Fundy
Prevents blossom end rot in tomatoes, and various other vegetable garden issues
Cons:
Expiration date not listed on the package
Malibu's flagship blend, Bu's Blend Compost, is a proprietary blend that contains no GMO's pesticides, herbicides, growth hormones or sewage sludge. It can be used throughout your lawn and garden, and provides an array of benefits, starting with the fact that it aerates your soil to make it rich, fertile, properly draining, and full.
When applied properly, Malibu Compost helps break up clay soil, which improves its structure, and helps eliminate drainage and compaction problems. Further, this ready-made compost by Malibu works on any type of soil to make the soil easier to work with, and helps maintain a neutral pH level.
Malibu Compost encourages healthy root systems, and helps roots spread easily, so they can easily absorb essential nutrients from the soil. But that's not all, Bu's Blend compost by Malibu saves water to protect against drought, and also considerably decreases runoff to keep water on the property.
Malibu Bu's Blend compost can be used as a compost and top dressing for plants, trees and shrubs, for which it is recommended to add 1/2" of compost throughout the beginning of early spring and fall.
For houseplants, Bu's compost should be applied at 1/16" to 4" pots every spring and fall, and 1" of compost to raised bed food gardens at the start of every growing season.
Pro:
Free from pesticides, herbicides, and non-GMO
Offers several benefits, including repairing damaged and compacted soil
Can be used for houseplants, fruit trees, raised gardens, etc.
Mimic nature and keeps waterways clean
Cons:
Planting directly into the compost isn't recommended
Fishnure is an natural organic fertilizer, which, just as the name would suggest, is made from fish manure combined with clay. It is highly beneficial to increase soil nutrient content, decrease parasites, restrain some plant diseases, and eliminate weed seeds.
Even though the Fishnure is bagged compost made from fish, it does not emit a fishy smell, but rather has a clay like smell and feel just like regular compost. This compost formula by Fishnure offers a long list of benefits for your lawn and vegetable garden including lawn aeration, increased yield, and water holding capacity, and enhances soil fertility.
One pound of this highly concentrated quality compost formula can treat up to 60 square feet (5.57 m²), so you use less, while treating a larger ground area. The Fishnure compost provides long-lasting results, given that it doesn't decompose, but remains in the soil to increase the total organic matter, aiding in healthy plant growth.
Pros:
Natural organic fertilizer
Long lasting results
Made with fish manure and combined with clay
Doesn't emit a fishy smell
Increases water holding capacity and much more
Cons:
Not available in larger sizes
This is another excellent example of the best organic compost to use in gardening. In fact, bagged compost is considered to be one of the best bagged compost products for vegetable garden use.
It is manufactured by Dr. Earth, which is a company that focuses on using natural products and safe nutrient compounds for use in soil, for fertilizers and for pest control. So it is safe to say that it is 100% organic.
A great number of trees and plants benefit from this product. These include lawns, garden beds, vegetable gardens and a flower bed. Apply it, and the result of improved productivity will be the same.
A mixture of valley-grown alfalfa meal, cold-water kelp meal, green-fed earthworm castings along with a few other organic products and essential elements, together all provide vital nutrients to the soil as well as the plants.
Apart from replenishing vital nutrients in the soil, this good quality compost also aerates it and is able to break up dense soils such as clay soil.
Pros:
Nutrient rich, all purpose compost with organic ingredients only
All-organic compost— free of toxic chemicals
Slow release formula, which lasts for months and works quickly
Cons:
Visible results may be slightly delayed compared to other natural fertilizers
It is quite hard to find in stores
This high quality bagged compost is made of a blend of all natural ingredients. This compost mixture includes wood chips, grass clippings, straw, brush and shredded paper. It does not contain industrial waste, sludge or animal manure, like a few other composts mentioned above.
This is a good compost to add to your potting soil blend. It will surely keep your plants healthy.
Adding Gardener's Gold to your garden soil, will increase its water retaining properties, and it is able to remove harmful weed seeds. The soil's properties are enhanced both in a biochemical and in a physical way.
This slow-release premium compost also replenishes the soil with vital nutrients, organic material, as well as adding beneficial microorganisms to the soil. These beneficial microbes help to boost plant growth. It is a great choice for gardeners.
Pros:
This premium compost is one hundred percent renewable
It is a wonderful fertilizer which can be used during spring and fall
There is no toxic waste, food waste or sludge in this compost mix, organic materials only
It enhances the soil biologically and chemically
Cons:
This compost does not come at an affordable price
The bag it comes in is quite big
Store-Bought Compost Buying Guide
Types of Bagged Compost
There are several different types of compost to choose from such as:
Peat Moss Compost
Peat compost can be had in several variations, all of which are made from a base of peat combined with other ingredients such as sand, fertilizer, or grit. Then there's also peat-free compost, which can be made from several base ingredients including composted bark, coir, wood fiber, green compost and forest products.
Organic Compost
Organic composts do not contain any pesticides or herbicides and can be made from a mix of materials such as wood fibers, composted bark,composted vegetables etc. It is then enriched with naturally occurring nutrients, and should be certified organic by leading organizations.
Multi-Purpose Compost
This type of compost product can be used in several areas of your garden including containers and hanging baskets, beds, borders, and pots.
They are available in a wide range of blends of ingredients and work well to enrich your lawn and garden with essential nutrients.
Mushroom Compost
This bagged compost is a type of organic fertilizer which is manufactured by mushroom growers. The main elements that compost from mushroom farms contain are straw, organic grasses, manure, hay, hulls, poultry and so on.
The production process of mushroom compost is different for each individual grower. You may find that some growers enhance its potential by adding organic content such as peat moss, lime and gypsum.
This compost is great for the regulation of the soil pH, keeping the ground more alkaline. This makes it the perfect choice for vegetable gardens, as most vegetables do not thrive in acidic soil.
Worm Compost
Vermicompost is quite similar to regular bagged composts. In this case, however, manufacturers make use of worms rather than microorganisms. Added earthworms increase aeration and act as crushers and mixers, and, of course, produce worm castings. These worm castings are a valuable ingredient when making quality compost.
Using worms in compost, is an efficient and natural way to break down and decompose plant matter and animal waste, and they are commonly used to break down waste organic materials produced by the food industry (such as food scraps), dairy waste, poultry waste, animal manure and municipal solid waste.
Worm compost boosts the growth of outdoor plants and improves the soil's water retention.
Examples of bagged worm compost is Wiggle Worm Soil Builder, which is an all-purpose natural fertilizer and worm castings organic fertilizer.
Regular Compost
This type of bagged compost, which is also known as thermo-compost, is made from large mixed mounds of many different ingredients, some of which may include farm scraps, yard waste and animal feces. These ingredients are broken down by both aerobic microorganisms and anaerobic microorganisms.
This sort of compost is low-maintenance and environmentally friendly. The process of decomposition may take from 3 up to 6 months.
Waste segregation is necessary for healthy compost.
Green Manure
Plant or crop kinds that are grown specifically for the purpose of improving the soil's quality are referred to as green manures. It is possible to harvest a green manure crop and then plow it into the soil, or it can be left in the ground for a long length of time before tilling.
Animal Compost
There are some risks involved with using bagged compost made from composted animal waste, such as horse manure. The quality may vary depending on its ingredients.
Composted animal feces on its own is not the best compost as it lack's nutrition, but when mixing it with other components such as straw, it will resemble regular compost.
A high-quality manure compost benefits the soil in that it improves the soil structure and saves water. If the compost, however, is lacking in quality, it may contain unwanted pathogens which can cause illness and make fruits and vegetables inedible. It may be better used as a compost for flowers.
Disease causing pathogens include:
Giardia protozoa
Coli
Cryptosporidium protozoa
Campylobacter bacteria
Salmonella
Bulk Compost
If you have anybody nearby who produces compost as a product of their business, then it is possible that they will supply some good compost. Many farms have composted animal manure for sale, as well as bulk compost, so that could be worth investigating, especially if you have a large vegetable garden that you need to add compost to.
Best Compost Do's and Don'ts
Do's
Buying the best bagged compost is greatly determined by the type of plants you're growing. You should, ideally, also check the soil of your garden with a soil tester before you start planting, as you may have to add a little lime soil before you start to add compost or natural fertilizers.
Leftover compost can be used around your lawn and garden as a soil improver, so there's no need to trash it just yet. It is a good practice to add fresh compost to your existing and new plants each year to reduce the chances of pests and diseases.
Don'ts
If you're going to sow, you will need to buy compost that provides optimum root growth, and one that provides the vital nutrients to help the seeds and plant roots develop. Some acid centric plants such as camelia do require a particular soil blend of ericaceous compost with a lower pH, so refrain from using regular compost.
Try not to keep the bags of compost for too long before use. It is possible that potting soil can go bad after several years. It's not the end of the world, as you can still use it in certain circumstances.
Reasons to Buy Store-Bought Compost
One of the biggest reasons for buying store-bought compost is the time and effort you save in making compost at home. Plus, if you're just getting your feet wet with organic gardening and the composting process, you may find it easier to buy bagged compost from garden centers, as it is developed by experts, and delivers unmatched results.
The best available compost is also labeled properly with regard to the ingredients used including the type of manure, so you can make sure to choose the right one for the plants you're growing.
Final Thoughts
Composting is an important and beneficial gardening practice and provides a plethora of benefits when done properly, and with the right compost. The right type of compost and bagged soil can enrich your soil to help it retain moisture, and prevent plant diseases and pests.
This greatly reduces the need to add chemical fertilizers and encourages the growth of beneficial bacteria, which, in turn, leads to healthy plants.
Making your own compost at home is easy, so long as you know what you're doing. Homemade compost does, however, require a few tools to make good compost. But if you don't, then using the wrong type of compost or too much compost can prove detrimental to your lawn care efforts.
So, if you'd like to avoid the guesswork about what ingredients to put in your compost pile to make compost beneficial for your lawn and garden, then buying the best bagged compost from the big box store is perhaps your best option.
Check out some bagged compost reviews before committing to buying the wrong one.
References: