Last Updated on January 26, 2022 by Grow with Bovees
Thoughts of 'Jack Frost nipping at your nose' are all very cute…
…but thoughts of Jack Frost wiping out your treasured veggie patch or favorite exotic patio plant, are a definite Grrrr… not just a Brrrr…..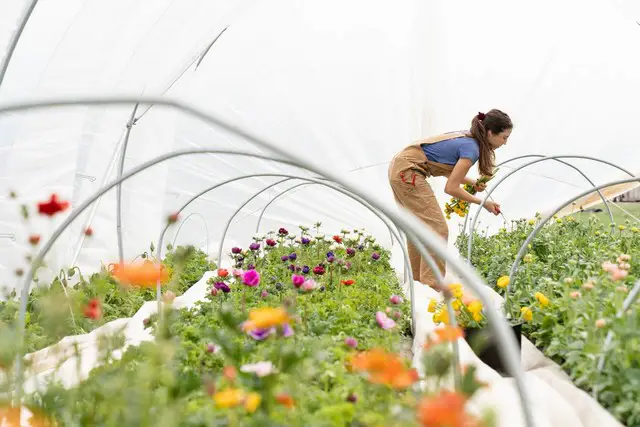 But, how to protect plants from frost? And… How to cover plants for frost?
Luckily there are things you can do to protect plants from frost and also 'products' designed especially for protecting plants from frost.
As always, here at Bovees we're on a mission to help you get the most out of your yard, so The Bovees Research Team have put together some tips and recommendations further down the page to help you protect plants from frost, and to find the best plant covers for winter.
In a hurry?
Then here's their top three essential frost protection products at a glance….
Keep Calm & Winter On…… 😉
Reviews of the Best Plant Covers For Winter
Let's have a look at the best plant frost protection on the market, for you to bear in mind when you carry on down the page to read our tips on what measures you should take to protect plants from frost.
1. Valibe Plant Covers Freeze Protection — Bovees Best Overall
This is a large 10 by 30-foot plant cover that works great for any row of plants such as strawberries, pepper, shrub tomato, pumpkins, and many other vegetables. It can also be used to cover individual fruit trees.
The material in these plant covers is polypropylene, which is a tough material that's lightweight enough to let in sunlight as well as not crush your plants. In fact, it only weighs 1.61 pounds despite being a large cover. According to customers, this makes it easy to maneuver and put over your rows of plants.
In terms of temperature, it works well down to 35 degrees Fahrenheit, which makes it less ideal for 'killing' frost. At slightly higher temperatures, it works well, though. As well as protecting plants from freezing, this cover also has an organic bug-repellent to keep any insects off your plants.
Note that you should avoid the plastic touching your plants, so for this purpose, you need a wooden frame or hoops to support it up from the ground. Please note that there's no frame included with the product.
Pros
A large 10 by 30 foot covering.
Great for rows of plants or even fruit trees.
Tough and lightweight material.
Easy to maneuver.
Includes organic bug-repellent.
Cons
Not great for really low temperatures.
Doesn't include a frame.
2. The Planket Frost Protection Plant Cover—Best Frost Protection For Trees
Often, it is necessary to cover trees for frost protection. Several users report covering their fruit trees with the Planket Frost Protection Plant Cover.
It measures 10 by 12 feet, which means that it can even cover apple trees, for example. However, it also includes 10 built-in metal grommets, so you can secure it to the ground if you want to use it for rows of vegetable plants.
Users like that this cover comes with a bag for storage and that it folds back into this bag easily. They also like the included stakes you can use to secure it to the ground when it's windy outside. Finally, these covers reportedly last for years.
It's smaller than the Valibe plant cover, and slightly lighter, weighing 1.4 pounds (0.64 kg). Also, this is a dark cover that reportedly doesn't let in much sunlight, meaning that you have to take it off during the day.
Pros
Great size for fruit trees.
Built-in metal grommets for easy setup.
A good bag for storage included.
Stakes included.
Durable enough to use for years.
Cons
Too dark to let in sunlight.
3. Tierra Garden 50-5010 Haxnicks Easy Fleece Tunnel Garden Cloche—Best Tunnel
For those of you who are growing rows of plants such as vegetables, tomato trees, pepper plants or similar, this large tunnel cover is probably your best bet. It's available in so-called fleece polyethylene, which Tierra Garden describes as heat-retaining, as well as durable and sturdy.
Included with this cover are also galvanized steel hoops that help keep the tunnel up and away from your plants. There are also drawstring ends, which allow you to control how much ventilation you want to give your bushes and edibles.
Buyers like the packaging because you can store the cover in it during summer and then reuse it when temperatures drop again. The hoops and drawstrings are reportedly sturdy as well, and you can customize the length of the tunnel by pulling out a few hoops.
However, the tunnel reportedly has short sides, which means that it can't properly protect plants from frost in full size, only seedlings and small plants. Some gardeners also report that the fabric tends to tear after you've used it for some time, so it might not last you many gardening seasons to come.
Pros
Great tunnel cover for rows of plants.
Warm and sturdy fleece polyethylene.
Sturdy steel hoops are included.
Good packaging for storage.
Drawstring ends.
Cons
Short sides are not suitable for bigger plants.
The fabric is prone to tearing.
4. Agfabric Plant Covers Freeze Protection—Best Individual Plant Cover
If you're looking to cover up tomato plants or bushes with flowers, these individual plant covers from Agfabric are a great alternative. They're available in three different sizes, depending on how large the plant you want to cover is, so they suit everything from smaller plants to bushes or avocado trees.
With spun polypropylene fabric, these breathable frost blankets are tough and also let air and rain in to keep your plants healthy. The fabric is reportedly soft and light, so it won't harm your flowers either.
According to customers, the Agfabric plant cover is easy to use and put on your plant. This is due to the included zipper. However, some users state that it breaks after a while and doesn't feel that sturdy.
Also noted by buyers is that the cover seems to come off during windy weather since it's not staked down anywhere. Some people also feel like it doesn't work well in extremely low temperatures and might not be sufficient enough for killing frost.
Pros
Ideal for individual bushes and trees.
Available in three sizes.
Tough but also lets water in.
Soft and light, so it doesn't harm your plants.
Easy to use.
Cons
The zipper feels flimsy.
Not great for windy weather.
Doesn't protect plants during killing frost.
5. MECO Plant Covers Freeze Protection—Most Affordable Frost Fabric
Finally, we have the most affordable product on our list for all bargain-hunters out there. These are individual plant coverings that are available in three different sizes so that they can fit different types of growth. They come in a two-pack, which is another plus.
These covers come with a zipper and a drawstring at the bottom that makes it easy to take them on and off. According to customers, they also stay put once you've placed them on your plants and won't come off even during stormy weather.
Some users feel like the material is thin and cheap and doesn't provide the most insulation for their plants, however. Others complain about the flimsy zipper that breaks easily. Finally, the coverings reportedly don't last that long, and you'll probably need to buy additional blankets every year.
Pros
Budget-friendly.
Individual coverings available in different sizes for a customized fit.
Zipper and drawstring to take on and off easily.
Stays on top of the plant even when it's windy.
Cons
Thin and cheap material.
Zipper breaks easily.
Not that durable.
Which Plants Are Sensitive To Frost?
First things first, let's take a look at what plants are sensitive to frost and might need some extra help when temperatures drop.
In general, plants that originate from tropical climates will logically be more sensitive to frost, while those from colder places can withstand lower temperatures.
Fruit and Vegetable Garden
When frost first covers the ground, any flowers or fruit that are still on the plants will likely freeze and perish. In many cases, that will be followed by the death of the whole plant. Some greens in your garden can even become toxic after freezing, such as rhubarb and asparagus.
Citrus trees, tropical fruits such as mango and pineapple, avocados, eggplant, banana trees, corn, tomatoes, sweet potatoes, peppers, and cucumbers are frost-tender plants, to name a few.
Many cool season crops will be sensitive to cold weather, especially the more tender produce, like Swiss chard, beets, carrots and strawberries.
Needless to say, most summer crops will not survive a foot of snow, so it's best to make sure they are all harvested before the onset of colder weather.
Spring Trees and Bushes
If you think about spring gardening season, cherry blossoms, rhododendrons, and azaleas probably come to mind. As a matter of fact, these will all be sensitive to a cold snap.
Newly planted trees are especially susceptible to frost damage, so make sure to protect them accordingly.
Tender Plants
Other tropical and sub-tropical plants, such as hibiscus and amaryllis, are sensitive in general and can take damage from frost as well.
Tender perennials, begonias, dahlia, and cannas, for example, also need to be protected from the cold, especially when you plant them during spring.
Succulents are also not equipped to handle freezing air temperatures.
At What Temperature Do Plants Freeze?
The freezing temperature of water is 32 degrees Fahrenheit. This is also where what we consider to be a frost or freeze begins and where your plants will start to freeze.
Generally speaking, frost dates are when the nighttime air temperature is 29–32 degrees Fahrenheit.
Then we have a more severe degree of a cold snap. Any temperature below 28 degrees Fahrenheit are considered a killing frost. This is when ice crystals will form in the cells of your plants.
Don't forget the difference that cold winds will make to your garden. A chilling wind, even on colder nights, will easily drop the temperature by several degrees.
How To Protect Plants From Frost During A Cold Snap
Now that you know a bit more about plants that might be sensitive to frost and what temperatures these plants will start to freeze in, let's look at some methods to prepare your garden for colder temperatures to prevent damaged plants.
Choose Cold-Hardy Plants
The most efficient way of avoiding frost-damaged flowers and bushes is to choose cold-hardy plants instead when you plant your garden.
These plants won't be killed by frost and can continue to grow and give you vegetables or flowers even after temperatures drop below freezing.
These are some examples of flowers that are less likely to be damaged from short-term frost:
Crocuses.
Tulips.
Pansies.
Grape hyacinths.
You can also enjoy many edibles without worrying too much about spring frosts, including:
Cabbage.
Broccoli.
Leek.
Lettuce — especially Romaine & Butterhead varieties.
Peas.
Carrots.
Spinach.
Chives.
Radish.
In general, plants native to the environment you live in will be best suited for tackling frost in your garden as well.
We recommend having a look at these Mopet Marketplace Premium Winter Vegetable Seeds for a varied selection of organic and non-GMO plants that withstand colder weather. It includes broccoli, cauliflower, carrots, beets, radish, kale, peas, and green beans.
Avoid Frost Pockets
Some might still prefer plants that aren't native to colder climates. For this reason, we'll give you some guidance on how to protect plants from frost as well, starting with the topic of frost pockets.
Frosts pockets are depressions in the ground filled with cold air that can't escape from the "pockets". Any plants that grow in the vicinity of these depressions could potentially be bitten by frost.
When you plant new seeds and seedlings in the spring, avoid these low spots to prevent damage during potential cold snaps.
Cloches
If you have the space, providing cloches in which to start your seedlings, can be a way to get a head start in spring. Homemade cloches can be very effective for this.
They will keep the young plants warm overnight by retaining extra heat from soil which has been warmed by sunlight throughout the day. They are like a mini — greenhouse. You may even have some material available hanging around your yard that could be used in construction.
Mulch
There are some excellent mulch options available to you. A deep straw mulch can be laid down on low crops. This provides a nice fluffy mulch which will help to trap air in between the layers of straw, adding insulation around your plants.
Mulch used inside a cloche can also help to retain some additional heat.
Cover Plants Before Nightfall
When it comes to covering your plants, make sure you do it in ample time before dusk. Otherwise, all the heat from your garden will have already disappeared, and you can't trap this heat under the cover.
Remember, it only takes a few consecutive hours of frost to cause damage to your precious plants, even if you can keep them a few degrees warmer, it will be a benefit.
Depending on the plant you have, you can also use a pillowcase or bucket over individual plants. Some gardeners also use bedsheets or larger covers that cover large parts of the ground for their vegetable garden.
Just be sure that your covering reaches all sides of the soil, so that heat doesn't escape.
There are also many products available for the home gardener that wants to keep their plants alive and well throughout the spring. These are made with the specific purpose of protecting plants from freezing and are customized for different types of plants. Therefore, we recommend that you get a professional plant frost protection cover.
Plastic for Frost: Not Good?
Now we're moving into the things that you shouldn't do. While covering your plant leaves will help them stay warm in your garden, you have to be careful when it comes to plastic coverings.
They shouldn't touch your plant as if they do, they can hold moisture against the plants and cause even worse freeze damage.
If you decide to go for plastic coverings, not only should it not touch your plants, but it should also be thick enough to properly keep the heat in. For frost protection, plastic is most effective when applied as a row cover rather than as a cover for individual plants.
How To Pick the Best Frost Blanket For Plants
You now know that you should cover your garden plants with a protective cover. But you don't know what type of cover yet and what to look for in your plant protection, so we're now going to guide you through that.
Material
Plastics such as polypropylene or polyethylene are tough and have good heat resistance, which means that they won't burn easily in the sun. They're also lightweight and less likely to crush the plants underneath them.
However, they're not super breathable or the best at insulation. Also note that plastic coverings shouldn't touch your plants since this might result in water being kept between the cover and the green, resulting in possibly worse frost damage. For this reason, look for a plastic covering that includes steel hoops to prop them up and away from the ground.
Size
Depending on whether you want to cover a deciduous fruit tree, rows of vegetables, flowery bushes, brussels sprouts or any other plant in your garden, you'll need differently sized plant covers. Generally, you have the choice of row or tunnel covers that are great for vegetables and typically larger to cover more plants at the same time.
Individual covers are your other alternative, and these are smaller coverings great for fruit trees, bushes, or tomato plants.
Additional Protection

Even though the main purpose of frost protection is to make sure that your plants don't freeze, some coverings also have additional protective features. Some protect plants and seedlings from heavy rain and snow, which could otherwise damage them.
There are also many plant coverings that protect against scorching sunlight and prevent your fruit trees or flowers from getting burned. For those living in climates where temperatures switch drastically during the day and night, we recommend these multi-use coverings. If you have a greenhouse, you can install some effective heat lamps for plants. They offer excellent heating throughout cold spells.
You should also check that all your outside hose bibs are protected, otherwise you could find that your outside faucet is frozen, which can cause expensive damage to plumbing systems.
Conclusion: The Best Plant Frost Protection Is…
Now you know how to protect plants from frost. You also know that the best plant frost protection cover is sturdy, lightweight, and has a size suited for the specific plants in your garden. But which product lives up best to these criteria?
In our eyes, the winner is the Valibe Plant Covers Freeze Protection. It only weighs 1.61 pounds (0.73 kg) despite being 10 by 30 feet large and works well for covering anything from citrus trees to rows in a vegetable garden. More benefits are that it's easy to put on and off and includes a natural bug-repellent.
However, if you're looking for an individual plant cover that works well for flowery bushes or smaller trees, we recommend the Agfabric Plant Covers Freeze Protection instead.
Finally, remember to protect plants from frost by choosing cold-hardy plants, avoid planting seeds in frost pockets, and covering your plants with frost protection during frost dates in your climate. This way, your flowers and vegetables will be able to survive those first tricky spring frosts.