Phaseolus vulgaris P. multiflorus
Even if you only have a relatively small area, pole beans are an excellent choice because not only are they a tasty and nutritious vegetable but they can also be very ornamental.
Cultivars range from those with beautiful scarlet flowers to those with big bunches of stunning long purple pods.
In addition, there are endless options for creating an attractive focal point out of the support, from 'bamboo tepees' to 'copper pipe installations' and 'driftwood trellises'…a chance to let your creative juices flow!
Growing pole beans turns every BBQ into an opportunity for Bean Bragging Rights!
Origin
Central and South America

Optimum pH 6.5-7.5
Most cultivars of pole or runner beans belong to the first-named species, as do green beans, but Scarlet Runner, Kelvedon Wonder and one or two others belong to the species Phaseolus multiflorus.
The growing of all cultivars is identical, the only difference between the two species being that the former are true annuals while the latter are true perennials treated as annuals in the garden.
The flavour of runner beans is usually stronger and coarser than that of dwarf beans and they are preferred to the latter by many gardeners for that very characteristic.
They usually take 10-14 days longer to mature than green beans but their picking season is considerably longer.
Recommended Cultivars of Pole Beans
Abundance: A leading cultivar that produces high yields of tender pods up to 200 mm long.
Blue Peter: This is something of a novelty and is sometimes catalogued as Blue Coco.It bears clusters of long purple pods that turn green after several minutes of cooking.
Lazy Housewife: A very popular cultivar, bearing flat, curved pods. In my view it is inferior to the other cultivars.
Scarlet Runner: This old cultivar has red flowers and produces coarse-textured pods of top quality and flavour. The seeds are dark brown and speckled and are extremely large.
Soil Preparation For Growing Pole Beans
If the plants are to develop properly and provide a steady supply of tender pods over an extended period, the soil must be thoroughly prepared and even shallow trenching is warranted on poorer soils.
The trenches can be taken out to a depth of 200-250 mm after which the bottom can be loosened up with a fork to facilitate root growth. The removed soil should be mixed with as much manure and compost as can be spared and then replaced in the trench, trodden lightly and given a dressing of 2:3:2 (which should be worked in) at the rate of 60 g per metre of row.
How To Support Your Pole Beans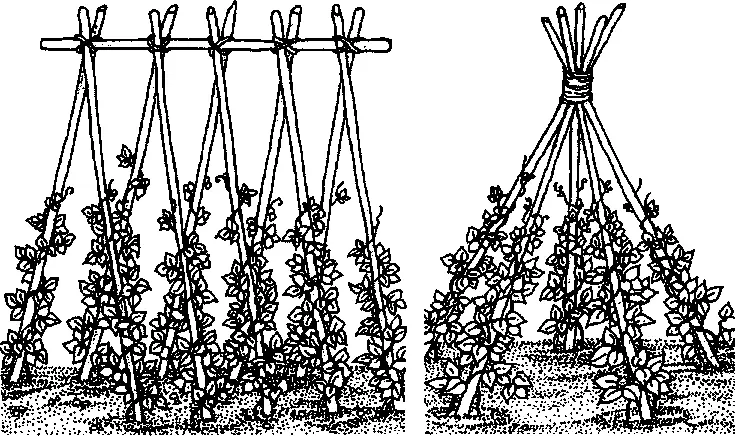 It is a good idea to erect the support before the seeds are sown so that the root systems of the seedlings are not disturbed or injured. If there is a suitable permanent feature such as a substantial fence with a suitable aspect it can easily be used as a base for support.
In the absence of such a support, runner beans are best grown in double rows 750-850 mm apart and the plants trained up bamboos or similar stakes with a uniform length of around 2 m. The usual method, and a very satisfactory one, is to place the stakes 300-450 mm apart with the two rows leaning inwards so that the stakes cross about 150 mm from their tips and can be tied in pairs.
Horizontal stakes of a similar size can then be dropped into the V formed by the uprights and tied in to give the structure sufficient rigidity.
A second method is to use similar stakes and place them to form a tepee-like shape 750 mm to 1 m in diameter. Whatever method is used, the stakes can of course be placed in position after the seedlings have emerged, provided that it is done carefully and the plants, which are very brittle at this stage, are not damaged.
How To Propagate Pole Beans
Propagation is by seed, sown where the plants are to mature.
Sowing Pole Bean Seeds
September to January is the most favourable sowing period in most areas. The seeds can be sown 75-100 mm apart around each set of stakes at a depth of 30-40 mm and thinned out later, if necessary, to leave two plants to mature at each station.
Pole beans can also be grown without support by continually pinching out the growing points, thereby restricting their natural spreading habit so that they form into bushes 350-450 mm high. In this case the rows or double rows should be at least 750 mm apart with the seeds spaced 100-150 mm apart in the row.
A disadvantage of this method is that it results in bent and twisted pods, which are difficult to handle in the kitchen.
Other negative factors are: damage to plants while picking; a high incidence of diseased pods, particularly on old ground; and a susceptibility of the pods to insect attack.
Tips For Growing Pole Beans
Once the vines have reached the top of the support they should be pinched back to encourage flowering and pod development. A side-dressing of LAN or 2:3:2 (or 1 or 2 applications of liquid manure) as the first pods set will keep the plants growing vigorously and thereby extend the picking season.
Mulching the rows with compost, manure, lawn mowings or seaweed is also particularly beneficial with this crop.
Harvesting Pole Beans
Pole beans should be ready for picking 9-10 weeks after sowing and should continue to yield for up to 6 or 7 weeks if picked regularly and fed properly.
Again, care should be taken to hold the plants firmly when the pods are pulled.
Pole Beans Pests and Diseases
Aphids often appear and can be controlled as described in our post on growing green beans.
Rust is often a problem, particularly on late sowings.
Control measures are also as described in the post on green bean growing.