Last Updated on July 19, 2021 by Grow with Bovees
Faced with an ugly, compacted or struggling lawn, how do you get the grass to breathe and grow again? Using one of the best manual lawn aerators is an easy, inexpensive and great way to improve the state of the soil and lawn in your yard and save you time and money by reducing the amount of watering and fertilizer application required, for the same benefit in grass growth.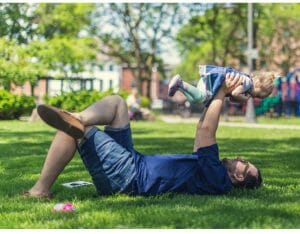 Of course, a mechanical version can do the job, but not only can that be cost-prohibitive—especially considering you would probably only use it once a year— but also it's noisy to operate, expensive to hire or run, and as with any machine, liable to breaking down.
In a hurry? Here's our top picks at a glance;
Preview
Best Shoes
Best Hollow Tine
Best Depth
Best Shoes
Preview
Best Hollow Tine
Preview
Best Depth
Preview
Our Top Best Manual Lawn Aerators – In More Detail
The easiest and quickest way to keep your lawn in good shape is to use spike or lawn aerator shoes. This nifty invention allows you to strap spiked sandals to your boots, making them very easy to use.
You can either walk back and forth across your lawn or even combine aeration with other gardening chores. As you walk, the sharp spikes poke deeply into the lawn.
A good solution if you have small areas of soft ground that you want to loosen up without much effort.
These heavy-duty spiked boots come with strong durable metal buckles and three straps that secure the durable hard-plastic base to your feet so that they won't slip as you walk. They're designed to provide a reliable tight fit around all types of shoes, no matter the shape or size.
Weighing just under 1 pound each, the weight and shape will feel unusual at first, but not much more than a new pair of hiking boots.
The 2-inch spikes puncture small holes into the top-level of the soil. With 13 spikes on each shoe, numerous holes will allow more water, fertilizer, and air to penetrate the ground.
The shoes will work in most hard or soft soils and are strong enough to withstand stepping on rocks or stones hidden underneath your lawn.
There's an option here that allows you to wear your own boots if that's what you'd like to do
Good
Easy to use.
Minimal effort required.
Affordable.
A quick fix.
Not so good
Sharp spikes can be dangerous.
Risk of tripping if you are mobility impaired.
Weighing only just over four pounds, this durably constructed and inexpensive steel tool has four solid 3-inch spikes to penetrate the soil.
The handlebar is cushioned in non-slip rubber, and a foot bar provides extra leverage. Sharp spikes make it easy to press down and get the tool deep into the soil.
Yard Butler has been in the business of making garden tools for over 60 years and guarantees its products for life against any defects in manufacturing or materials. With this in mind, the IM-7C Yard Butler Aerator should give you many years of problem-free service.
Good
Simple, all-round tool.
Long-lasting.
Good choice for rocky, root-bound, highly compacted or very sticky soil.
Useful for high-clay content soils.
Not so good
More effort than aerator shoes.
Solid spikes will compress the soil.
Only suitable to spot-treat smaller degraded areas.
To aerate the soil properly without actually digging it over, simply pulling up small cores of soil can drastically improve the drainage and nutrient flow. Users of this method report that they see rapid improvements, with brown or yellow grass turning green and growth becoming lush again.
The Yard Butler Manual Lawn Core Aerator has two hollow tines, which each pull a 3.5-inch long x 0.5 inch diameter plug of soil out of the ground. A foot bar allows you to use your leg for extra leverage, while a 37-inch-long shaft means you can hold the handle comfortably in your hands at the same time.
The manual core aerator from Yard Butler does the job effectively and is best-suited to rehabilitate an average-sized lawn.
Of note is that Yard Butler uses high-quality steel, which is recommended for durable and strong tools.
Using this kind of manual core aerator—also called "manual plug aerator" or "manual coring tool"—is simple:
Insert the sharp ends into the soil.
Press the tool down to the hilt by standing on the crossbar.
The two cores of thatch & earth will pass up through the tine and out onto the surface of the lawn.
Continue working this way to unplug the entire area.
Space the tool at the same intervals as the width of the two cores as you widen the coverage.
Afterwards you can just leave the plugs to breakdown naturally into the lawn or you can run a lawnmower over the area to speed up the process.
Good
Opens the soil effectively.
Simple DIY tool.
Avoids the need to use any machinery.
Assists with dethatching of lawns.
Not so good
Can clog easily.
Pressing the tool into the soil requires a little effort.
Cleaning up cores afterward is extra work.
The Garden Weasel—Best Manual Aerator for Easy Handling
The Garden Weasel doesn't have a handle but a simple rubberized grip. This makes it easy to position the tool evenly spaced wherever you want it before pressing your foot down on the stirrup.
Made with carbon steel, the Garden Weasel Core Aerator is stronger and more durable than stainless steel and won't be easily damaged.
Good
Very easy to space even cores.
Simple tool.
Easy to store.
Good construction.
Not so good
No T-bar to press down with.
Rubber handle can be uncomfortable to use for longer periods.
If the T-bar design of the Yard Butler manual spike aerator reviewed above does not appeal, then you should take a closer look at the Garden Weasel.
The Truly Holey Manual Aerator is a good choice if you have small areas of soil with not too much clay that you'd like to give a good working over with a core aerator.
This manual core aerator from Four Seasons—a lawn aeration specialist—at 7 inches (17.78 cm) has a longer core than competitor products, and also has "non-clogging ejectors."
The tubes are fabricated with an opening, so it's possible to eject the cores of dirt, either by knocking the tool on the ground or by poking into the openings with a pointy tool, such as an old screwdriver.
How well this will work will depend on the soil type and wetness. Like with most tools, it's important to determine the best-use scenario and technique, and so the Truly Holey aerator is recommended for gardens with light soils.
The tool is very solid, made from heavy-duty steel and is powder coated in white, making it easy to locate in the yard.
Good
Less likely to clog.
Able to eject soil cores easily.
Deeper penetration than other aerators.
Not so good
May not work well on all soil types.
What You Need to Know About Manual Lawn Aeration
Why You Should Aerate Your Lawn
You need to aerate your lawn if you have shallow roots, i.e. your grass roots don't penetrate more than 1 or 2 inches. When the soil is tough and compact, and the roots are small and under-nourished, the soil won't allow water and nutrients to reach down far enough into the soil to promote root growth.
To check for yourself, remove a square foot section, at least 6 inches deep, and inspect the roots to see how far down into the soil they extend. Allow for a seasonal effect, with cool-season roots not fully developed in late summer but normally at their greatest depth toward the end of spring.
Other reasons to aerate, experience shows, is when your lawn is walked or driven on regularly, or if you have heavy, clay soil. As a quick check, you can do a "screwdriver test" by sticking one into the soil by hand. If you meet noticeable resistance, then you have a problem, and aeration will help.
Thatching is another reason to aerate your lawn. If the lawn feels spongy when you press down on the grass, grass clippings have matted up into thatch, it may be time to dethatch your lawn. Because dethatching with a machine or even by hand can cause your lawn a lot of stress, aerating is a good method.
What's the Best Time of Year to Aerate?
Well-established grass seed producer Pennington recommends that you aerate at least annually if you have clay soil. Otherwise, and depending on use and traffic, every 3 to 5 years may be sufficient.
The best time is always during, or right before, grasses reach their peak time for natural growth. You want grasses to recover quickly and spread to fill in the areas exposed by the aerator.
For cool-season grasses found in Northern lawns, early fall or early spring are normally the best times for aerating. For warm-season grasses typically common in the South, that time is late spring or early summer. But don't leave it too late, because aeration should coincide with active growth.
What Is Aeration?
Aeration is the creation of openings in the lawn to help air, water, and nutrients get into the soil down at the grassroots. The process lessens soil compaction and helps minimise thatch from closing the surface.
Essentially, an aerator conditions the soil by pulling out cores or plugs of soil, or by either spiking or slicing into the soil.
What Aeration Will Do for Your Grass
Aeration will benefit your lawn in many ways:
The activity of soil micro-organisms will increase, which will help to decompose thatch.
More water, nutrients, and oxygen will move down into the soil.
Rainfall or irrigation will infiltrate better – waterwise.
Rooting of new seed will improve.
Rainfall or irrigation will infiltrate better.
Fertilizer and pesticide run-off due to overly compacted areas will decrease.
Existing roots will regrow and reach deeper to procure nutrients to provide you with a greener, thicker lawn.
The Best Methods to Aerate Your Lawn
Coring
Manual core aeration is the most effective method for advanced lawn care. The aeration tool is fully inserted into the ground so that hollow tines or "spoons" can remove columns of soil and deposit them on the surface of the lawn. This lets water and nutrients reach down to the grassroots.

Spiking or Slicing
If the soil isn't in a degraded condition, spiking can be sufficient to maintain good grass growth by loosening and creating holes in the ground. Spiking uses solid tines to create holes in the soil. A similar method, slicing, uses rotating blades to cut narrow slits in the soil.
Spiking and slicing don't remove soil, but instead, move it about. These have less of a negative aesthetic effect, of course, but aren't as effective as coring when it comes to getting more nutrients, air and water into the soil.
How to Aerate Your Lawn
Step 1: Find out What You Are Dealing With
Start by testing the moisture within the soil—a spike or trowel is perfect for this. Ideally, the soil should be moist enough to make work easier.
Step 2: Get the Moisture Right
If the soil sticks to the trowel, you should wait for the soil to dry out more because aerating will be difficult. If it hasn't rained, then it may be best to thoroughly water the lawn two days beforehand, to get the right level of soil moisture.
Step 3: Aerate the Professional Way
Make two passes with your chosen manual aerator, with the second at right angles to the first. You can leave the plugs that you've pulled on the lawn, so they decompose and return the nutrients to the soil.
Step 4: Mow and Water
You can speed this process up by mowing the lawn once the plugs are dry. Again, make two passes with the lawn mower, to ensure even break-up and spreading of the plugs. Water the lawn afterward, to help further dissolve the removed soil. Use a gas or electric weed wacker around the hard-to-reach corners.
Also, try and get rid of weeds before they go to seed, this will help to prevent further spread.
Do Lawn Aerator Shoes Work?
They sure do work if you put in the effort.
Make sure to get the lawn moist before going for a walk in your aeration shoes and you will find it a lot easier to penetrate the soil.
Buyers Guide for Manual Lawn Aerators
To choose the best manual aeration tool, consider your situation and what you're trying to achieve.:
Size and condition of your lawn.
Method of aeration.
Penetration depth.
Number of spikes.
Ergonomics.
Construction.
Size and Condition of Your Lawn
Well-trodden areas of grass will naturally more compact soil, which is where a manual aerator works well, especially when areas are difficult to get into.
Sometimes, only specific patches in a yard need attention, so a spike aerator like the Yard Butler IM-7C is adequate. This is particularly so if the soil in one or more small areas contains more clay or is prone to waterlogging, maybe due to its gradient, and subsequent stagnation drowning the grass. It could also be due to a sun trap in one or more small areas causing the ground to dry out and water to run off it rather than soak down to the roots.
Method of Aeration
A manual core aerator, such as the Yard Butler Manual Lawn Coring Aerator is the preferred tool used by professionals.
By opening up hollow vertical tubes into the ground, water and nutrients can reach the roots more quickly and efficiently. However, it can be laborious to use in heavy clay soils or soils with stones, rocks or tree roots underneath the soil surface.
Manual core aerators are easier to use when you are pressing them through grass, weeds, or dense thatch. If you're just poking it into bare compacted soil, especially containing a lot of clay, the cores of material are more prone to getting stuck inside the tines.
To aerate by hand in hard-to-penetrate soils, therefore, the Yard Butler Multi Spike Manual Lawn Aerator is easier to get into the ground. Whether it should have a T-bar handle or a simple grip on a single shaft, like The Garden Weasel, is a matter of personal preference, depending on how compact the soil is and the dexterity and mobility capabilities of the user.
Penetration Depth
The spike length of the tools reviewed varies from 2 inches for the Plantnomics Lawn Aerator Shoes to 7 inches for the Truly Holey Manual Lawn Aerator.
Long tines can be hard to get into the soil if it is sticky or compacted and clean, efficient core removal is more difficult. At the same time, if the tines are too short, they may not reach the grass roots effectively.
The ideal length is long enough to reach well-developed roots but not longer than necessary. You may need to dig up a spade-width of turf, hold a tape measure against the cross-section and measure how far it is from the base of the grass blades to the tips of the roots.
Number of Spikes
The core aerators with 0.5 or 0.75-inch tubes, such as the Yard Butler Coring Aerator, only have two cores to press into the ground, which is as much as you would want to take on.
For spike tools, that is the Yard Butler IM-7C, the number of spikes vs. their length is the trade-off. The right balance lies between effort and coverage. Four spikes is the most common number used for these aerators.
Ergonomic Handles
Spike and core aerators are handheld tools, so you want them to be easy and comfortable to handle for what can become a very physical job. Users appreciate, for instance, that the grips on the IM-7C and the Coring Aerator from Yard Butler are padded and made with a non-slip material.
The handles must be orientated in a way that makes pushing and pulling comfortable. The T-bar that these two products use is potentially easier on your back.
Construction
Manual aerators with a handle will experience quite demanding work over their lifetime. Not only can the spike hit hard objects underground, but the constant pressing, pulling, and leveraging necessitates choosing a well-built tool made from quality steel. You don't want the handle to break off as soon as you give it a good workout!
Tips for Using Manual Lawn Aeration Tools
Water Your Lawn First!
You shouldn't expect your new aerator to work on a lawn if it hasn't rained for weeks and you haven't watered it.
If your lawn is quite dry, set up a sprinkler in the morning and let it give the ground a good dousing for at least an hour or more. Then, let the water soak into the soil and leave the aerating for later that afternoon.
How to Prevent the Cores from Clogging Up
Keep a bucket of water to hand and dunk it in the bucket after every three or four plunges to rinse out the core residue and keep the inside of the tines clean and lubricious. That way it should seldom clog.
Cleaning Up a Manual Core Aerator
You don't want soil staying in the hollow tines to go dry and hard—it'll turn into concrete!
At the end of the day:
Use a solid stick or a long screwdriver to clean out the soil from the tines.
Use a brush to remove all soil afterward.
Wash the tool with clean water and a mild anti-bacterial soap or steriliser
Soak the Manual Coring Tool Between Sessions
Put the coring tool into a bucket with water when you finish for the day. The water will help prevent any soil within the coring tips from drying out and, therefore, preventing the coring tips from getting plugged up.
This is a good idea even when you leave it sitting for more than a few minutes—over lunch, for example.
Keep the Mosquitoes Away
Mosquitoes love standing water, so if they are a problem where you are, add a little dish soap to the bucket if you use that for soaking your tool.
 Time to Overseed
Once your yard has been aerated, it's a good time to overseed with grass seed.
Also, if there are any really bare patches, fall is the time to get some new grass seed germinating in these areas to ensure the new grass is ready for the following summer.
Seeds and nutrients will have direct contact with soil through the holes you created and you will also have exposed the roots to easier water absorption. Together, this will help with quick seed establishment and thicker, lusher growth in your lawn.
Lawn Aerator Shoes Tips
Surfaces: Don't walk on hard surfaces like concrete in these shoes.
Straps: Tuck in the straps to prevent tripping up.
Manual Spike Aerator Tips
Best situation for use: For small unhealthy patches.
Manual Core Aerator Tips
Plug: Press the core all the way down to make sure the new plug will rise from the bottom, forcing the last plug up and out—otherwise, it will get clogged up.
Cores: Don't remove the remaining cores deposited because they contain valuable micro-organisms. Leave them on the lawn surface to break down naturally, or run a lawnmower over them to break them up mechanically.
Does Aeration Solve Lawn Thatch Problems?
When cut grass accumulates in the lawn and forms a compact top layer that is over 1-inch thick, aerating can help. Dense thatch may harbor disease and pests, such as grubs or crabgrass seed.
Thatching also reduces the effectiveness of watering and fertilizers. Rather than growing down into the soil, the grass roots will extend into the thatch with little benefit, and so become easily stressed by heat, drought, and cold.
Ideally, you should tackle any thatch problems that you may have in your yard before carrying out the aeration. There are several tools you can get hold of for this purpose. Either a power rake or a dethatcher can help, dependant upon the amount of thatch you need to clear.
If you have an area that is just too big to get done with this kind of tool, you can check out our page on the best pull behind aerators, they cover a much larger area of your yard.
Conclusion
By making aeration an annual routine, you can help ensure your lawn will remain lush and green throughout the year. Or, at least do the regular screwdriver test to check for soil compaction, and then aerating as required.
To ensure you have the right tool to hand when you need to manually aerate, get yourself a manual core aerator. If you just need to do the occasional patch repair around the yard, then a manual spike aerator may be sufficient. Walking around the lawn with lawn aerator shoes can be helpful to keep a lawn in good shape. What will work best for you?
Our recommended choices for the best manual lawn aerators are:
Best Manual Spike Aerator
REMOVES TWO ½" WIDE 3 ½ INCH GRASS PLUG LAWN CORES, reducing soil compaction and dethatching your lawn while letting air, water and fertilizer get down to the roots of your yard.
REDUCES RUNOFF AND PROMOTES TURF GROWTH. Your lawn will look better with less water and fertilizer.
Sale
Best Manual Core Aerator
Four 3-inch spikes penetrate and loosen compacted soil
Spike aeration loosens soil and thatch to let air, water and fertilizer down to the roots
Sale
Best Lawn Aerator Shoes
LUSH & HEALTHY – Help your lawn or garden thrive with Plantnomics' aerator shoes! By piercing tiny holes, your aerating shoes enrich soil with nutrients, create verdant shoots, and reduce dead thatch.
LAY YOUR ROOTS ANYWHERE – Wherever your greenery grows, enjoy the results of your spike aerator shoes! Your aerator lawn tool breathes new life into any soil type including clay, sand, or loam.